Sony has announced 13 new camcorders at CES 2012, part of its Handycam and Bloggie families. Five models feature built-in projectors, while three models come with Sony's new image stabilization technology – the "Balanced Optical SteadyShot." All 13 will ship by the first half of 2012.
The new Sony camcorders with built-in projectors are the Handycam HDR-PJ760V ($1,600), HDR-PJ710V ($1,300), HDR-PJ580V ($900), HDR-PJ260V ($650), and HDR-PJ200 ($440). They feature 20-lumen projectors integrated into the back of their LCD viewfinder's flap, meant to project videos on walls for easy viewing without a television. They are capable of projecting a large image, up to 100 inches diagonally.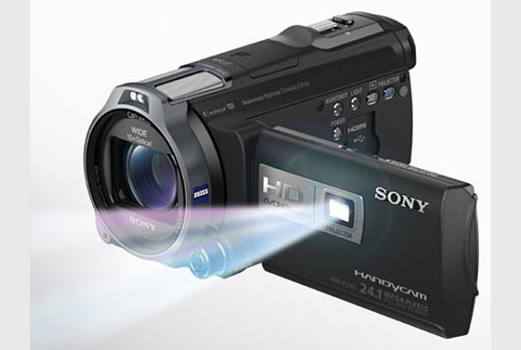 As for Balanced Optical SteadyShot, the technology allows for the entire lens barrel to auto-correct its position corresponding to the object in focus, reducing blurring due to shaking hands. The new stabilization system will apparently compensate for 13 times the shake that Sony's earlier SteadyShot system could handle. Camcorders with this feature are the three top-end models - Handycam HDR-PJ760V, HDR-PJ710V, and HDR-PJ580V.
Most of the new Sony camcorders come with By Pixel Super Resolution digital-zoom technology, first seen in the Sony Cyber-shot TX55 in 2011. It matches pixel contrast and colour with a pre-loaded database, delivering more accurately simulated image and video fidelity, by boosting the resolution up to four times instead of enlarging and cropping.
The only common feature among all the camcorders is 1080p AVCHD video recording, at 24Mbps. Most of the camcorders, other than the four cheapest, come with a built-in GPS antenna, and mapping software from Navteq.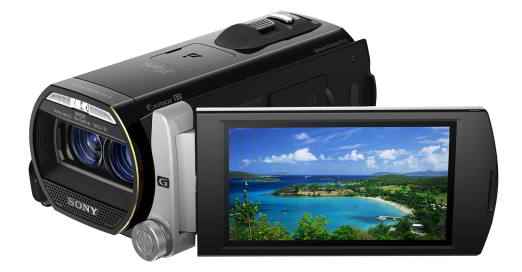 The highlight of the new range is the Sony Handycam HDR-TD20V ($1,500), a 3D camcorder that replaces 2011's Handycam HDR-TD10 3D, capable of recording simultaneous 1080p HD video channels, and packing a glasses-free 3D LCD viewfinder. The HDR-TD20V is also 33 percent smaller than its predecessor, featuring a more densely arranged lens layout, something that happily also delivers benefits to the 3D macro mode.
Rounding off the remainder of the 13 cameras, are the Handycam HDR-CX760V ($1,500), HDR-XR260V ($699), CX260V ($549), PJ260V ($649), HDR-CX580V ($799), and HDR-PJ580V ($899), as well as the budget budget HDR-CX190 ($300), HDR-CX200 ($340), and HDR-CX210 ($370). For detailed specifications of all 13 camcorders, refer to the source.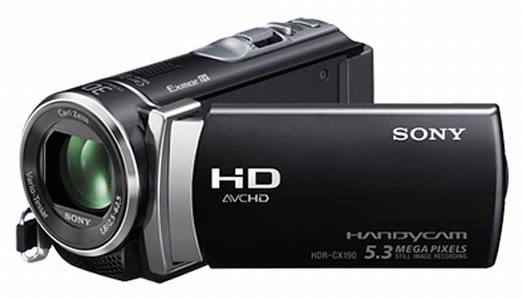 Source: Digital Camera Review