Sony India has announced the availability of the Sony SLT-A77, the flagship APS DSLR from Sony. The Alpha 77 was announced back in August of 2011 with some mightily impressive specifications and we are extremely glad that we are finally seeing this APS beast land on our shores.
The Sony Alpha 77 houses a 24 megapixel crop sensor, that is a first of its kind. To feed the silicon, Sony has also added the newly developed BIONZ processor. The two together, coupled up with Sony's Translucent Mirror Transmission technology allows the camera to shoot at a blazing 12 frames per second, a first in an APS sized DSLR.
The Alpha 77 also does away with the conventional viewfinder and replaces it with an electronic 2.4 million dot OLED viewfinder, offering a 100% coverage and a 1.09x magnification, again, larger than that of any APS-C camera. The viewfinder also displays the 19 focus points employed by the Alpha 77, 11 of which are cross type to help with focus tracking and acquiring focus in low light.
Besides getting full access to the P/A/S/M modes in video shooting, the A77 can also record AVCHD footage (1920x1080) in both progressive and interlaced formats. Other enhancement that compliments the video (or any other) shooting process is the 921K dot 3-way articulated screen using the Xtra Fine technology from Sony. The screen is designed in a way so as to increase viewing angle along with the visibility under the sun, while significantly reducing the surface reflection.
The Alpha 77 brings into an APS-C body many features that are generally reserved for pro-grade bodies, including its robust build. The material of choice to construct the Alpha 77 is magnesium alloy. To compliment its sturdy build, Sony has also included an extensive weather seal under the body, especially under the buttons, dials and the battery and memory card compartments.
The Sony Alpha is priced at Rs. 69,990 for body only and Rs. 99,990 for the body with the 16-105mm lens.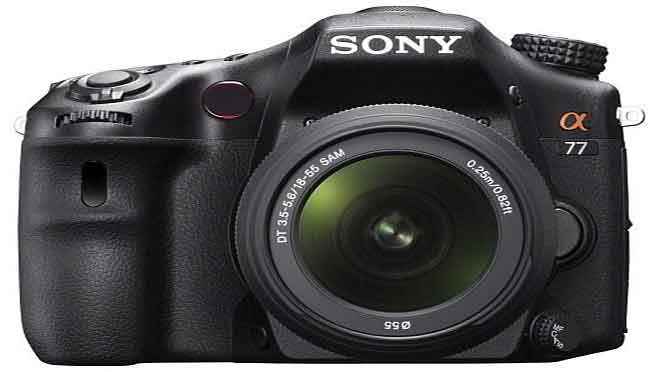 The A65 is the younger sibling of the A77, but it houses the same 24 megapixel sensor. For about 10K cheaper, the camera does away with the lush weather sealing and trades the magnesium alloy build for a plastic one.However, for those on a budget, the A65 is a good option, without compromising on the giant pixel count of the sensor.
An even cheaper alternative to the A65 is the A57, priced at Rs.45,990. The A57 utilizes a 16 megapixel sensor and drops the frames per second from 12 to 10.