Sony has launched two new Cyber-shot cameras – one sleek and stylish, the other with a whole lot of zoom – in India, both of which are the first out of the company's stable to use the new Exmor R back-illuminated CMOS sensor technology.
"By redesigning the way these cameras capture light, Sony is leading the industry by creating this easy way to take amazingly clear, vibrant photos in low lighting scenarios," said Phil Lubell, director of the digital imaging business at Sony Electronics.
Conventional image sensor architecture has required wires and other circuit elements to be positioned above the light sensitive photo-diodes, limiting the imager's light gathering capability. Positioning these elements behind the photo-diodes, the Exmor R image sensors can gather more light, resulting in approximately twice the sensitivity compared to conventional sensors.
To further extend low-light shooting performance, the TX1 and WX1 cameras incorporate the hand-held twilight and anti-motion blur multi-shot modes introduced in Sony's Cyber-shot DSC-HX1. Using the Exmor R CMOS sensor's high speed, these modes capture six separate images in less than a second and utilise Sony's BIONZ processor to combine the shots into a single image of extraordinary detail.
In addition, the TX1 and WX1 cameras also include Sweep Panorama and 10 frames per second burst shooting features, in smaller, more compact bodies that match nearly any unique style. Capturing wide landscapes is as easy as "press and sweep." The BIONZ imaging processor automatically stitches the pictures together to create one stunning panoramic photo.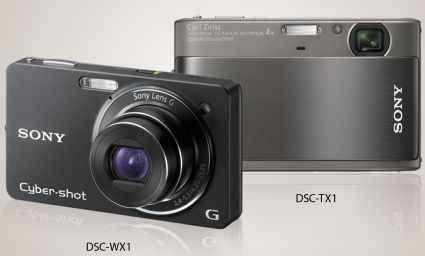 With HD video capability, these cameras record HD movies in 720p high definition MPEG4 format for stunning large-screen home movie playback. You can record up to 29 minutes (or up to 2GB file size) in 720p format.
In its slim profile of just 16.5mm, the fashionable 10.2-megapixel TX1 features a new operation on the touch panel that lets you scroll through images with a flick of your finger and directly access menus on the 3-inch Clear Photo LCD Plus display.
With a Carl Zeiss Vario-Tessar lens, the TX1 camera lets you focus as little as 0.4 inches from your subject for extraordinary close-up shots. The 4x telescopic zoom is perfect for capturing far-away subjects, and Sony's Optical SteadyShot image stabilisation helps overcome camera shake.
The 10.2 mega-pixel WX1 camera has a 2.7-inch Clear Photo LCD Plus display and is just over three quarters of an inch thin – an ideal choice for DSLR owners who also want to carry a compact, high performance digital still camera.
The WX1 camera features a Sony G lens with an extraordinary wide angle 24-120mm 5x optical zoom. This lens' f/2.4 maximum aperture offers nearly twice the light gathering capability of conventional lenses, and works together with the Exmor R sensor and low-light shooting modes to provide low-light photography beyond the abilities of other compact cameras.
These cameras also include all the next-gen software technology that Sony cameras are famous for, such as intelligent auto mode, face detection, scene selection, red-eye removal, anti-blur, smile shutter, etc.
The TX1 is available in a grey colour scheme for Rs. 20,990, while the WX1 with black casing retails for Rs. 19,990.