The Sony mirrorless portfolio had for long been missing super-telephoto lenses ideal for sports and wildlife photography, but that changes with the announcement of the Sony FE 400mm f/2.8 G-Master
When Sony launched the A9 last year, the mirrorless community was very happy about having a capable camera for shooting sports, but the problem they faced was a lack of lenses that could be used for such situation. Sony has come out with the long awaited 400mm f/2.8 G-Master lens designed specifically for wildlife and sports photographers. This is the first super-telephoto prime lens for the E-mount but is also one of the lightest lenses of its kind, weighing in ay roughly 2.7 kilograms.
The lens is a result of reduced optical elements, which required clever optical design to keep its size and overall weight down. It utilises three fluorite elements to keep chromatic aberration to a minimum and has a nano AR coating applied to the front element to suppress ghosting and lens flare. The lens also features an 11-blade aperture for creamy bokeh. All this is housed in a magnesium alloy shell, just like any other super-telephoto lens to add durability. The result is "a level of portability and handheld maneuverability that has never before been achieved in a lens of its class," Sony says. The company says that unlike most super telephoto lenses, the new 400mm f/2.8 G-Master lens isn't front heavy, meaning it can be used both hand-held or on a monopod/tripod.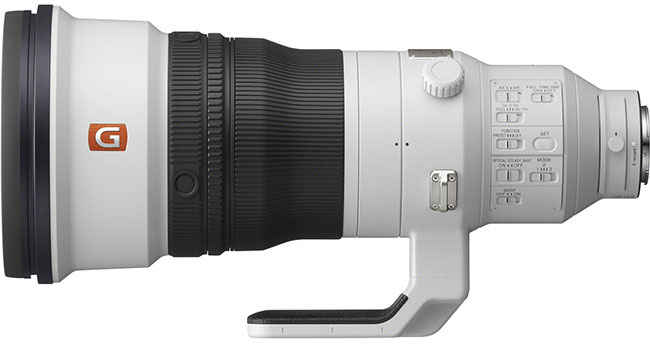 Driving the focus on a 400mm lens requires a lot of work, especially if its meant for fast action like sports or wildlife. This the lens achieves thanks to two new high-speed linear motors that drive the focus element group in the lens. The use of two motors, Sony says, greatly improves the lens' ability to track moving subjects, also aided by special motion algorithms that also help reduce any lag or instability.
The lens features 3 different optical image stabilization modes, which is interesting since most Sony mirrorless cameras (especially the A9) comes with in-body image stabilization. The focusing ring allowed for very granular manual adjustments and the lens also features focus-hold buttons in 4 different places. As with any super-telephoto lens, the rear of the Sony 400mm f/2.8 G-Master features a drop-in filter slot which accepts 40.5mm filters of most types. You also get a carbon fiber lens hood.
In case you're wondering, the lens will set you back $12,000 and will start shipping sometime in September 2018. There is no word on India price and availability yet.