Korean lens maker Samyang Optics has announced a new 85mm manual focusing lens for Sony, Fuji, Canon and micro 4/3 mirrorless cameras
Samyang has just announced the newest addition to their lens lineup; an 85mm f/1.8 prime lens. The new lens is designed specifically for crop-sensor mirrorless cameras like the Sony A6500 and the Fujifilm X-Pro 2. Unlike most third-party lenses designed for mirrorless cameras, the Samyan 85mm f/1.8 does not feature a focusing motor.
The Samyang 85mm f/1.8, which will also be sold under the Rokinon brand name, features 9 elements in 7 groups including an ultra-multi coating to reduce chromatic aberration. The lens has a minimum focusing distance of 2.13 feet and a 62mm non-rotating filter thread. Lastly, lens features a 9-blade aperture for pleasing, rounded bokeh. The lens is going to weigh only 300 grams and will be about 8cm in length, making it very portable.
"The compact and light-weight design of this fast telephoto offers excellent portability and comfort that is perfect for travel, candid, portraits, and close up photography with mirrorless cameras," Rokinon says.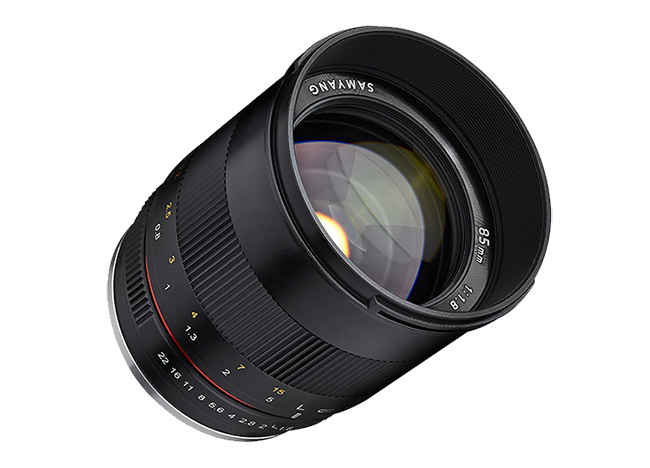 The Samyang 85mm f/1.8 will be available for Fuji X-mount, Sony E mount, Canon M mount and on Micro 4/3 cameras. The lens is designed only for crop sensors and as such, will not work on a full frame camera. On crop bodies, one can expect varying resulting focal lengths, depending on the crop factor. For example, on a Fuji or Sony APS-C mirrorless camera, the effective focal length will be 128mm (1.5x crop factor) while on Canon M and micro 4/3 it will be 136mm and 170mm respectively. While a lack of optical image stabilization on the lens may be overlooked since most mirrorless cameras now feature in-body stabilization, it is hard to imagine a lens of this focal length to come without a focusing motor.
The Samyang 85mm f/1.8 is expected to start shipping in the US starting September 2018 with a price tag of $399.