An article describing the latest cameras introduced by Samsung yesterday, known as the ST5500 and ST5000.
Samsung released its two latest digital cameras in the Korean market yesterday, named the ST5000 and the ST55000. Both cameras feature a touchscreen with Samsung's Smart Gesture UI, along with an oversized lens that offers 7x optical zoom and 14.2 MP picture quality. The ST5500 has a 3.7-inch WVGA AMOLED screen, while the ST5000 has a 3.5-inch TFT LCD screen. Both cameras can record 720p HD video at 30fps (H.264 format).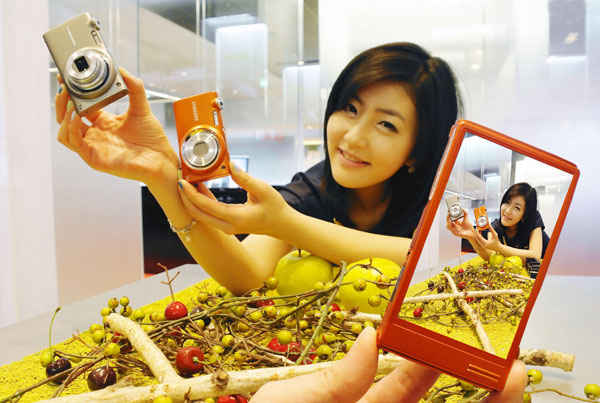 You might ask what use is Wi-Fi in a camera. Well, the obvious answer is connectivity/sharing, and that is exactly why Samsung introduced it in the ST5500. The camera easily allows users to wirelessly upload their photos and videos to their Facebook, Picasa, YouTube or samsungimaging.com accounts. Other wireless connectivity options on the ST5500 include: Bluetooth 2.0 and DLNA. Wired connectivity includes USB 2.0 and HDMI output on both cameras.
One of the other special features of the cameras is their 'da Vinci-inspired design', which allows the lens to extend automatically as soon as the camera is put on, reflecting the focal length and aperture on the concave reflective rings immediately. The cameras also have Samsung's Dual Image Stabilisation technology as well as Smart Auto 2.0 scene recognition technology, together producing the best shot possible. The ST5000 and the ST55000 are designed with a new 'angled posture', making the body angle a comfortable 7 degrees from the vertical, which is supposedly very ergonomic for prolonged use.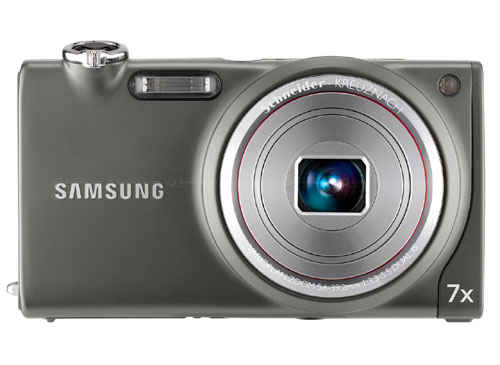 Samsung has also used hydro-forming technology that "compresses liquid metals at high pressures to form tube or metal sheet materials" on their cameras, producing "smoother silhouettes, seamless bonding and high-quality surfaces". The cameras are available in Black, Grey and Terracotta Orange. When these products will come to India is not yet known, but they will release in the UK in April, at $417 (~Rs. 19,000) and $521 (~Rs. 24,000). Find complete specifications below: