Panasonic had announced its first full-frame mirrorless cameras at Photokina last year, but now, the company has officially launched the duo in the U.S.
Highlights
Panasonic Lumix S1 and S1R offer 24 and 47-megapixel resolutions respectively
Both cameras sport in-body image stabilisation
Both cameras shoot 4K@30fps without any time limits
Panasonic had created quite a ruckus at Photokina 2018 when they announced the Panasonic Lumix S1 and S1R full frame mirrorless cameras. The reason for the excitement (and bewilderment) stems from the fact that Panasonic has been a key proponent of the Micro Four Thirds sensor format. The company didn't announce much in the way of details or availability, but unlike the announcement, the company has silently launched the cameras.
The Panasonic Lumix S1 sports a 24.2-megapixel sensor while the S1R is a resolution beast, with a 47.3-megapixel sensor. Both the cameras come with the new L-mount which is the result of the L-Mount Alliance between Panasonic, Leica and Sigma. Both the cameras sport in-body image stabilization. Both the cameras also share the same combination of dual storage, an XQD card slot alongside an SD card with UHS-II compliance. The viewfinder on both the cameras sports a resolution of 5.76 million dots and can be switched from the standard 60fps refresh rate to a 120fps refresh rate.
The Panasonic Lumix S1 is aimed at those individuals who dabble in both film and photography. The sensor resolution offers the sweet spot for both moving and still images. In terms of photography, while you do get the standard 24-megapixel image, you can switch over to the high-resolution mode and get a whopping 96-megapixel image. This the camera achieved by shifting the sensor by a few pixels for multiple photos. In terms of video, you get 4K recording at 30fps with no time limit (or for 24fps) while 4K @60fps is limited to 30 minutes of recording at a time.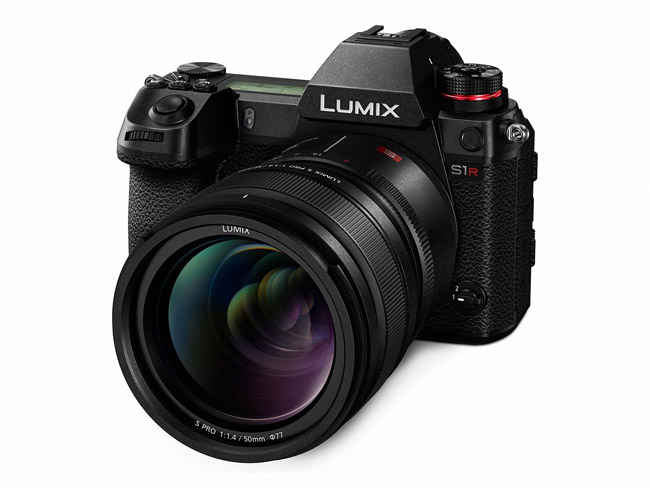 The Panasonic Lumix S1R, on the other hand, has a massive 47.7-megapixel sensor. The video capabilities remain mostly the same as the S1, with a few exceptions. For example, the 4K mode on the S1R offers a cropped output instead of a utilizing the full sensor like on the S1. The super-resolution mode on the S1R delivers images with a resolution of 187 megapixels.
The Panasonic Lumix S1 and Lumix S1R shoot at 6fps with AF tracking and 9FPS in Single AF mode.
The Panasonic Lumix will retail for $2,499 (body only) or $3,399 with a 24-105mm lens. The S1R body costs $3,699 or $4,599 with the same lens. Additionally, Panasonic is also launching two additional lenses, the 50mm f/1.4 S Pro and 70-200mm f/4.0 S Pro for $2299 and $1699 respectively. The cameras go on sale in the U.S. today, with no word on India availability yet.