Olympus launched its flagship micro four-thirds camera - the OM-D E-M5 today at the Taj Mahal Hotel, Mumbai. Design-wise the camera is very reminiscent of the retro film cameras and indeed Olympus have taken the design aesthetics of their older OM series of film cameras and have fitted it with a 16.1 MP Live MOS sensor.
Olympus have added a dedicated electronic viewfinder atop the camera body which gives it slight amount of bulk when compared with the PEN series of cameras.
Let us have a look at some of the unique features of the camera:
Electronic Viewfinder: Like we said, the dedicated EVF is one thing that differentiates the O-MD E-M5 from the PEN series of cameras. Since the EVF mount also has an accessory port, you can add an external flash unit onto the camera, without loosing out on the viewfinder, which was the case with PEN series of cameras. The EVF is a 1.44 million dot LCD with a 100 per cent field-of-view coverage and around 1.15x magnification. It also allows enlarging the focus point for accurate focussing.
5-Axis Image Stabilization: This is an industry first in which the 5-Axis IS can compensate for five different kinds of movements, namely pitching, yawing, horizontal movement, vertical movement and rotational movement around the optical axis. This prevents judder due to not only vertical and horizontal shakes, but also takes into consideration rotational camera shake as well as low frequency shakes caused by walking or breathing during movie recording.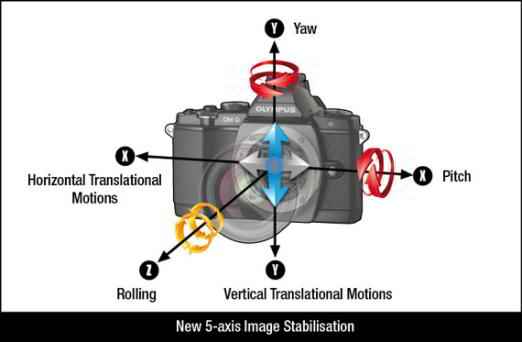 Dust and Splash Proof construction: The OM-D E-M5 is completely weather-sealed providing dust and splash proofing. The weather sealing is also provided on the M Zuiko 12-50mm lens that is bundled with the camera.
9 FPS High speed shooting: The camera offers a maximum of 9 frames per second burst shooting mode, which is great for action and sports photography.
On the rear side of the camera you have a beautiful 3-inch tilting OLED screen. This screen is touch sensitive as well so you can focus via touch or even fire the shutter after the focussing is done.
The M Zuiko 12-50mm lens that comes bundled with the E-M5 is quite sturdy in its build and has a motorised lens mechanism, such that only the lens elements move within the body. The lends does not protrude out of its casing even at the telephoto end. The electronic zoom gives a smooth zooming effect while shooting movies and also helps in minimising motor noise.
The Olympus OM-D E-M5 will set you back by Rs.66,990 if you plan to only get the body. With the 12-50mm lens the cost goes to Rs. 77,990. You also get an 8 GB class 10 SD card free with the camera.
We got some hands on time with the camera.