Nikon has also unveiled KeyMission 170 and 80 alongside the KeyMission 360, ramping up the competition in the already competitive action camera market.
Nikon has finally announced the launch of the KeyMission 360 - the 4K 360o action camera first unveiled in CES 2016. Earlier last month, we had heard from Mr. Kazuo Ninomiya, Managing Director of Nikon India, that the KeyMission 360 will be launched globally in October. While the global launch comes earlier than expected, Nikon included a pleasant surprise by also unveiled two more cameras in its lineup of rugged, KeyMission action cameras - KeyMission 170 and KeyMission 80, each name denoting the field of view it can capture. Each of these cameras come with rugged bodies, and offer water, shock and freezeproofing in varying degrees.
Beginning with the Nikon KeyMission 360, the camera looks distinctly unique, with two bulging camera lenses housed in a square, metal body. It has two 20MP, 1/2.3"-type sensors, one on each side, and each accompanied by f/2.0 lenses. The camera can shoot videos at both 4K UHD (25fps) and Full HD (1080p, 24fps), and gives a completely stitched video footage, which means that you will not need to stitch separate video feeds post shooting. It can also shoot 30-megapixel, 360o still photographs, and ISO for the camera ranges between 100 and 1600. Unfortunately, the electronic vibration reduction (VR) function will not work when you shoot at UHD (2160x3840 pixels), which sounds like a bit of a deterrent, particularly considering GoPro's introduction of stabilisation on the Hero 5 Black yesterday, and Sony's already-unveiled X3000 action camera boasting superior, mechanical image stabilisation mechanism. The camera also offers a few creative modes like 'Time Lapse', 'Superlapse' and 'Loop Video' to make shooting more exciting. In terms of its proficiency as an action camera, the KeyMission 360's rugged body with the large protruding lenses is waterproof up to 30 metres, shockproof by up to 2 metres and freezeproof up to -10oC, without any external housing. Global pre-orders are now open on B&H Photo, and the camera will be available for sale from October 2016 for $500.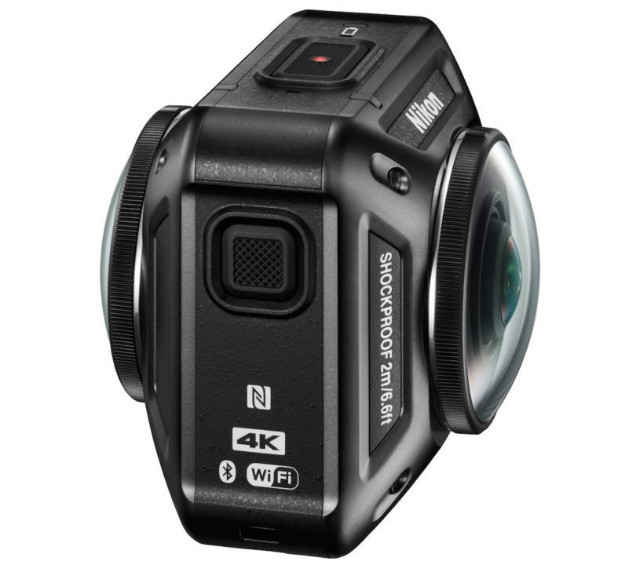 The Nikon KeyMission 170, meanwhile, looks a lot like the GoPro Hero 5 Black. It houses an 8.3MP, 1/2.3" type CMOS sensor, along with an f/2.8 lens that can capture 170o field of view. This can be used to shoot 4K UHD footage, although here too, electronic VR is not supported for UHD recording. It has a 1.5-in TFT LCD 345,000-dot display which offers 97% frame coverage. The KeyMission 170 can shoot Full HD videos at 120fps, and UHD videos are shot at max frame rate of 30fps. This one also offers a few creative modes, alongside being 10m waterproofing, 2m shockproofing and -10oC freezeproofing. These can also be extended with a casing that makes the camera waterproof by up to 40m, should you wish to push the limits of shooting in extreme conditions. The camera premieres at a price of $400 (approx. Rs. 26,800).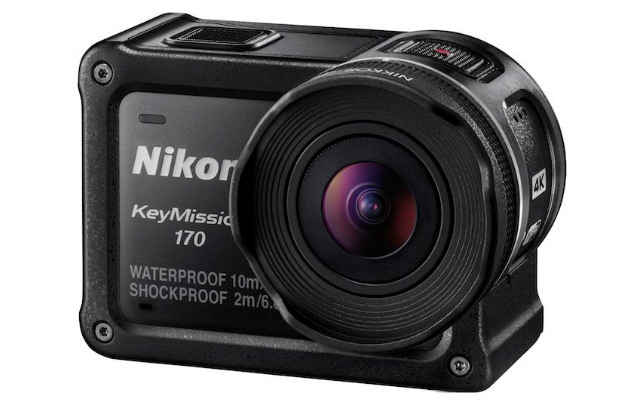 The last camera on Nikon's list, the KeyMission 80, is more of a rugged, storytelling camera than a serious action camera contender. Priced at $280 (approx. Rs. 18,800), the KeyMission 80 offers 80o field of view through the 12MP, 1/2.3"-type CMOS sensor coupled to the f/2.0 lens, while you also get a 5-megapixel camera with a 1/5"-type CMOS sensor and f/2.2 lens to quickly take self snaps while making a tour log. The KeyMission 80 is a camera dedicated to smartphone shooters to bring rugged abilities and better shooting capabilities. To keep things seamless, Nikon's KeyMission 80 turns on automatically when detached from its holder, has a 1.75" touchscreen LCD for quick settings view, electronic VR for stabilisation, and can only shoot at Full HD (1080p, 30fps) at max. The camera weighs only 74 grams, making this a unique camera that aims to capture the attention of young hikers and activity enthusiasts. The KeyMission 80 is not as rugged as its brethren, but still offers 1m waterproofing, 1.8m shockproofing and -10oC freezeproofing.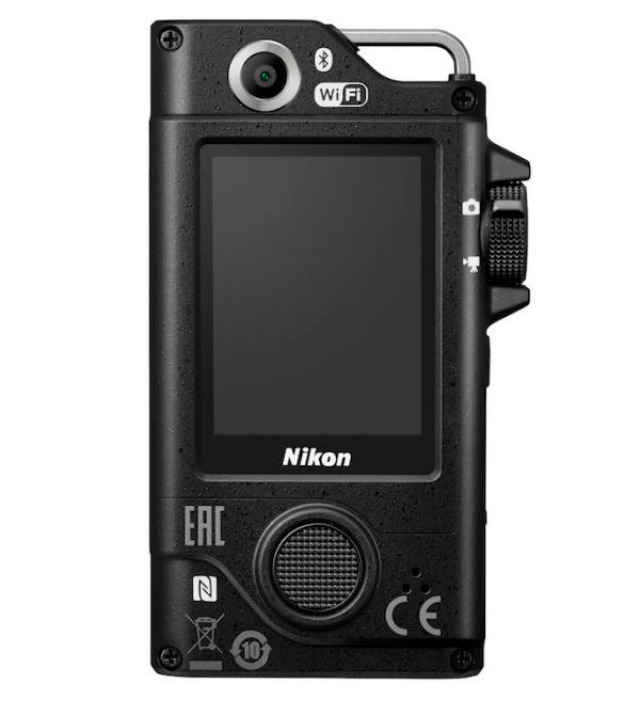 Nikon's KeyMission series of rugged cameras will go up against a host of new action-oriented imaging products, including GoPro's big splash yesterday, and Sony's equally alluring 4K action camera with mechanical action shooting. DJI has also offered 4K stabilised shooting with its Osmo lineup of cameras, but it remains to be seen when it joins the bandwagon of action cameras entering the market now.