Nikon jumped into the full-frame mirrorless game a few weeks ago with the announcement of the Nikon Z6 and Nikon Z7 and now the company is bringing the duo to India
Nikon's hotly anticipated full-frame mirrorless camera was announced a few weeks ago and now, it appears that the duo is ready to make their way to India. Nikon India has sent out press invitations for the launch event being hosted on September 19 where we expect atleast one, if not both, of the cameras to be announced.
The Nikon Z6 and Z7 were a heavily teased pair, with rumours assuming that Nikon was just working on one camera. When Nikon finally revealed what they had been working on, we got the Z6 and Z7, two full-frame mirrorless cameras with a new Z mount. The Nikon Z6 sports a 25 megapixel full frame sensor while the Z7 has a higher pixel count of 46 megapixels. Both the cameras come with a new Expeed 6 image processor.
Along with the two cameras, Nikon has also announced three new lenses, Nikkon Z 24-70 f/4.0 S, Nikkor Z 50mm f/1.8 S and Nikkon Z 35mm f/1.8. Nikon also announced the Nikkor Z 50mm f/0.95 S Noct, the crown jewel of the Z-series lenses, which will be available later in 2019. There's also a roadmap of upcoming lenses all the way to 2022 which shows off how Nikon plans to make sure that their Z-series cameras have a well-rounded lens portfolio.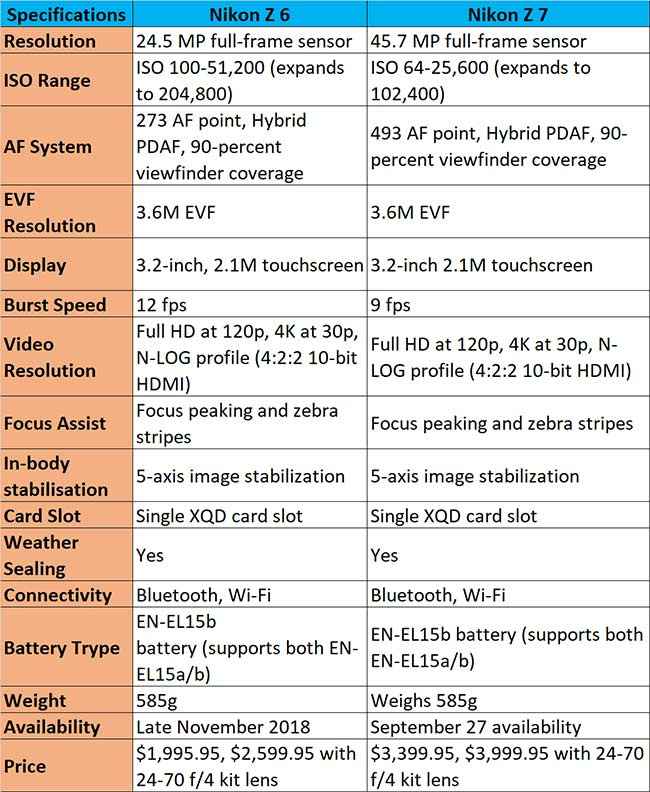 Unfortunately, due to a new mount which has a different diameter and a smaller flange-back distance, existing Nikon lenses will not be compatible with the Z6 or the Z7. If you're an existing Nikon user with a lot of Nikkor glass, you may want to invest in the FTZ mount adapter that will allow you to attach any F-mount lens to the camera.
The Z6 and Z7 directly take on the current king of mirrorless cameras, the Sony A7 MarkIII and the Sony A7r MarkIII, with a similar megapixel count. The Nikon Z6 was launched at a price of $1996.95 and the Z7 at $3996.95. The Sony A7III also sells for $1998.95 while the A7rIII retails for $3198. In this regard, the Z7 is slightly pricier. However, the India price for the Sony A7III and the Sony A7rIII is Rs 164,990 and Rs 264,990 respectively, so we expect Nikon's Z6 and Z7 to also be priced similarly. However, we will only know the final pricing of the cameras, along with lens and adapter availability on the 19th.