Fujifilm's FinePix J27 and Fujifilm's FinePix J3 have been released in India for Rs. 7,999, Rs. 8,499
Fujifilm has released two sleek cameras - 20mm thin - both with with a special double coated laminate to give a beautiful glossy finish which makes up the camera's catchy looks. The Fujifilm FinePix J27 is a 10-megapixel camera and the Fujifilm FinePix J30 is a 12-megaPixel one. Both the cameras have a 2.7-inch LCD screen and a 3X optical zoom.
For those people who hate adjusting camera modes to suit the environment they wish to capture the perfect pictures, these cameras do the hard work for you. With the inbuilt Scene Recoginition Auto feature the scene for your photograph is selected automatically (Portrait, Landscape, Macro, Backlit Portrait, Night and Night Portrait) and exposure, focus and white balance is adjusted to give you the best shots.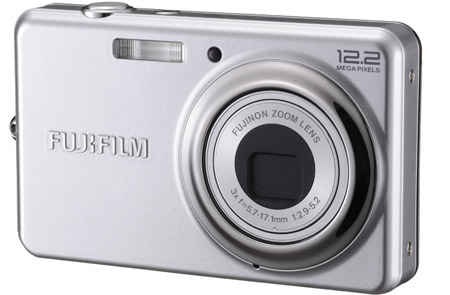 Both the cameras feature automatic red-eye removal and Face Detection. Face Detection finds all the faces in a frame and adjusts the pictures to give the best portraits of friends and family. The Panorama mode allows you to take pictures of large scenery by stitching three consecutive photos one beautiful panoramic picture. The Picture Stabilization mode keeps the blur out of pictures especially when you are shooting fast objects. It also has a ISO sensitivity of up to 3200 (3MP) which gives you pictures with great details in low-light conditions without the need of flash. Finally, you've got a Video Shooting mode too with sound and zoom functions.
The Fujifilm FinePix J27 is priced at Rs 7,999 and while the Fujifilm FinePix J30 is priced at Rs. 8,499.