The X-E4 is the most compact and lightweight mirrorless camera in the series. The camera also features an LCD monitor that sits flush. The body of the Fujifilm E-X4 is priced at Rs 74,999.
Fujifilm has released a couple of new mirrorless cameras in India. In addition to the more premium GFX 100S camera, the company also launched the X-E4. The X-E4 is the latest model to join the X-series of compact and lightweight digital cameras.
Fujifilm says the X-E4 is the most compact and lightweight of all mirrorless digital cameras equipped with the series' fourth-generation image processing engine. The X-E4 features the 26.1MP "X-Trans™ CMOS 4"*2 sensors and the high-speed "X-Processor 4" image processing engine to enable fast AF as fast as 0.02 seconds. It's the same sensor and the image processing engine found on the X Series' flagship model "FUJIFILM X-T4." The AF system can operate in low light conditions, even in near darkness at -7.0EV*3.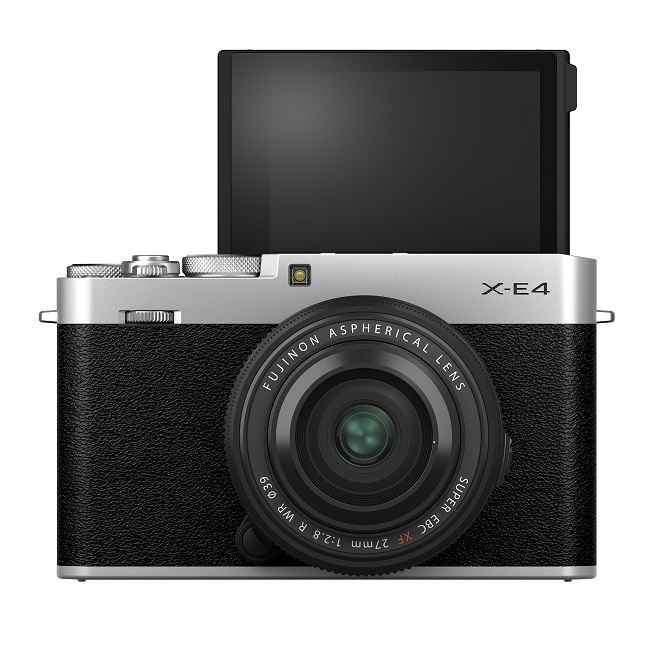 The camera also features an LCD monitor that can be flipped upwards to 180-degrees. The monitor sits flush when it is not in use, making it a very compact body. It also weighs approximately only 364 grams. The top panel, which makes it look like a traditional camera, is made out of magnesium. There's also a Shutter Speed Dial that allows users to check the shutter speed setting without having to turn on the camera.
The functions offered by the rear dial in the current model, the Fujifilm X-E3, are reassigned to the front dial to secure enough space for resting the thumb when holding the camera.
The X-E4 camera also comes with some extensive video-recording functions. The camera generates 4K video from the amount of data equivalent to 6K to ensure the footage is in high resolution with low noise. It supports recording 4K/30P video at 8-bit 4:2:0 onto an SD card inserted in the camera, and outputting 4K/30P video at 10-bit 4:2:2, containing greater color information, via the HDMI port. The camera is also capable of high-speed Full-HD recording at 240fps.
Coming to the pricing, the Fujifilm X-E4 is priced at Rs 74,999. In addition to the camera, the company also has two lenses on offer - FUJINON XF27mmF2.8 R WR and FUJINON XF70-300mmF4-5.6 R LM OIS WR priced at Rs 36,999 and Rs 73,999 respectively. You can also splurge on a bunch of optional accessories like the Handgrip "MHG-XE4" and the Thumb rest "TR-XE4".