Fujifilm today has made its debut into the interchangeable lens cameras category with the launch of the X-PRO1. The other cameras launched at the event are: HS25EXR, F660EXR (EXR Series), T350 (T series), JX500, JZ100 (J series), AX550 (A series), SL260, S4200, S2980 (S series), L30 (L series) and C25 (C series).
Speaking at the event, Mr. K Tanaka, Managing Director, Fujifilm India said, "We are very delighted to launch our latest 16 digital cameras in Indian market and specially excited to take the step of introducing Interchangeable technology. At Fujifilm, our effort is always to bring the latest and innovative technology in our product with the support of R&D team. With our latest addition X-Pro1 we are entering into the Professional and semi-professional camera market."
Minissha Lamba, the newly appointed brand ambassador of the imaging company said, "It is a proud moment for me to be associated with the one of the world's largest photographic solutions company. I have grown up using Fujifilm cameras, as I am very passionate about photography.It's great to see the wonderful new cameras of Fujifilm with great features and cool looks. I am eagerly looking forward to using my new Fujifilm JZ100"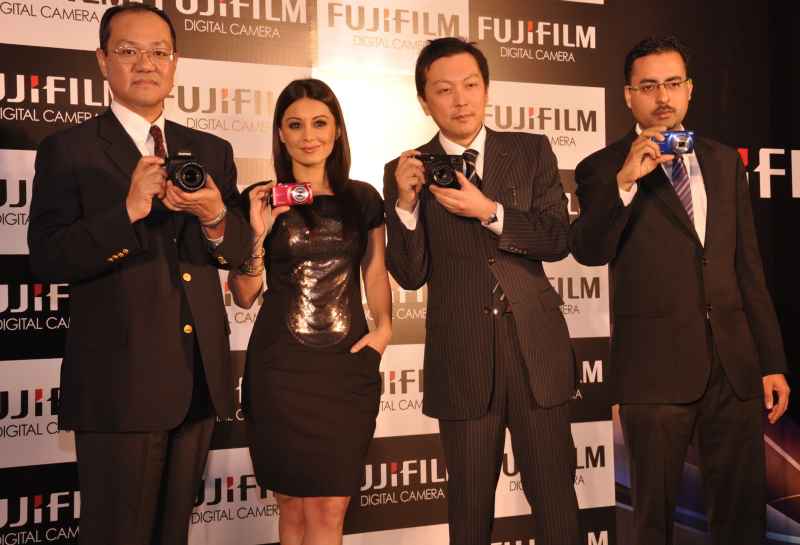 All the models launched have High Definition (HD) recording capabilities. Other features include Digital Image Stabilization, Motion Panorama mode, Face Detection technology, and Picture Search, Scene Recognition Auto, Blink Detection, and Smile & Shoot mode.
X-Pro1
The X-Pro 1 body includes a 16 megapixel APS-CMOS image sensor with Fujifilm's EXR processing technology. The X-Pro sensor boasts of clearer image with the 6x6 colour array. The hybrid multi-viewfinder allows the users to instantly switch between an electronic and optical. Three newly designed fixed 'X mount' lens, equivalent to a 27, 53, and 90 lens in a full sensor D-SLR camera, available as an addition feature along with the X-Pro 1. These interchangeable lenses have 18 millimetre f2, 35 millimetre f1.4 and 60 millimetre f2.4. The X-mount featured on the X-Pro 1 has a thin profile and quick shutter time lag. The X-Pro1 is priced at Rs. 99,999. All three lenses are priced at Rs. 30,000.
JZ100
The JZ100 is a point and shoot camera in 5 colors – Red, Black, Blue, Silver and Purple. The 14 megapixel camera has got an 8X Optical zoom, a 25MM wide angle lens with a bright LCD. Other features include Social Media upload, smile and shoot, Blink Detection, Tracking AF, scene recognition and motion panorama. The JZ 100 is priced at Rs. 7,999.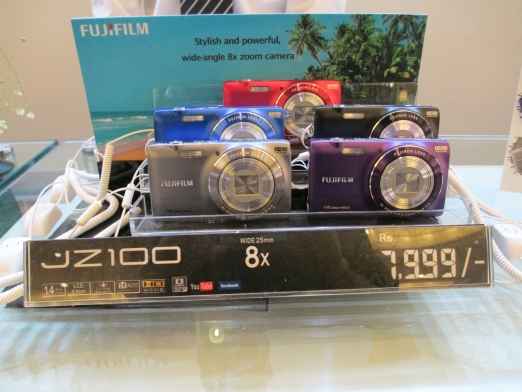 Specifications of the other cameras launched is as follows:
S series:
SL260: (14MP, 7.6cm LCD, 26x zoom, 6400 ISO. Price: Rs. 17,999)
S4200: (14MP, 7.6cm LCD, 24x optical zoom, 6400 ISO. Price: Rs. 15,999)
S2980: (14MP, 7.6cm LCD, 18x optical zoom, 6400 ISO. Price: Rs. 12,999)
T Series:
T350: (14MP, 7.6cm LCD, 10x zoom. Price: Rs. 9,999)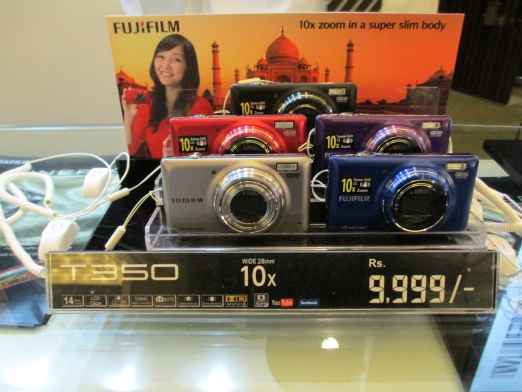 J Series:
JX500: (14MP, 6.9cm LCD, 8x zoom. Price: Rs. 7,999)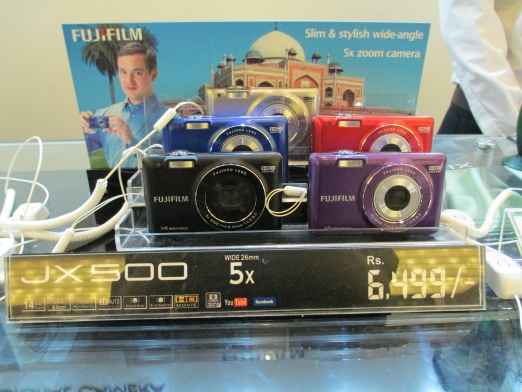 A series:
AX550: (16MP, 6.9cm LCD, 5x zoom. Price: Rs. 5,799)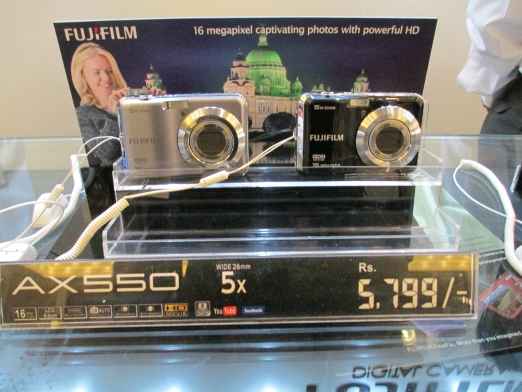 C series:
C25: (12MP, 6.1cm LCD, 3x zoom. Price: Rs. 3,499)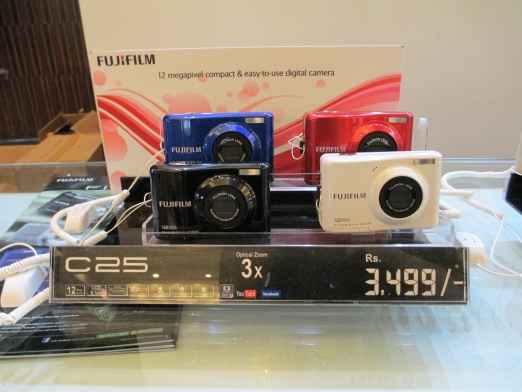 L series
L30: (10MP, 6.1cm LCD, 3x zoom. Price: Rs. 3,999)