Update: Fujifilm has now officially launched the FinePix F600EXR in India, pricing it at Rs. 19,888 - less than a grand more than the F500EXR, with additional features like built-in GPS and Landmark Navigator onboard.
---
Original article "Fujifilm launches FinePix F500EXR in India; introduces FinePix F600EXR globally" posted on: Aug 12, 2011 14:27:35 IST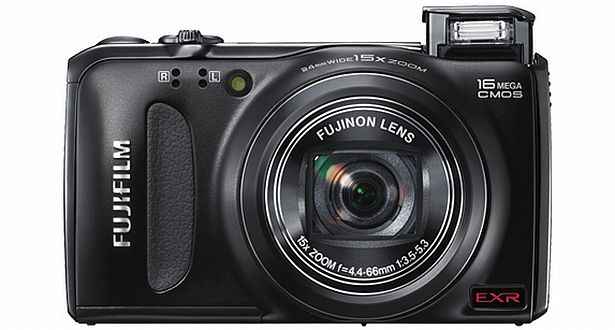 Fujifilm has launched the FinePix F500EXR compact digital camera in India, pricing it at Rs. 18,999. The FinePix F500EXR is part of the twelve compact digital cameras that Fujifilm announced for India back in April. models featuring a 16MP sensor, of the EXR CMOS type with Back Side Illumination, which Fujifilm claims will allow users to capture crisper and more vivid images than conventional CMOS sensors in a variety of lighting conditions.
The FinePix F500EXR also captures HD video in full 1080p HD resolution. Other features of the camera 15x optical zoom, a 3-inch LCD monitor, and a wide array of electronic assist features such as face detection and recognition, dog/cat detection, multi-frame composition, motion panorama 360 mode, and a variety of preset shooting modes, such as Velvia (vivid) and Astia (soft).
While the FinePix F500EXR is available in many colours, Indian shelves will stock only the Classic Black version for now – the other colours, paprika red, champagne gold, electric blue and classic white are expected soon. Visit Fujifilm's site for detailed specifications of the FinePix F500EXR.
In the meanwhile, Fujifilm has introduced the FinePix F600EXR globally, and it is expected to be bring it to India by October, priced slightly higher than the FinePix F500EXR. The FinePix F600 EXR will replace the F550EXR, and boasts of many features over an above it, while still maintaining the same compact form factor. It has the same 16MP EXR CMOS sensor as the F500EXR.
[RELATED_ARTICLE]
Fujifilm is touting the FinePix F600EXR to be "the ultimate travel companion," and has added such relevant features as built-in GPS for geotagging, as well as a Landmark Navigator feature to pinpoint locations. It also comes with a 15x wide-angle optical zoom, that has an Intelligent Zoom option for improved digital zoom that maintains contrast, and crispness by detecting and enhancing edges of objects.
The EXR CMOS sensor also comes with the new EXR Auto feature, that combined with motion detection, will inherently reduce subject blur even in low-lighting conditions. EXR Auto comes in three priority modes – high resolution, dynamic range, and signal to noise. Visit Fujifilm's site for detailed specifications of the FinePix F600 EXR.