Fujifilm has launched its new GFX 50R medium format mirrorless camera and two new XF lens for its X Series Range in India. The new finder-style GFX 50R features the company's G Format image sensor, which is said to be about 1.7 times the size of a full-frame 35mm image sensor. Fujifilm says that the camera weighs approximately 145g less and is 25mm thinner than the FUJIFILM GFX 50S. The new GFX 50R is also the company's first device to come with Bluetooth compatibility and features a 3.2-inch Tilt-Type touch-enabled LCD display with a 4:3 aspect ratio. It is priced at Rs 3,69,999 (body only).
Alongside the new camera, Fujifilm also added two new XF lenses to its X Series lineup, the XF 8-16mm f/2.8 R LM WR lens and the XF 200mm f/2 OIS WR lens. The XF 8-16mm f/2.8 R LM WR is a 12-24mm-equivalent lens that sports a constant f/2.8 maximum aperture. The XF 8-16mm f/2.8 R LM WR is available and is priced at Rs 1,59,999. Coming to the XF 200mm f/2 OIS WR lens, it is said to be the first super-fast telephoto lens in the XF lens lineup, which offers a maximum f-stop of 2.0 and a focal length equivalent to 305mm in 35mm film format. It is priced at Rs 4,79,999. Fujifilm India "hopes to consolidate its position in the Mirrorless Segment and plans to achieve 30% Share in the Indian Mirrorless Market in the next 3-4 Years."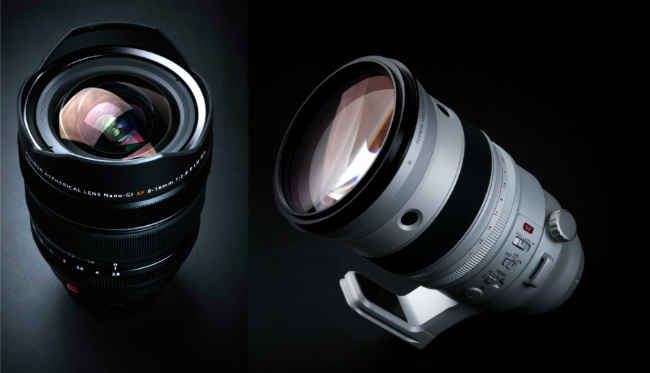 The GFX 50R features the X-Processor Pro image processing engine and is equipped with the Focus Lever for quick adjustment of the focus point. The top panel sports two dials, one for adjusting the shutter speed and other for tweaking exposure compensation. There are also milled aluminium dials. The camera body is made of magnesium alloy, which is weather-sealed in 64 places and is said to deliver dust and weather resistance. The camera is touted to operate at temperatures as low as -10 degrees Celsius as well.