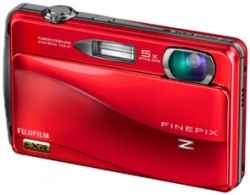 Fujifilm India has launched its latest camera in the country, featuring the award-winning EXR sensor. It is called the FinePix Z700EXR, and will be priced at Rs. 12,999. Fujifilm's EXR technology apparently has the ability to "switch its behaviour depending on the shooting conditions." It also provides options for manual options for high resolution, dynamic range, high sensitivity, and low noise, if you do not want it to select the best setting automatically.
A point-and-shoot camera, the FinePix Z700EXR features a 12MP Super CCD EXR sensor, a 3.5-inch touchscreen LCD viewfinder with 16:9 aspect ratio, 720p HD video recording, a Fujinon 5X periscopic optical zoom lens (36-180mm equivalent), all inside a diminutive metal chassis that is just 16.9mm thick.
The FinePix Z700EXR camera also gives users the ability to share their photos and videos over social networks, such as Facebook and Youtube, with its easy web upload tool via the MyFinePix Studio software.
Other features of the camera include the 460k-pixel touchscreen display, face detection (up to 10 people), face recognition technology, dual image stabilization, super intelligent flash, automatic scene recognition, as well as Dual Direction GUI and Dual Image Display. Dual Direction GUI apparently detects the orientation of the camera, and automatically switches the direction of the menu button accordingly. Dual Image Display technology allows the camera to display multiple images at once.
The face recognition technology on the other hand is pretty interesting…you can pre-program up to 8 people into the camera, by clicking a picture of them and identifying them by name, birthday and category (friends/family), and the next time you click a picture of them, the camera will automatically adjust settings to the subject's previous optimal settings, allowing for a exceptional picture. The picture search tool can also use the face recognition data to help you find and playback the relevant images quickly.