The stage is set for Canon and their July 23rd event. Rumours have been floating around for a while as to what Canon might be up to on this auspicious day, and we're here to round them up for you.
There was talk Canon might be launching four new DSLRs this summer. The EOS 650D has already come to light, so we wonder what's next. Well, the word is that the July 23rd event might be seeing the announcement of not one, but two mirrorless cameras by Canon.
It is rumoured that one of the mirrorless entries will sport an APS-C sized sensor, while the other will stick to the sensor size of the G1X. The pixel count on both is said to be 18 megapixels while the sensor itself will sport a design similar to that of the 650D. When the 650D was announced with its hybrid sensor, many people familiar with the science of imaging and digital cameras proclaimed that this was Canon's bid at testing out the technology that would go into a mirrorless camera.
If the rumours are to be believed, Canon is also developing several lenses, in a proprietary format for the mirrorless cameras. While many have wondered the need to develop a proprietary format, especially if the camera maker already has an extensive lens portfolio, well, the reasoning simply is physics. With sensor size potentially changing, and the distance between the sensor plane and the back element of the lens being greatly reduced, the optics would definitely require a rework.
However, the good news is that rumourverse postulates that Canon will include an EF adapter for those wanting to use their EF lenses with the new cameras to come. Whether the adapter will support only EF lenses or both the EF and EF-S formats is not yet known.
If Canon really is making their foray into the mirrorless segment with the July 23rd announcement, they sure are making a late entry. Here, we were thinking Nikon was taking their own sweet time, but that was justified seeing how they managed to come up with a sensor with the fastest AF system in the existing mirrorless segment. We can only hope that Canon will justify their late entry with some technological marvel infused into their mirrorless cameras.
---
Update: It seems like an image of the potential mirrorless camera has been leaked. Whether this is the camera to be announced or not, we will only know on Monday. Judging by the design, it looks like the camera is quite compact. It also seems that Canon might be calling their new lens mount EF-M (M for mirrorless perhaps?)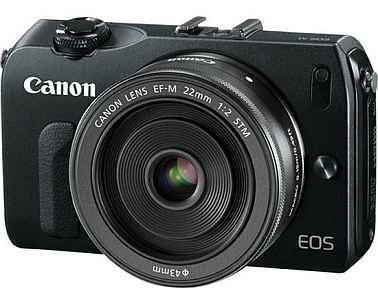 Leaked image of the new Canon mirrorless camera
Also read,