The Corona Virus lockdown has caused everyone's lives to change drastically. With everyone being locked indoors, it has opened up some time for people to learn new things. If you're a photographer or an enthusiast, Canon is opening up some big doors for you. The company has been running online classes with some ace Photographers, and you could be a part of it too. Nikon too has been doing something similar for the duration of this month.
Canon India is offering free online masterclasses with Canon Mentors every day, with classes having begun as far back as April 3. We only have five more classes left, but they are pretty interesting ones. Three of the classes focus on getting to know your camera. You'd be surprised how important it is to know the settings of your camera intimately. Understanding menu layout and settings help you save time while shooting. It also helps make sure you're using the best settings to get the most out of your camera. The other sessions explore the worlds of macro, Super macro photography alongside a professional course in food photography. You can see the schedule for the remainder of the classes below.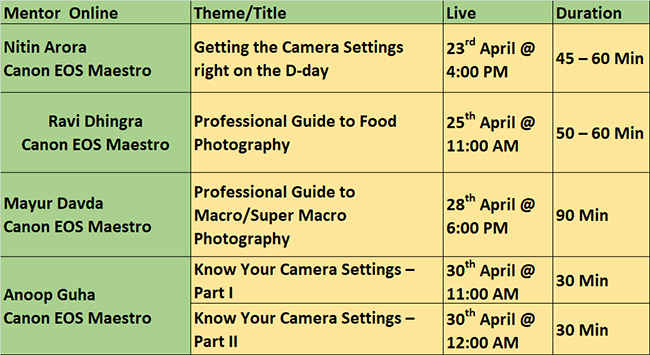 Speaking about the initiative, Mr C Sukumaran, Director, Consumer System Products & Imaging Communication Products highlighted that, "Amidst a global pandemic and lockdown across the country, we believe it is imperative to keep our consumers motivated and engaged. While the current times may feel challenging, our endeavour is to drive home the point that this could be the best time to learn something new and hone your skills in the art of photography. Considering this as an opportunity for the brand and with an aim to flourish the culture of mainstream photography in India, Canon India is organizing the masterclass webinars in collaboration with some of the best talents in the photography industry. Given our focused approach to ensure that the learning curve for photography enthusiasts is maintained, we are certain that these online masterclasses will be well received by our patrons across the country and will help them pursuing their passion for photography."
If you're interested in signing up for one of the Masterclasses, you're going to have to keep an eye out for Canon's official social media channels as well.