The article provides excerpts from the mini-interview with Mr. A. Rajkumar (Country General Manager(DSC), FUJIFILM India) at the grand unveiling of 14 next-gen digital cameras for summer 2010 carnival.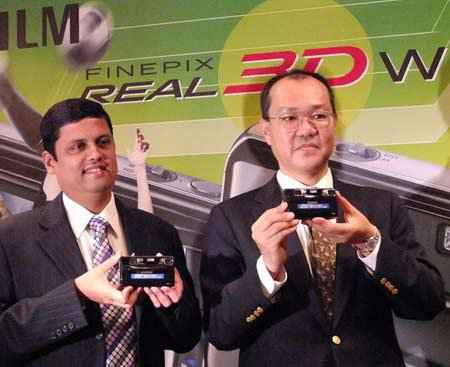 Below are excerpts from the mini-interview with Mr. A. Rajkumar (Country General Manager (DSC), FUJIFILM India) during the grand unveiling of 14 next-gen digital cameras at the company's Grand Summer 2010 Carnival event:
Q1. What is the technology behind CCD and BSI CMOS? How does it impact the performance of image sensor?
If you look at various technologies like CCD or BSI CMOS, each one has got its own advantage and disadvantage. Now, wherever we have a gap, for example, CCD is a technology which is invented in old environment, we have to bridge the technology by removing the hurdle. So, we needed to go for hybrid technology which really enhances their powers, that is why we found CMOS would be a very good upgrade. When we had to shift from CCD to CMOS there was once again a compromise that had to be made. What we gained on one side, we had to lose on the other side. That is why we went to CMOS technology, which gives a complete freedom for high-end cameras to deliver both quality and a lot many features.
Q2. Assuming that I am a casual user, I would like to know how the resolution and ISO sensitivity fare against each other. How does a higher resolution camera such as 10 MP with lower ISO sensitivity of ISO 1600 fare against a lower resolution camera 5 MP with a very high ISO sensitivity of ISO 12,800 (which is your latest innovation) in terms of image clarity and focus?
It is like fitting a Ferrari engine in an old ambassador. So, if at all you are talking about a digital camera, all the specifications have to be optimized to deliver a good picture quality. It does not mean that when you have a higher mega pixel camera, you get a good picture. It needs to be optimized.
Even on an 8 mega pixel camera, you need to put the right amount of wide dynamic range and the right amount of ISO speed. So, that is where we have come up with a technology called EXR technology. It is nothing but an optimization of resolution, wide dynamic range and sensitivity. So, to answer your question it is not just the mega pixel or sensitivity we have to consider.

Whenever you are looking at the subject matter to shoot, if you raise the resolution alone, then you may start getting grains and even getting dots. But, when you start increasing only the wide dynamic range, you will be able to capture different colours or different gamuts of colours. Since the resolution is not enough, that is where I said, in order to optimize you need to have all the three set at certain levels at any given shooting environment. If we don't do that, it is not that always higher resolution can give better picture, it is not that only wide dynamic range alone can give better picture and it is completely dependable on the shooting subject. So, this is where to provide more fidelity and power to the camera, the EXR technology helps users take beautiful pictures. So, there are models where we have integrated the EXR technology in our modern cameras.
Q3. What is the technology behind pet detection and how does it work?
What happens is that as far as the detection is concerned, all subjects in range are given the priority to focus. Otherwise generally what happens is only when pets are taken into focusing and the pets might go out of focus. This feature allows each and every subject matter available in that frame to be focused well.
Q4. How do you differentiate AV and AX series as against JV, JX and JZ series in terms of market targeting or target consumer base? In other words, how do they differ in terms of price to performance or price to features factor?
The first and foremost difference between A and J series is that A series are AA category and J series are Li-ion battery category. Otherwise when it comes to technology wise there is not much difference, if you look at the features or specifications it is almost the same. But, when it comes to AA category, it is slightly thicker and when it comes to J series it is slightly sleeker because it is Li-ion category. Price point as far as the AA battery category is concerned starts from Rs. 4,999/- and for Li-ion category starts from almost Rs. 6,999/-.
Q5. What is your goal for 2010 in terms of target audience while unveiling a broad range of digital cameras that are targeted across diverse market sectors?
A. We are targeting around 8% of the total digital camera market size in India. That is our goal. We started two years back and first year of operations has fetched us 2% market share and this year we are looking to consolidate on it.