Bitcoin is the most valuable digital asset but volatile
Bitcoin (CRYPTO: BTC) was created by Satoshi Nakamoto and its ledger started on January 3, 2009. Since its inception, it has become the most valuable and popular digital asset in the world.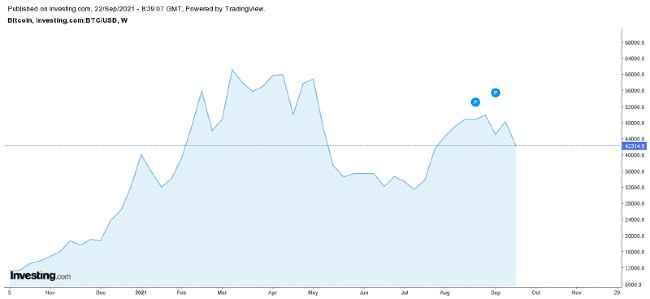 2021 has been a highly volatile year for Bitcoin. In April 2021, it touched an all-time high of $ 65,000 (roughly ₹ 47.7 lakhs). In May 2021, Bitcoin prices corrected by more than 50 percent from the all-time high after Tesla (NASDAQ: TSLA) CEO Elon Musk announced that his company would no longer accept Bitcoin as a payment mode. After a few months of consolidation, it reclaimed the $ 50,000 level (roughly ₹ 36.8 lakhs).
On September 7, 2021, El Salvador became the first country to declare Bitcoin as legal tender.
Bitcoin prices may touch $100K by the end of 2021
According to a report published by Bloomberg, the price of Bitcoin is likely to approach by the end of 2021. "About $40,000 may be the Bitcoin cap a while within that we see as a resting crypto-asset bull market. No. 2 Ethereum is rapidly moving towards No. 1 market-cap status and has been a top driver of the Bloomberg Galaxy Crypto Index in 2021. Bitcoin is more likely to resume appreciating towards $100,000 resistance rather than sustaining below $20,000," the report read.
On September 16, 2021, Mike McGlone, Bloomberg Intelligence Senior Commodity Strategist, tweeted that he expects a "significant advance in 2021, potentially to $100,00, we believe".
Bitcoin's supply cap will boost the upside movement
"The human nature of acknowledging a new asset class is what we see as a primary support in 2021," stated Mike McGlone in Bloomberg Crypto Outlook 2021, June 2021 Edition.
The report states that the supply cap of Bitcoin will help it to become more expensive. Bitcoin supply will keep 'halving' every four years, and its supply will stop once its circulation supply touches 21 million coins. "The 2020 halving came amid unprecedented global fiscal and monetary stimulus, along with institutions tilting towards Bitcoin allocations," the report added.
At the time of writing this article, 1 Bitcoin was trading at $ 42,325.10 (₹ 31,28,438.60).
For more technology news, product reviews, sci-tech features and updates, keep reading Digit.in or head to our Google News page.