Elon Musk raises concern over the high transaction cost of Dogecoin as a roadblocker in mainstream adoption of cryptocurrencies.
The billionaire, Founder - CEO of Tesla and SpaceX, Elon Musk opens up on how Dogecoin can grow and become a viable source of payment for the consumers - the general public.
We already know from the past that Elon Musk has a great interest in Dogecoin and other cryptocurrencies. His tweets are known to create volatility in the cryptocurrencies market. His new take on the Dogecoin use states that it is important for the Dogecoin fees to fall for it to become more widely used in retail while responding to a tweet by Dogecoin co-creator Billy Markus who tweets with the handle Shibetoshi Nakamaoto.
Markus took to the microblogging site, responding to Chief Executive of U.S. cinema chain AMC, Adam Aron tweet. Markus tweets - , "Robinhood announcing wallets, AMC CEO not only talking about accepting dogecoin but saying it was the single most interacted with tweet he has ever made, the crypto market finally seeing some green." And shortly, Musk responded, "Super important for Doge fees to drop to make things like buying movie tix viable."
AMC CEO Adam polls over accepting Dogecoin
AMC Entertainment Holdings is the largest movie exhibition company in the US, Europe, and the world. AMC CEO has earlier announced that they will accept Bitcoin, Bitcoin Cash, Litecoin, and Ether for payments. CEO Adam Aron set up a poll on Twitter to ask the crypto community if his company should also accept the popular meme cryptocurrency dogecoin (DOGE).
"I sincerely want to hear your opinion, via this Twitter Poll. By year-end 2021, AMC will take Bitcoin, Etherum, Litecoin and Bitcoin Cash for online payments. I hear from many on my Twitter feed that we should accept Dogecoin too. Do you think AMC should explore accepting Dogecoin?"Adam Aron said in a tweet, which was liked by Musk. And commenting on Musk's reaction to the tweet, Aron wrote, "I never thought I would see this day. @ElonMusk liked my Dogecoin Twitter Poll tweet. If you happen to see this tweet too Mr. Musk, congratulations on Tesla and SpaceX. I have strived to be an innovator my entire career, but you sir are the epitome of innovation above all others," he said in another tweet."
According to the poll results, 68% of the 140,388 voters said, "Yes, for sure do it." A further 9% supported the addition of dogecoin as a payment method but said they "won't use it." Only 23% said "no" to the company accepting DOGE.
The AMC CEO was overwhelmed by the results and enthusiasm of the dogecoin community.
Meanwhile, dogecoin rose 8% to $0.22, as per CoinDesk. Earlier in May, Dogecoin rallied after Musk announced that he is working to improve system transaction efficiency. On the other hand, Bitcoin had slumped after the Tesla chief tweeted that his car making company has decided not to accept payments in BTC
High Transaction Cost
This tweet has come from Musk despite Dogecoin having low transaction cost as compared to other cryptocurrencies. Dogecoin has an average transaction cost of USD 0.593 against USD 46.31 of Etherum and USD 2.156 of Bitcoin. These transaction costs are still on a much higher side for retail transactions as, according to the reports, the average value of a transaction is USD 53.98 for a SMB retailer which reduced to USD 22.88 for a food retailer. The lower cost of transaction will help in greater adoption of cryptocurrencies. A responsive graph shows us the difference between the transaction costs of three different cryptocurrencies.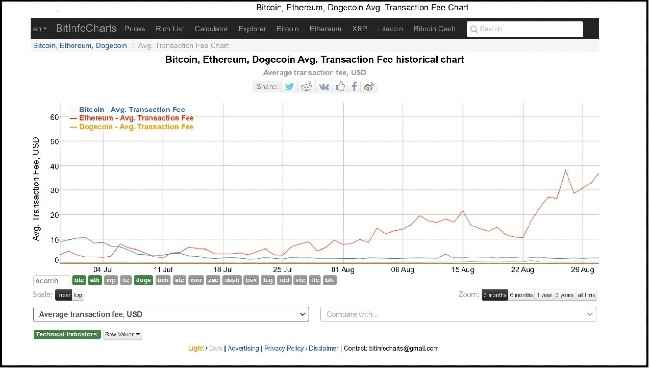 Disclaimer: This article has been authored by a member of our Digit Squad community.