Volvo's radical new concept car is a fully-electric autonomous vehicle that barely resembles a car from the inside. Unveiled yesterday, the 360c concept shows that you can use its spacious interiors to sleep, sit, meet with people, and do work while being on the road. Though Volvo is aiming for a 2021 release, the 360c is still a concept car and isn't going to go into production anytime soon.
Volvo believes the 360c can be your bedroom
Marten Levenstam, the Swedish carmaker's Product Strategy Chief says that the 360c is "a conversation starter, with more ideas and answers to come as we learn more." According to the Volvo concept page, the 360c is fully electric. It can travel a distance of up to 300 kilometres on a single charge. Pictures from the site show that the car has no controls for driving whatsoever. That's because the car features Level 5 autonomy, meaning it can drive itself completely without any human intervention.
The seats inside the car can be configured to seat two to four persons with a table in the middle. They can also be configured to form a bed, complete with pillows and a blanket that has a safety harness. Volvo's idea is that the user can rest, chat, and carry on with their work while the car does the driving. In fact, Volvo imagines this as a replacement for short-haul domestic flights. According to Volvo, the 360c can drive users to neighbouring towns and cities for meetings and other appointments while the user carries on with their everyday work.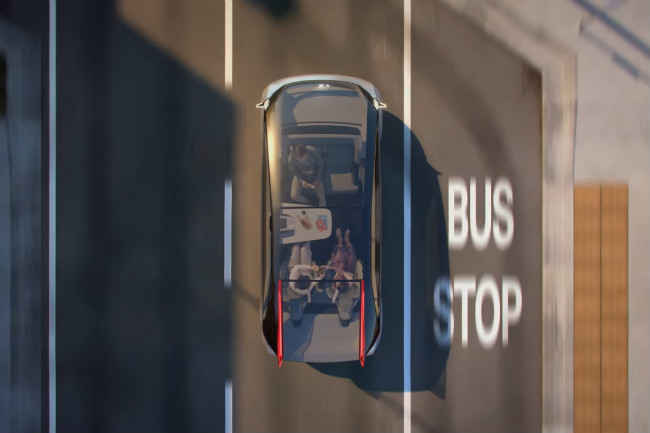 Volvo believes the 360c can be your meeting room too
While presenting the new 360c concept, Volvo proposed a new global standard for communication among autonomous vehicles. According to the carmaker, its engineers have worked on a system for the 360c that uses external sounds, colours, visuals, and movements to communicate the vehicle's intentions to other road users. This apparently is a critical feature for self-driving vehicles in the future.