HIGHLIGHTS

Tesla's new EV is a light commercial vehicle

It will come in three variants in late 2021, with a max range of 800km

Prices will start at $39,900 (Rs 28.61 lakh approx)
From an automaker that came up with a special 'Ludicrous Mode' to make its electric cars go faster, what sort of pickup truck can we expect but a mad-looking one? Tesla's new all-electric light commercial vehicle, the Cybertruck, is indeed a futuristic collection of sharp edges on wheels. Unveiled yesterday by Tesla CEO Elon Musk at an event in Los Angeles, California, the Tesla Cybertruck features a maximum range of about 800 kilometres on a single charge and a maximum towing capacity of about 6 tonnes.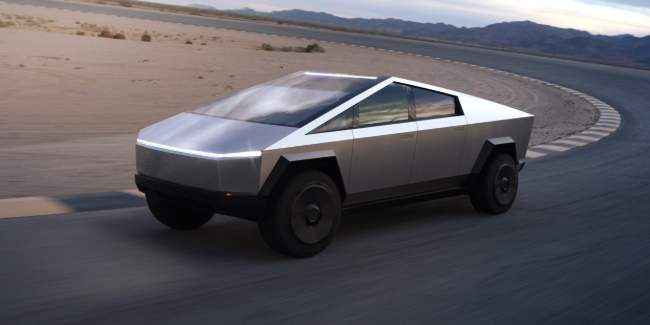 While it's really cool to view in pictures and videos, the Tesla Cybertruck is nowhere close to being road-ready. Tesla has currently opened up its new electric pickup truck for online pre-order but deliveries will commence only in late 2021. The Tesla Cybertruck will be available in three variants: a single-motor variant with rear-wheel drive, a dual-motor variant with all-wheel drive, and a tri-motor variant with all-wheel drive. The tri-motor variant will be available for delivery only in late 2022.
The price of the new Tesla Cybertruck starts at $39,900 (Rs 28.61 lakh) and goes all the way up to $69,900 (Rs 50.17 lakh approx). While the base single-motor variant is good for a driving range of around 400 kilometres and does 0-100 kilometres per hour in under 6.5 seconds, the top-end tri-motor variant comes with a driving range of over 800 kilometres and can do 0-100 kilometres per hour in under 2.9 seconds. What's more, a self-driving package can be bought optionally for $7,000 (Rs 5 lakh approx).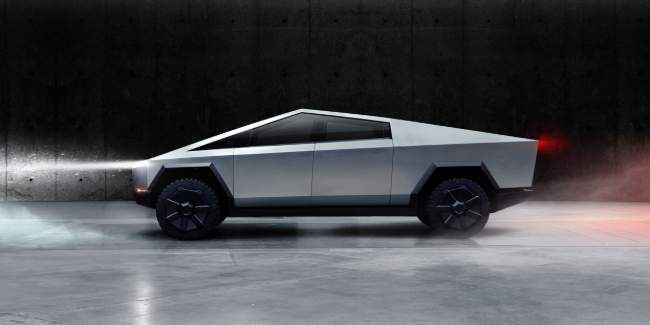 A profile view of Tesla's new pickup truck reveals what's best termed a long triangle on wheels. It has four small doors on the side and a long LED light strip running across its face. According to Tesla, the Cybertruck can supply power to power tools without needing a portable generator. The truck also packs an air compressor for pneumatic tools. Optional cabin features include bulletproofed doors and windows along with complete cabin pressurisation for amphibious use. We expect to get more details on this do-it-all electric pickup truck in the coming days.