Highlights:
Polestar, a Volvo Cars subsidiary announces Polestar 2
The Polestar 2 is fully electric
It's expected to cost 39,900 euros (Rs 32 lakh) when it goes on sale in 2020
Polestar, the performance cars wing of Volvo Cars, has announced the second generation of the Polestar. The Polestar 2 is an all-electric five-door performance fastback with a targeted range of 500 kilometres. According to a news release sent out by the Swedish subsidiary, the Polestar 2 will be built in China and priced at 39,900 euros (Rs 32 lakh approx) when it goes on sale sometime in 2020. A "launch edition" will also be launched at 59,900 euros (Rs 48 lakh approx). In comparison, its only other rival, the Tesla Model 3, starts at $35,000 (Rs 25 lakh).
"Polestar 2 is our first fully electric car and first volume model. Everything about it has been designed and engineered with passion and dedication. As an electric performance brand, and through the forthcoming launch of a portfolio of fully electric cars, Polestar is determined to address the world's air quality challenges. Polestar delivers electric performance cars that are great to own and drive," commented Thomas Ingenlath, Chief Executive Officer of Polestar.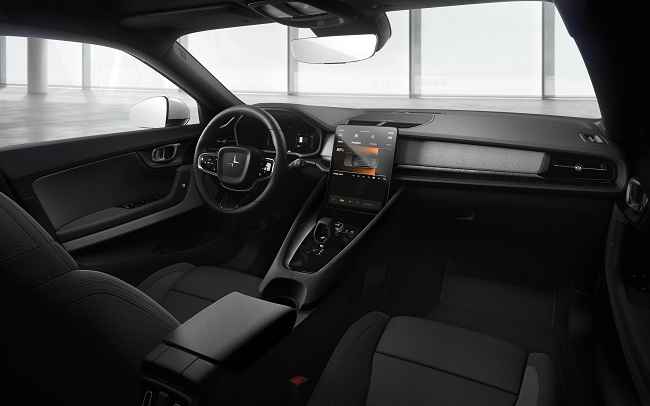 Polestar 2's interiors
Unlike the new Polestar 2, the Polestar 1 was announced in October 2017 as a two-door plug-in performance hybrid. The announcement also marked Polestar's foray into independent car making. The Polestar 2 features a 78 kWh battery, which according to the company, is good for up to 500 kilometres of travel on a single charge. The 27-module battery sits low and contributes to the rigidity of the car's chassis. The Polestar 2's four-wheel-drive powertrain chuns out 408 horsepower, launching the car from 0–100 kilometres per hour in under 5 seconds.
On the inside, the Polestar 2 features an Android-powered infotainment system, which means it comes with Google Assistant and Maps built in. The centre console is home to an 11-inch touchscreen display that features natural voice control. The car employs Phone-as-Key technology, which enables car sharing and an integrated ownership experience. The Polestar 2 comes with a list of cool features like the proprietary Pixel LED headlights and frameless rear-view mirrors. The Polestar 2 will only be available for purchase online.
Related Read: Tesla Model 3's new entry-level variant launched in the US at $35,000