The Rolls-Royce Phantom VIII has been launched in India. Hailed as possibly the most luxurious car in the world, the eighth generation Phantom retains the ultra-luxury bespoke experience for its customers, and comes with a bunch of new-age automotive technologies to make it what Rolls-Royce claims the "most advanced luxury motor car available". The Rolls-Royce Phantom is being launched in partnership with KUN Exclusive, and Chennai and Hyderabad have been earmarked by the company as the prime cities of target. The standard Phantom is priced at Rs. 9.5 crore, while the Phantom Extended Wheelbase is priced onward of Rs. 11.35 crore.
The Rolls-Royce Phantom VIII has a host of driver assistance systems like alertness assistance, active cruise control, pedestrian and cross-traffic warning, lane departure and change warnings, along with visibility assistance that includes panoramic view, helicopter view, all-around visibility, night vision assistance and a 7"x3" head-up display. The cabin is also incredibly silent, with sound-proofing technologies including 6mm two-layer glazing providing for over 130kg of noise insulation, high auditory absorption materials, and 'silent seal' tyres that reduce road tyre noise by 9dB.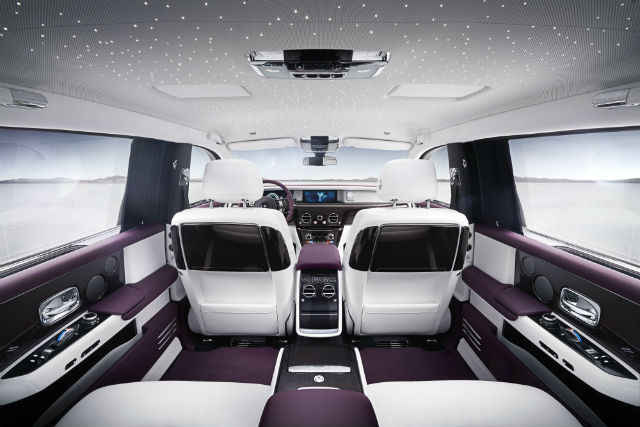 The Phantom is powered by a 6.75-litre twin-turbo V12 engine that produces 563bhp and 900Nm peak torque. The 8-speed ZF transmission is satellite-linked to 'read' the road ahead and make gear shifts smoother. The 'Magic Carpet Ride' is further improved over the previous generation with a lighter, more rigid chassis and self-levelling air suspension and electronically-controlled shock absorber system that makes micro-adjustments to fine tune the ride quality. The Rolls-Royce Phantom VIII is a part of the company's latest initiative to focus more on the Indian market. Rolls-Royce will also be reportedly launching the Cullinan later this year, to account for a total of five launches by 2018.