In a packed historical auditorium named Salle Wagram in Paris, the Chairman of KYMCO, Allen Ko, announced last week the company's plan to make its most recently launched scooter, the Ionex, commercially available to large organisations and city governments. Dubbed Ionex Commercial, the B2B solution comprises Ionex electric scooters, pluggable batteries, charging stations, and concomitant IT systems, enabling the user to run a fleet of electric two-wheelers for delivery of goods and intra-city transportation.
Ionex electric scooter
Launched earlier this year in June, Ionex is KYMCO's newest range of scooters. It's a line of fully electric scooters that run on swappable 650Wh lithium-ion batteries. Each Ionex scooter can hold at least two batteries. The more the number of batteries installed by the user, the longer the scooter's range is. Each battery weighs five kilogrammes and features a handle on the top for portability.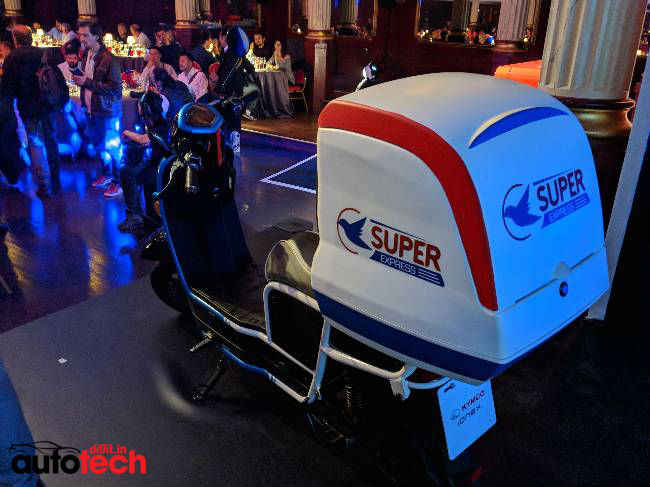 A typical Ionex delivery scooter could look like this
The batteries are stored and charged in KYMCO's Ionex charging stations. Each station holds between 8 and 20 batteries inside easily accessible slots. The charging stations can be placed in various parts of a large warehouse or in convenient, accessible locations of a metropolis. Users can pull fresh batteries out of a station and install them in their Ionex scooters, and replace the empty slots with depleted batteries.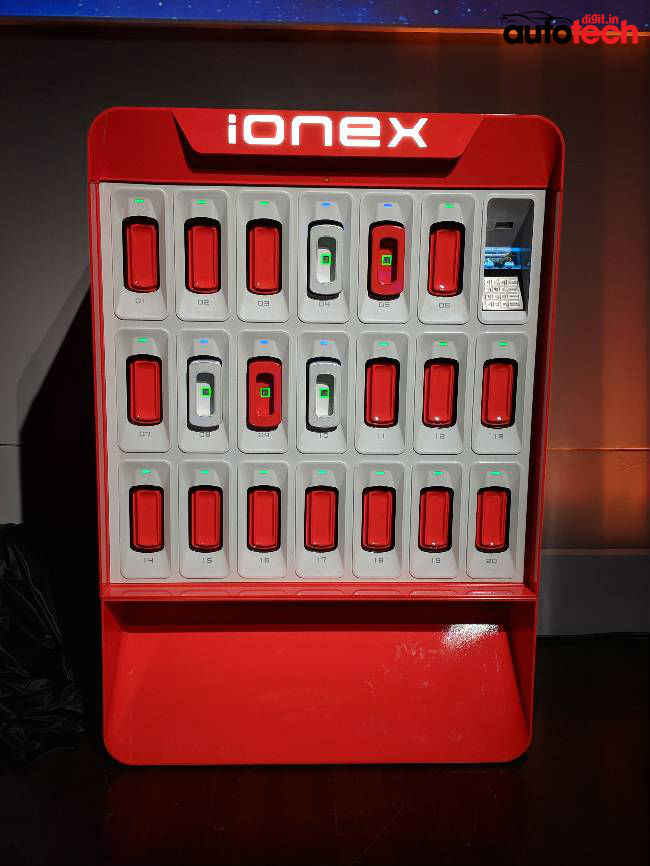 The Ionex charging stands tall at a little over 5 feet
Ionex Commercial
KYMCO dreams of a world where logistics firms implement Ionex Commercial to run a fully electric goods-delivery fleet that's more efficient than current petrol-powered solutions. KYMCO believes that this solution—by virtue of being electric—will not only translate to lower maintenance costs for the organisation but will also elevate the working conditions of the fleet's employees by being free of exhaust fumes, noise, and vibrations. The solution could just as well be implemented in a city to provide commuters with an easy option to switch from a metro train or bus to a scooter to cover the last mile.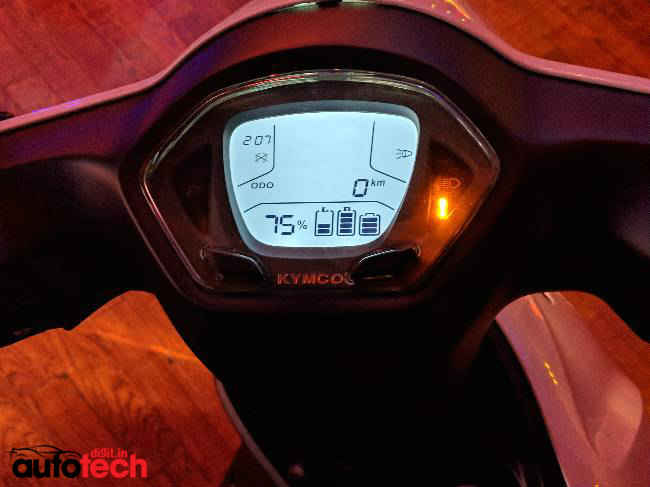 An Ionex scooter with multiple batteries installed
Elucidating the easy implementation of Ionex Commercial on stage, Ko said, "Unlike consumer vehicles, often times the procurement of entire fleets of commercial vehicles is managed by just a few business decision makers. Hence, a conversion of even a small number of businesses to 'go electric' has the potential to make a big impact on the environment."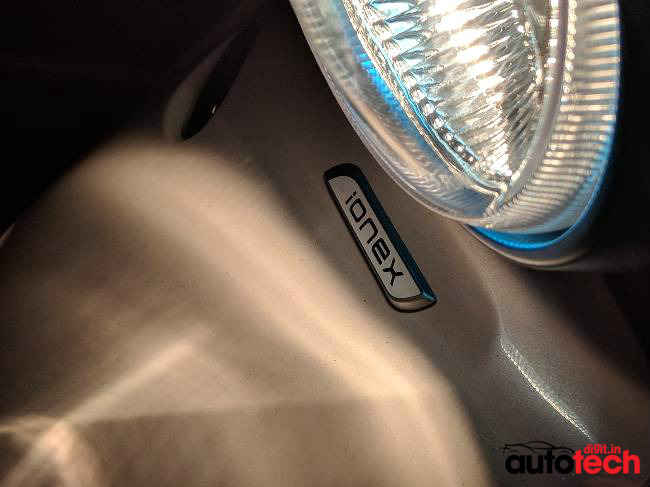 The Ionex surprisingly uses filament bulbs instead of LED for lighting all around
Quoting some essential numbers around electric scooters, Ko continued by saying that the world currently has over 150 million scooters roaming the streets. Of those, 5 million are used commercially. They travel seven times farther on average and are replaced twice as frequently than privately owned scooters . "This is an inflection point for businesses and governments to make a big impact in modern transportation," he added.
KYMCO in India
Shortly after the announcement of Ionex Commercial, I was given the opportunity to interact privately with Allen Ko, where I asked him if KYMCO had plans of launching the Ionex scooters in India. His reply was a definite yes. He said he believes it's a great time for KYMCO to enter India and that a solid plan is in the works for it to happen. When asked for dates, Ko replied smilingly, "You can expect to hear the good news very soon." I pressed, "How soon? 2021 maybe?" Smiling once again, Ko answered, "No, that's too late. It's much earlier than that."
Minutes into our conversation, I asked Ko if KYMCO would be ready to make any India-specific modifications to its scooters and batteries when it enters the country. Ko nodded and said that KYMCO would build Ionex models specifically designed to take on the extreme heat and dust scooters currently face in India.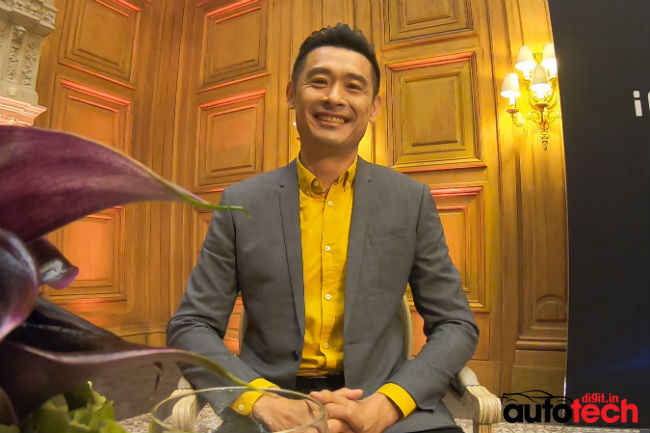 Allen Ko, Chairman of KYMCO since 2014
When asked if KYMCO had a specific target group in mind for its scooters, Ko explained confidently, "KYMCO has never been a big volume-chaser. In every part of the world, it's the same. The key is to bring the best of KYMCO to India. The first area is electric scooters; so we want to have Ionex and Ionex Commercial in India. As far as gasoline-powered scooters go, they've been very specialised and traditional. So we will enter the Indian market with gasoline-powered scooters as well. We want to have a significance presence. There's a growing number of customers who look for better designs and premium quality and don't mind paying a little more. This is the type of customers we're trying to capture."
Having seen everything that the Taiwanese scooter maker had to showcase and announce in Paris, I'm quite confident that, with Ionex and Ionex Commercial, KYMCO is capable of going the distance that TVS couldn't with its Scooty Teenz Electric (or Hero Eco, with its electric scooter range for that matter)—provided the scooter maker does a bang-up job of setting up the necessary infrastructure. KYMCO will have to go a long way before it can win the hearts of Indian motorists who are used to the convenience of petrol-powered thumb-and-go scooters like Honda Activa and Suzuki Access. Executed right, KYMCO should see umpteen takers for its Ionex scooters first in large warehouses and then in crowded cities.