A Hyundai Kona EV in Canada reportedly caught fire and exploded. Fortunately, no one was hurt.
In a rather anticlimactic development weeks after the model's big launch in India, a Hyundai Kona EV reportedly caught fire and exploded while it was parked inside a residential garage in Île Bizard, Montreal. According a report by CBC Canada, firefighters arrived at the place of the incident to put out the fire and investigate further. The explosion reportedly blew the garage door off its frame and sent it flying across the street. Fortunately, no one was injured.
Piero Cosentino, the owner of the electric car that exploded, said that he'd observed clouds of dark smoke arising from his garage on Friday afternoon (July 26). "As soon as I saw that, I immediately turned off the breaker," Cosentino was quoted as saying to CBC. The owner reports that the incident was a close call at any rate. "If we were in front of the garage door, we could have been in the hospital." The Hyundai Kona EV in question was reportedly purchased in March this year.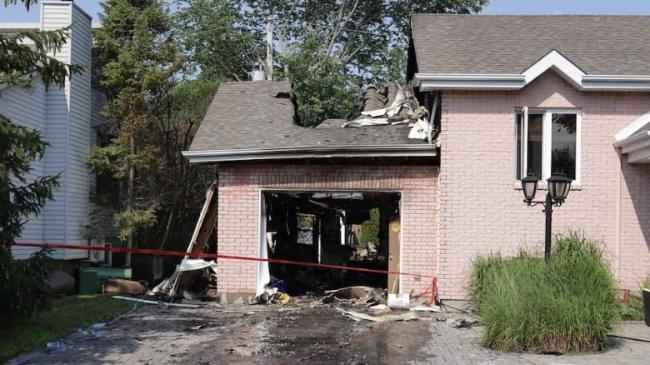 The damaged garage in which the Hyundai Kona EV was parked
According to Cosentino, the car was neither charging nor plugged in at the time of the incident. Louise Desrosiers of the Montreal fire service believes there was no other factor inside the garage that could have contributed to the explosion. It's likely that the temperature of the battery in the Hyundai Kona EV suddenly rose, leading to an explosive reaction. The Kona EV sold in Canada employs a 64.0 kWh Lithium-ion polymer (LiPB) battery that's capable of producing 170kW.
The Hyundai Kona EV was launched in India earlier this month at a starting price of Rs 25.30 lakh. The Indian variant is equipped with a 39.2kWh lithium-ion battery, which, according to ARAI, is certified to deliver about 452 kilometres of driving range on a single charge. Though it's hard to say if the fire incident in Canada will impact the EV's sales in India, it's sure to raise some eyebrows. The Hyundai Kona EV currently sells in India with an eight-year warranty on the battery in five colour options. You can read more about Hyundai's first EV for India here.
Cover and inline image courtesy: CBC