HIGHLIGHTS

Hyundai announces new transmission tech to improve fuel efficiency in hybrids.

The new tech will be introduced in the upcoming Hyundai Sonata Hybrid before making it to future Hyundai and Kia hybrids.

Hyundai says it reduces shift times by 30 percent.
Hyundai is keeping itself quite busy this time of the year, especially in India. Having launched the Kona EV in the country last week and the much-awaited Venue subcompact SUV a little before that, the Korean car maker is now announcing that it has developed a fuel-saving technology for future Hyundai hybrids. Dubbed Active Shift Control, the new transmission technology is claimed to reduce shift times in hybrids by 30 percent. The upcoming Hyundai Sonata Hybrid will be the first model to employ Hyundai's new tech.
According to a press release sent by Hyundai Motor Group, the new Active Shift Control technology optimises transmission efficiency by monitoring gear shifts 500 times per second, allowing for precise adjustment of the transmission rotation speed for quicker shifts. The new tech applies new control logic to the Hybrid Control Unit (HCU), which then commands the electric motor in the engine bay to align the rotational speed of the engine and transmission to reduce shift times from 500ms to 350ms.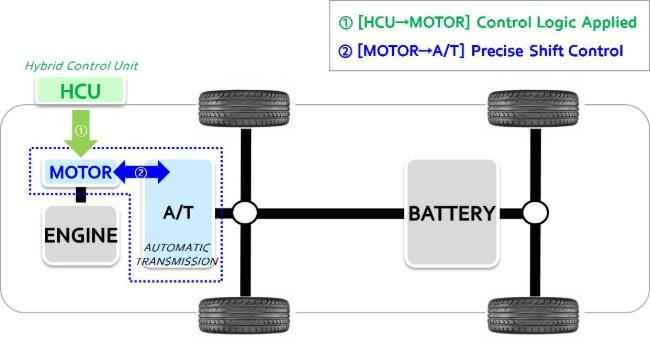 How the new Hyundai tech works
Hyundai claims that apart from reducing shift times, the new technology also increases the durability of the transmission as it minimises friction during shifts. "The development of world's first ASC technology is a remarkable innovation which incorporates precise motor control to automatic transmission," commented KyoungJoon Chang, Vice President and Head of Powertrain Control System Group of Hyundai Motor Group in the press release.
Though the new Active Shift Control is expected to be introduced in the upcoming Hyundai Sonata Hybrid, it will eventually make its way to future Hyundai and Kia hybrid models. While Hyundai was recently busy with the launch of the Kona EV and Venue subcompact SUV, Kia—a new player in the Indian car market—was busy with the global announcement of the Seltos, yet another subcompact SUV. MG Motor, on the other hand, revealed the price of its Hector SUV in late June.
Inline image courtesy: Hyundai Motor Group