Google appears to be adding a new feature to Maps nearly every other day. Only a couple of days ago we reported that Google Maps had begun showing some useful information for commuters who take the bus and train (or sometimes both). Now the popular map app has added a digital speedometer feature, which should prove useful for drivers trying to keep their vehicle's speed in check. The new feature was first reported by Android Police yesterday.
From the screenshots shared by the publication, we can tell Google has added a small widget to the bottom left corner of the main navigation screen. The widget shows the speed limit in the section of the road around the device followed by the vehicle's current speed. The unit of speed shown below it is either miles per hour or kilometres per hour, depending on the region or user's preference. Note that the feature is available only when Maps is used in navigation mode for vehicles.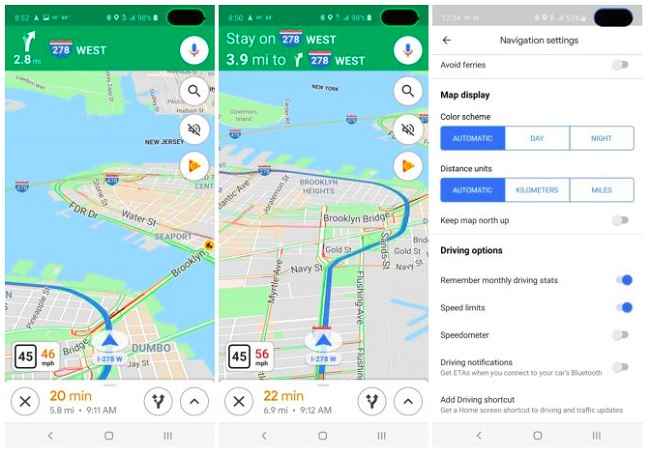 The new speedometer feature in Maps is optional; users who want the little speedo widget while driving must first head to "Navigation settings" in the main settings screen and enable it from the "Driving options" section. According to Android Police, the feature has so far been rolled out only to Maps users in Argentina, Australia, Belgium, Brazil, Canada, Czech Republic, Germany, India, the Netherlands, Poland, Portugal, Sweden, the UK, and the US. Users in other regions are expected to get it soon.
The new speedometer feature reportedly works when Maps is opened through the Android Auto app on a mobile phone but not on in-vehicle infotainment systems that support Android Auto. Although users in India are expected to have access to the new feature already, we at Digit.in are yet to see it appear on our mobile devices. Since the feature is probably one of Google's gradual server-side changes, we can expect to see it in Google Maps sometime later this week.
Inline image courtesy: Android Police