Ford India has finally launched the two new variants of the new Ford EcoSport - the Ford EcoSport S and the EcoSport Titanium Signature Edition. While the Ford EcoSport S is an all-new addition to the variant lineup, the Signature Edition trim is a limited-duration offering of the EcoSport's Titanium variant. The Signature Edition will only add visual enhancements and an electronically operable sunroof, while the EcoSport S gets a longer list of changes.
Ford EcoSport S
The new Ford EcoSport S gets an all-new EcoBoost engine powering the petrol variant, which produces 124bhp and 170Nm torque. As we have reported before, the EcoSport S also premieres Ford's new, six-speed manual gearbox that brings reworked gear ratios for what Ford claims will offer slicker performance than before. The EcoSport S is also paired with the 1.5-litre diesel engine that has already been present in the existing variants.
Other elements here include high intensity headlamps with smoky effect, dark panel inserts to headlamp surrounding and fog lamp, blackened front grille and contrasting roof, smoke-finish 17-inch alloys, and roof rails to add to the 'sporty' appeal that Ford is aiming for. It also gets an electronically operated sunroof, an increasingly popular choice among car buyers in India. On the inside, the EcoSport S features orange highlights on the seat stitching and the dashboard to add a visual upgrade. In terms of the technology inside, it gets a 4.2-inch multi-information display in the instrument cluster along with tyre pressure monitoring system, and retains six airbags and the 8-inch display of the Ford Sync 3 infotainment screen that premiered with the new EcoSport.
The Ford EcoSport S is priced at Rs. 11,37,300 with the new petrol engine, and Rs. 11,89,300 with the diesel engine.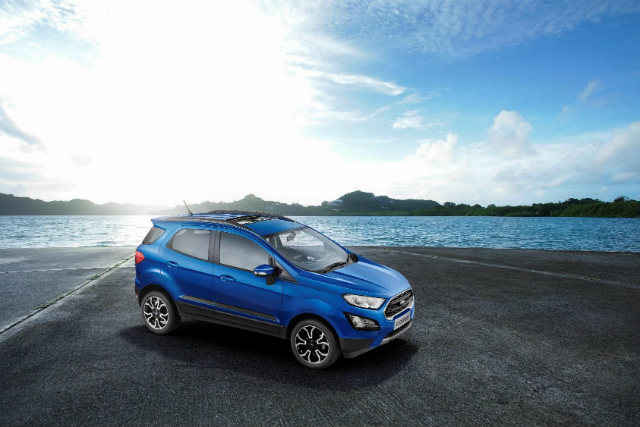 Ford EcoSport Titanium Signature Edition
The Ford EcoSport Signature Edition uses the older, 1.5-litre three-cylinder petrol engine, along with the same diesel engine as the EcoSport S. This particular variant also gets an electronically operated sunroof, and design elements include chrome trim around the front grille, all-round body graphics and a rear spoiler, along with roof rails, black cladding around fog lamps and special edition, diamond-cut 17-inch alloy wheels. The interior will feature blue trims instead of orange, apart from which it remains the same as the standard Titanium variant.
The Ford EcoSport Signature Edition package will be offered for a limited duration with the Titanium variant, and is priced at Rs. 10,40,400 with the petrol engine, and Rs. 10,99,300 with the diesel engine.