Ford has decided to standardise the safety technology equipment onboard most of its cars in USA by grouping all of them together under Co-Pilot360. As the name suggests, Co-Pilot360 is a group of driver assistance technologies that aim to provide 360-degree assistance to drivers on the road. This safety technology package will include pedestrian detection, automatic emergency braking, blind spot monitoring, lane maintenance assistance and auto high beam, along with a more commonplace rear view camera.
Furthermore, Ford has also announced that all of its new cars, SUVs, crossovers and trucks will be privy to the Co-Pilot360 in USA, making it the first non-luxury carmaker to standardise advanced safety technology across most of its lineup. The new 2019 Ford Edge will become the first car to get the Co-Pilot360 package, following which it will roll out to more cars this year. Ford also intends to improve this package, with ADAS systems like adaptive cruise control with autonomous stop-go control, lane centering, evasive steering assist, reverse brake assist and collision mitigation to be made available simultaneously, but only with a 'premium' tag. This means that for the more efficient features of ADAS units, Ford's customers will inevitably need to pay more.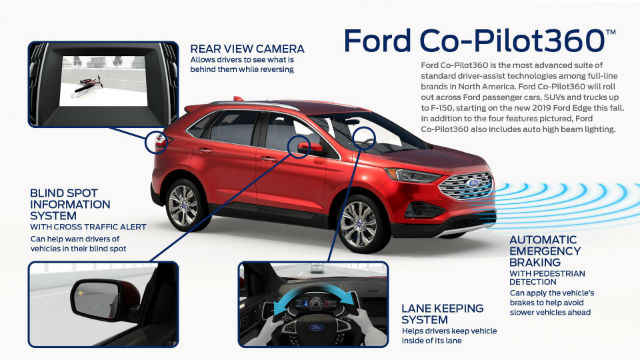 For the Indian market, though, these features are likely reserved for a later date in the future. In India, luxury car makers like Mercedes-Benz and Volvo have been the first to roll out advanced driver assistance functions in their cars. Given the value sensitivity among Indian customers, it is likely to be difficult for mid-market players like Ford to strike an effective balance in terms of car pricing. Adding advanced technology certainly makes a car more lucrative, but adds on to the overall cost of engineering and production. It remains to be seen how Ford approaches this - they may become the first mass-market company to offer ADAS safety technologies and leverage that benefit, or wait to see if car buyers in the country would be willing to pay more for these advanced features.
Safety features still unfortunately take a lower rank in the priority chart for Indian car buyers. However, with a larger percentage of car buyers steadily opting to pay more for better equipment and features, India may soon see an influx of technology-heavy cars even in the mainstream car categories.