Even though many reports of Apple testing their autonomous vehicles have come up, the company has never given an official statement about it. Now an open research paper by Apple's Yin Zhou and Oncel Tuzel spotted on arXiv by Reuters, describes a new method to implement the LiDAR mapping system. LiDAR can be used for many different applications such as powering "autonomous navigation, housekeeping robots, and augmented / virtual reality."
The LIDAR sensors are used for mapping surrounding area nearby an autonomous vehicle. It uses lasers to generate a 3D model of nearby objects and predicts their position accurately in space. But, it produces low-resolution models which according to the Apple's research are "sparse and have highly variable point density" and need to make use of additional sensors and cameras which drive up the overall project's costs.
The VoxelNet technology proposed by Apple researchers makes use of deep learning architecture. The research claims it can make better sense of the 3D LiDAR data of nearby objects and divide them into different categories like cars, pedestrians or cyclists, thus eliminating the need for additional cameras and sensors.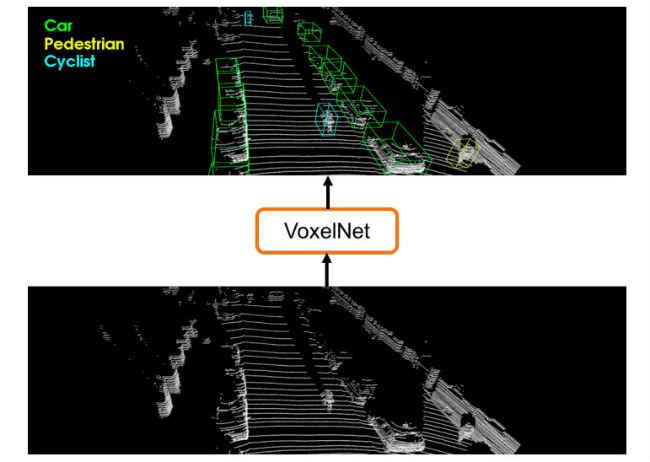 Image credits: Apple research paper
Although Apple has been tight-lipped about its efforts in the autonomous vehicle developments, a previous report claimed that the company is using a Lexus crossover for testing its autonomous driving technology. The report also said that a document from the California Department of Motor Vehicles reveals that Apple will be partnering with Hertz's Donlen Fleet Management subsidiary for procuring vehicles to test its technology.
Apple's CEO Tim Cook had earlier said that the company is indeed working on autonomous driving technology and called autonomy "the mother of all AI projects". He had earlier stated the company's interest in the technology and hinted that the company's work on autonomous tech could most likely be used for many other areas than vehicles.