If we look at the trends of the past few months, the future may very well see Apple pitted against Tesla, the manufacturer of electric vehicles. Now, a source from inside Apple has told Business Insider that the company's project will "change the landscape and give Tesla a run for its money."
Now, the above statement may suggest a couple of things; one, that Apple is indeed working on its own car, or more realistically, it's scaling up its CarPlay initiative and improving the way their devices work with cars made by its partners. Apple had introduced CarPlay back in March last year and showed off how it allows for deeper integration between an iDevice and a supported vehicle's infotainment system.
Scaling up CarPlay could mean that Apple now intends to improve and increase the scope of control that an iOS device has on cars, instead of just staying focused on infotainment and navigation. As BI puts it, CarPlay could now be given features that would let users start their vehicles with their fingerprint (through the Touch ID feature on new iPhones and iPads), or prevent anybody without a registered fingerprint from starting the vehicle altogether.
Another speculation, albeit a bit far-fetched, doing the rounds is Apple's very own self-driving car, along the lines of Google's vehicle. This rumour has been lent credence thanks to Apple's mysterious van decked out with cameras that was seen driving around San Francisco combined with the fact that Apple did hire a robotics engineer two years ago and that an academic told BI that the van had the sufficient equipment to be used as a self-driving vehicle.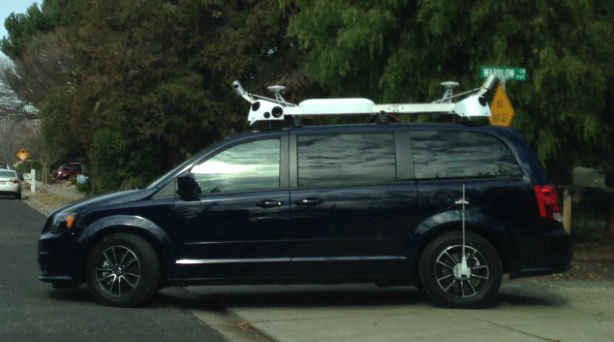 Apple's mystery van (Claycord)
Okay, now coming back to the impending Apple-Tesla war; both companies have been hard at work poaching each others' employees, with the latter racking up more success stories. Tesla has reportedly hired 150 ex-Apple employees, while Apple now has 50 ex-Tesla personnel on its payroll and is reportedly tempting Tesla employees with $250,000 (Rs. 1.5 crores approx.) signing bonuses and a 60% bump on their current salaries.
With the smartphone market saturated and the tablet market collapsing, most companies are now looking at the embedded or IoT (Internet of Things) segment. To a large extent, car tech is currently a part of that segment and an Apple-Tesla rivalry will only work towards taking the segment into the mainstream.
Sources: Business Insider, Forbes, Bloomberg