Amazon Great Indian Festival sale
Up to 60% off on Electronics and other items.
Click here to know more
Advertisements
The cold war seems to be fairly hot at the moment! Just days after Facebook-owned Instagram blocked off Twitter sharing from its network, Twitter has responded by updating its own apps to include more goodness for users to edit photos within the app, before sharing.
The update is now available for both Android and iOS devices, and can be downloaded from the Google Play Store and the Apple App Store respectively.
Twitter announced this update in a blog post: "Starting today, you'll be able to edit and refine your photos, right from Twitter. The latest versions of Twitter for iPhone and Twitter for Android introduce a few new ways to enhance the images you tweet. We're grateful to our partner, Aviary, for powering our filters and effects."
The updates, according to the blog post, include the following:
Filters. Apply one of eight filters, ranging from black & white to vintage, to add a new look and feel to your photos.
Take a bird's-eye view. See how each filter would affect your photo in a single grid view, or swipe through looks to compare your options.
Frame the action. Crop and pinch to zoom in order to focus attention.
Auto-enhance. Make your photos pop with balanced light and colors by tapping the wand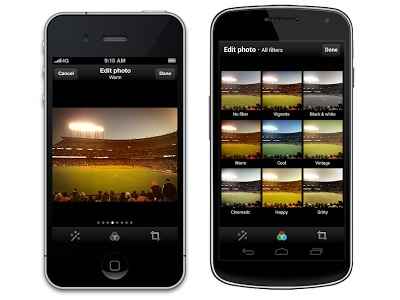 The battle to get your approval and your photo-sharing allegiance is pretty much on now. Facebook is leveraging its investment in Instagram, while Twitter is empowering its mobile apps to do the same. The logic seems simple – get someone hooked on to one app, and they may not change over quickly. Which app suits you better basically depends on where more of your friends are – Twitter or Facebook. In case it is a dual scenario, you will still be left uploading and sharing the same image on both, which kind of negates the fighting in the first place. Not all competition is good for the consumers!
In the meanwhile, watch this video to learn more about Twitter photo filters.
Source: Twitter
Also read,