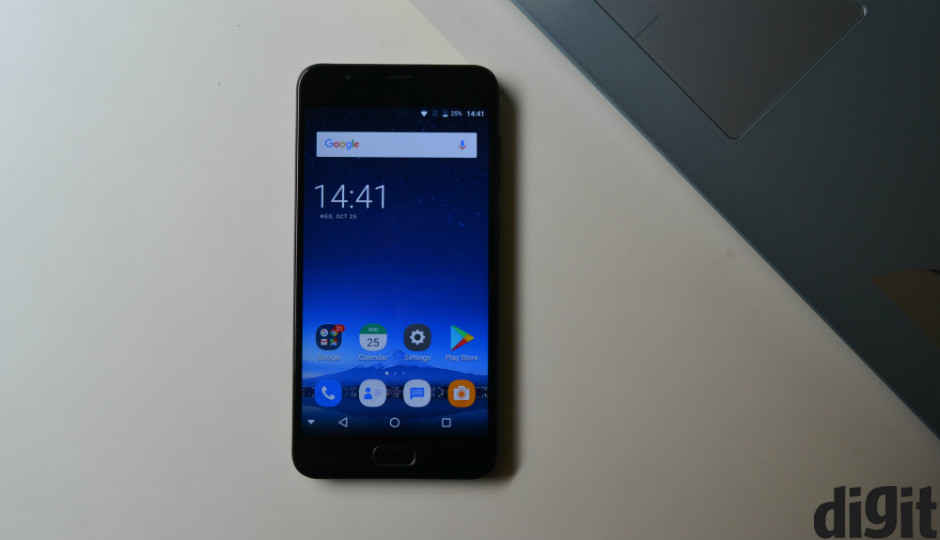 InFocus Turbo 5 Plus Price in India

9599 /-

Buy Now
Set Price Drop Alert
The InFocus Turbo 5 plus is a decent looking phone with a robust built and good battery life. However, it has too many shortcomings which don't make it a worthy buy in the sub 10k segment.
InFocus Turbo 5 Plus Rating

69

100
Our Verdict
The InFocus Turbo 5 has excellent battery life, but that's about all it has. It has a poor camera, it's slow and doesn't really come off as a value for money smartphone.
CONS
Poor camera
No fast charging
Passable performance
InFocus Turbo 5 Plus: Detailed Review
The InFocus Turbo 5 Plus presents itself as the successor to the Turbo 5 smartphone (review). It comes with a a dual rear camera setup and a large battery. While the Turbo 5 had its faults, the Turbo 5 Plus tries to overcome them. Will it be able to stand up to the fierce competition in its segment? Let's find out.
Build and Design
The InFocus Turbo 5 plus sports a candy bar design, similar to the Turbo 5. With an almost full-metal back and 2.5D curved glass on the front, InFocus has improved the build quality of the smartphone as compared to its predecessor. It feels more rugged and sturdy, though this isn't perfect either. The rear panel can be pressed in, which is a sign of cheaper materials. The quality of metal used for the back is decidedly lower grade against phones like the Redmi Note 4.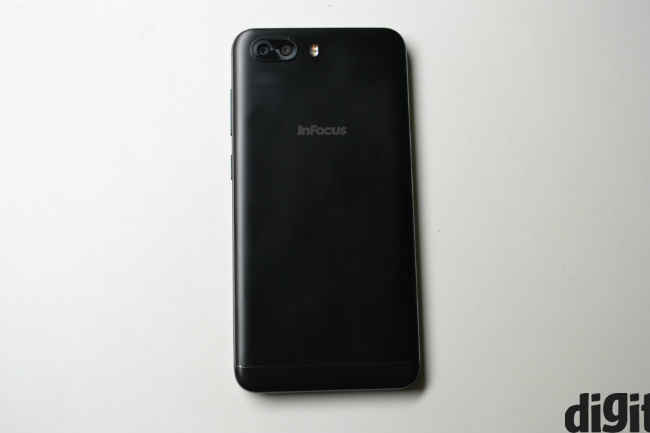 The back of the Turbo 5 Plus sports a matte-ish finish that makes it easier to hold and allows better grip. The fingerprint scanner is on the front of the device and it's quite accurate and dependable. The home button is integrated here, so you press down on the scanner to go back to the home screen, while simply touching the button will take you one step backwards. It's a similar implementation to what we've seen on Meizu phones and it adds a slight learning curve to the device. There are onscreen buttons though, so you can simply use them if that suits you more.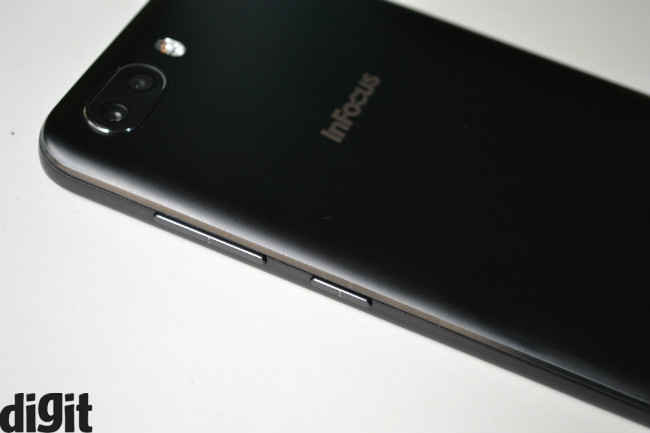 The rear dual camera setup rests on the top left of the device with a the flash module next to it. The InFocus logo is placed slightly below the cameras. The Turbo 5 Plus sports an almost metallic unibody design, except for its bottom, which sports a plastic housing for antennas. The power and volume buttons sit on the right edge of the phone. The headphone jack is on the top, while the micro-usb charging port and speaker grilles are placed at the bottom. Of the two speaker grilles, only the one on the right plays audio, whereas the other one is only for aesthetics and symmetry.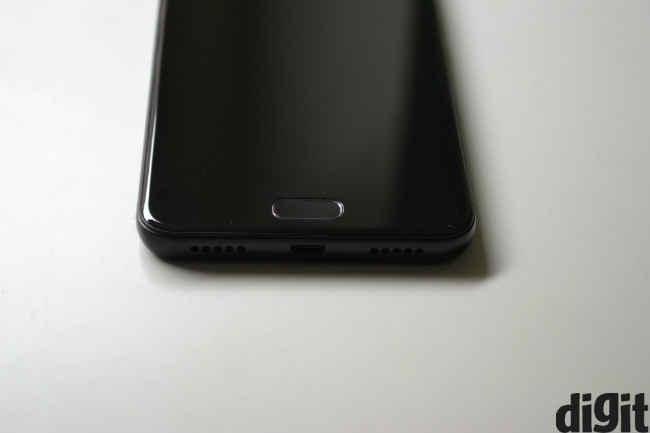 Display and UI
The InFocus Turbo 5 plus sports a 5.5-inch IPS display with 720p HD resolution. Colour tones are somewhat warm and the display is reasonably bright. Viewing angles are also decent, with minimal brightness loss, and from extreme angles. Sunlight visibility is good, but you will have to turn the brightness up to max, thereby using more battery.
The smartphone also uses MediaTek's Miravision technology, which aims to improve various attributes of the display based on what it's showing. It's turned on by default, so you don't really see a huge difference because of it. That said, the Turbo 5 Plus' display offers decent colour saturation and accuracy. There are thick, ugly bezels on the Tubo 5 Plus, which hinders immersiveness of the display.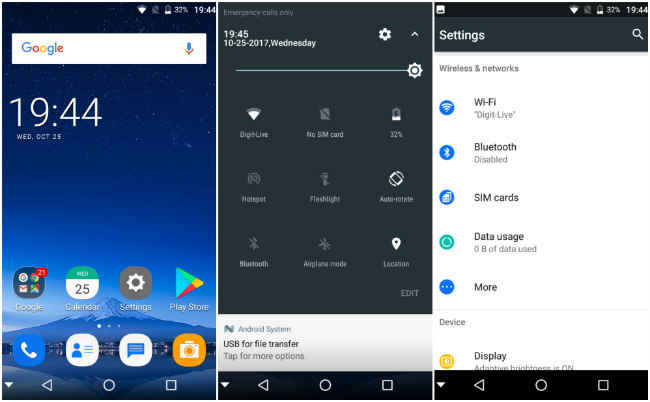 The smartphone runs on Smile UX on top of Android 7.0 Nougat. Learning from its previous blunders, the company has reduced the number of pre-loaded bloatware on the device. Two apps, namely Amazon shopping and the Xploree keyboard still remain, which cannot be uninstalled.
Performance
The InFocus Turbo 5 Plus is powered by a 1.5Ghz MediaTek 6750 Octa-core SoC, which lags quite noticeably when you open 20 plus tabs on Chrome browser. We also experienced long loading times for apps and some stuttering while playing Asphalt 8 on the device.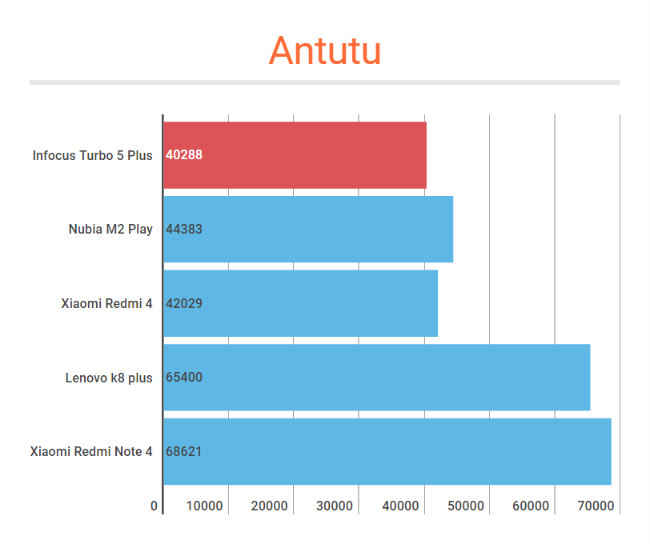 The smartphone decently manages heat levels and doesn't feel uncomfortably warm after 30 minutes of continuous gaming. It is backed by 3GB of RAM, which is a norm for smartphones in its category. The UI feels sluggish at times with the camera app, Google Play etc. taking a couple of seconds to launch.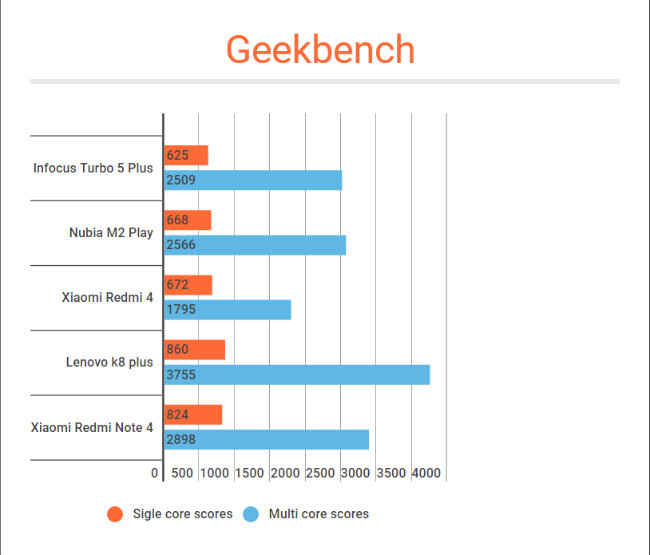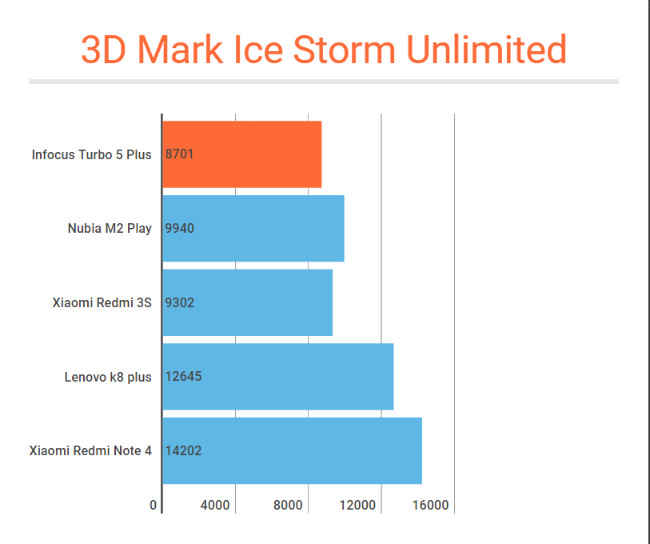 In terms of performance, there are many other smartphones that can perform better than the InFocus Turbo 5 Plus in this price range. It can be your daily driver and can easily handle day-to-day tasks, but it will surely slow down with time.
Camera
The Turbo 5 Plus features a 13MP + 5MP dual rear camera setup with a f/2.0 aperture lens. Even with a dual camera setup, the device manages to capture reasonably good looking images in broad daylight. However, closer inspection shows lack of details are visible noise even in daylight shots.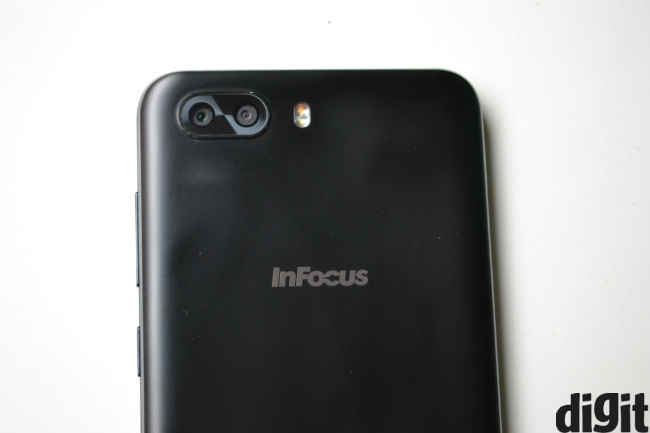 Captured images show vibrant colours but the phone has serious auto-focus issues. The camera takes long time to focus and sometimes fails to do so. Many of our images came out blurry, while taking shots in a hurry. Touch to focus takes a long time and sometimes refuses to work.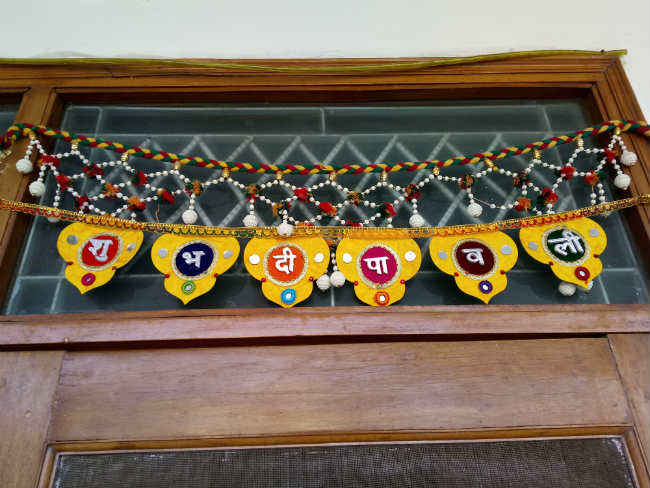 Outdoor daylight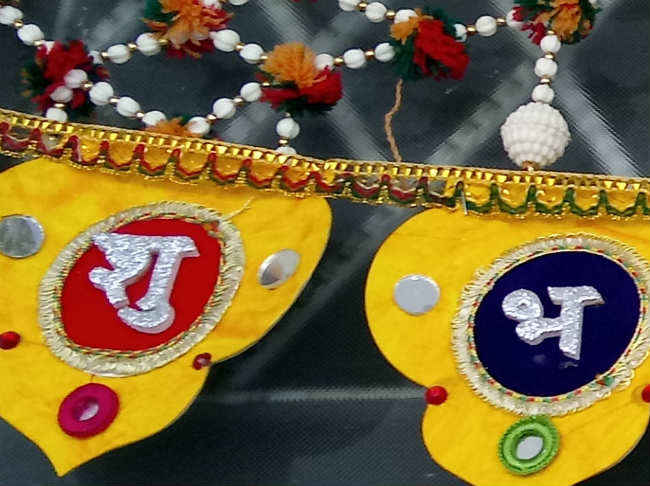 Hundred percent crop of the above image
The bokeh mode on the camera is more like a built-in lens blur filter from Snapseed. The camera essentially puts artificial blurs in the form of concentric circles. And that doesn't work most of the times. What's worse is that the Turbo 5 Plus doesn't show you what kind of blur is going to come, in real time.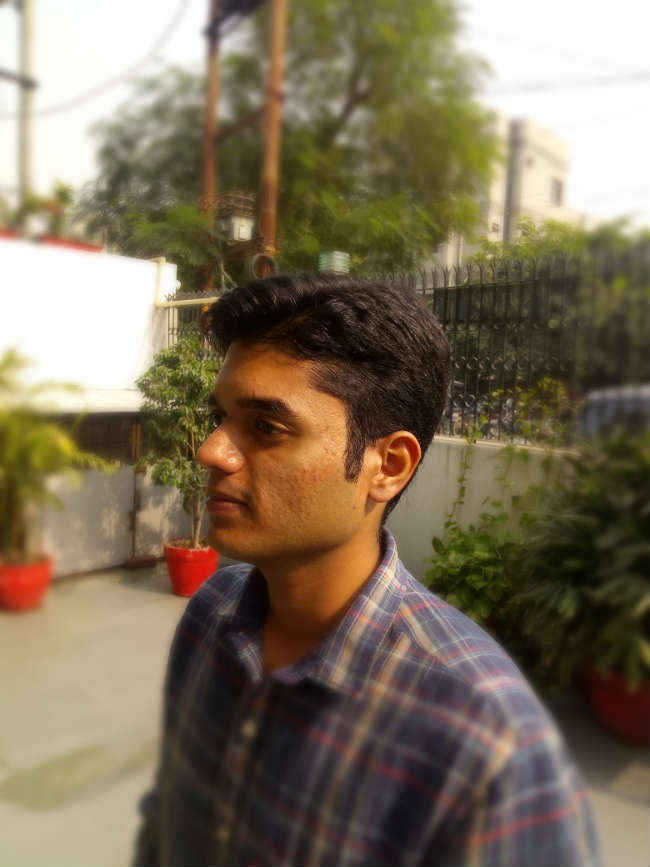 Coupled with the problematic auto-focus, it takes a lot of effort to get your shots right. In indoor and low lighting conditions, photos have high visible noise and suffer drastic detail loss. The front camera also captures sub-par shots with grainy images in dim lights.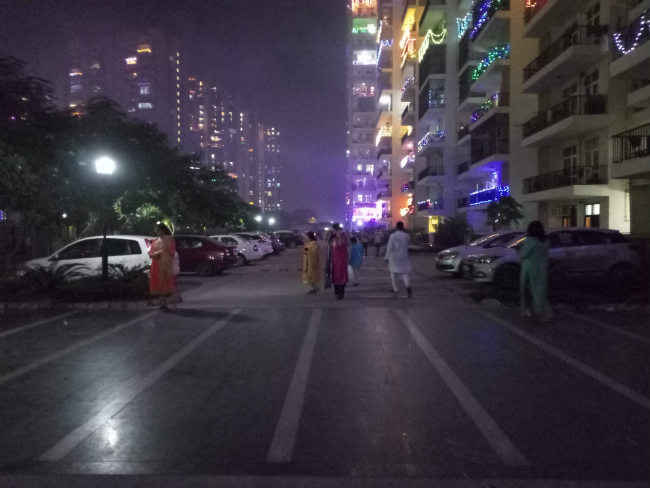 Low light shot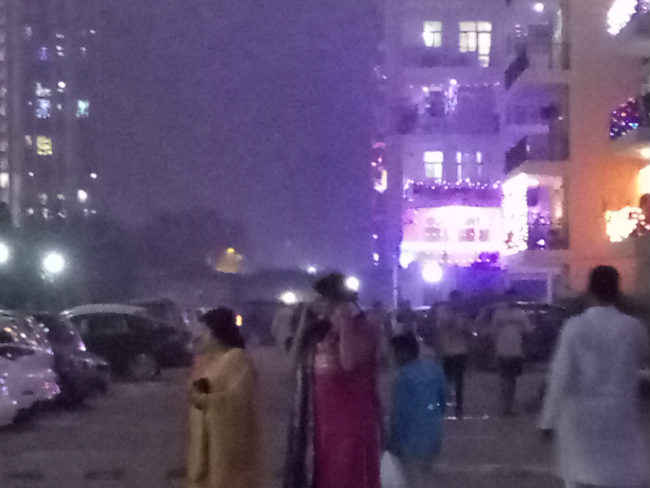 Hundred percent crop of the above image
Overall, the camera on this device doesn't match up to today's standards, and you can get much better. The bokeh mode is a gimmick rather than something useful.
Battery
The main highlight of the InFocus Turbo 5 plus is its 4850mAh battery. It lasted us for an entire day with heavy usage. The smartphone lasted for about 16 hours and 38 minutes on our PCMark battery test, which is amongst the best so far.
The device was tested heavily over a weekend with lots of gaming, heavy browsing, and constant video playback. It easily lasted for a full 24 hours and still had enough juice left to watch an entire movie.
The idle battery management on the Turbo 5 Plus is efficient too. It dropped only 2 percent battery overnight, which is expected from phones running on Android Nougat. Overall, the battery on the phone is excellent and will power your device for about a day and a half on a single charge.
Bottomline
The InFocus Turbo 5 Plus stands tall in terms of battery life, but that's all it really has. It sports regular looks, doesn't perform very well and its camera is quite disappointing. The company needs to put in more work if it's to take on competitors.
Buy Now
Samsung A7 2016 Edition Golden

Rs. 18990 *

Buy Now

InFocus Turbo 5 Plus (Royal...

Rs. 9599

Buy Now

Nokia 1 (Dark Blue, 1GB RAM,...

Rs. 4000

Buy Now
*Includes Cashback