After a lot of rumors circulating the web these past few weeks, Samsung officially unveiled the Galaxy S III Mini at an event in Germany. The smartphone is powered by a 1GHz dual-core processor, 1GB of RAM, a 4-inch Super AMOLED display (800x480 pixels) and will come with Android Jelly Bean once it ships.
The Galaxy S III Mini will come with 16GB internal storage and a memory card for expansion. No word yet on the pricing of the S III Mini, but global availability is expected to coincide with the Christmas shopping rush.
Compared to the Galaxy S III, the Mini does away with the quad core power for a dual-core processor. The camera also sees a downgrade from 8MP to 5MP. Some markets globally will also feel the lack of LTE connectivity.
"The GALAXY S III introduced a new concept of smartphone that has proven hugely popular around the world. We're now delighted to bring its revolutionary design, intuitive usability and intelligence to the GALAXY S III mini in a more compact form," says JK Shin, President and Head of IT & Mobile Communications Division at Samsung Electronics. "We continue to make every effort to provide extraordinary mobile experiences to meet a wide variety of user needs."
The Galaxy S III Mini carries forward the S-Voice, Smart Stay, Direct Call and S Beam feature from the Galaxy S III.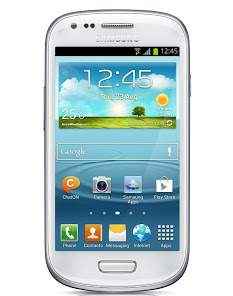 We had been hearing rumors about a smaller Galaxy S III variant being in the works for quite a few weeks now. But in terms of a direct spec to spec comparison, this is a slight disappointment, particularly if you had expected a similar powerful spec sheet as the Galaxy S III, but with a smaller display.
We believe this smartphone will be a very good option to consider, if Samsung prices it right. On paper, this is an ideal phone to compete in the Rs. 19,000 – Rs. 23,000 price bracket, competing with the likes of the HTC One V and the Sony Xperia P. Ideal time to put it on shelves in the Indian market would be just before Diwali which is towards the middle of November. However, with the global launch being pegged around Christmas, expecting it to hit shelves in India earlier would not be ideal.
Also read,