In the past few months, there have been many leaks and rumours that have hinted at the specifications of the Samsung Galaxy S IV. Now, we have the AnTuTu benchmark that sort of confirms the specifications of the S IV. Now all we need is for Samsung to lift the curtains from the device.
The AnTuTu benchmark reveals that the Galaxy S IV runs on an Exynos 5 Octa 5410 chipset with a 1.8GHz CPU. The device also boasts of 2GB of RAM and a PowerVR SGX 544MP GPU. It will run on Android 4.2 Jelly Bean. The display of the smartphone is 4.99-inch with a 1920x1080 pixel resolution.
The benchmark also reveals that the device has a 2MP front facing camera but the rear of the device has a 13MP camera. It also shows that the smartphone will come in 16/32GB storage variants. It will also support Wi-Fi and Bluetooth 4.0.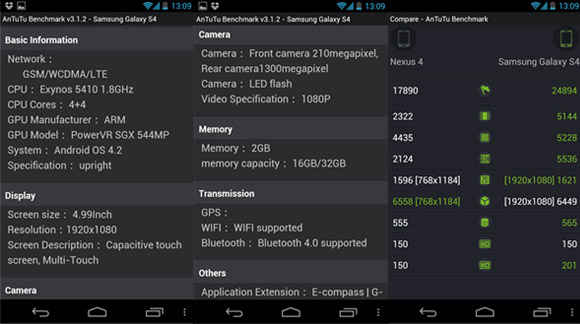 Samsung is holding an event on March 14 in New York, where the device is expected to be unveiled and some rumours on the Internet suggest that the S IV will be available in the market as early as April 2013. If you are one who is waiting for Samsung's next generation smartphone, here are 5 features worth waiting for in the S IV.
In the leaked benchmarks, we have seen that the S IV runs on the Exynos 5 Octa 5410 chipset. There were some rumours circulating which suggest that the device will also have a regional variant that will run on the Snapdragon 600 SoC as well. We will just have to wait to see if this rumour is true.
The S Pen is a feature that has been associated with the Note series of devices from Samsung. It is rumoured that this feature will make an appearance on the S IV.
Despite the rumour mills churning out a plethora of information, we can't wait to get a glimpse of the S IV and Samsung knows this. They have released a teaser video that shows everything but the device. Those interested can see the video here.
Source: Sam Mobile