The JioPhone smart feature phone launched by Reliance Jio at an effective price of Rs 0 and a refundable security deposit of Rs 1,500 has officially started shipping. The company has promised to deliver 6 million units that were pre-booked in the first phase of bookings. However, the device has not reached all those who pre-booked it because Reliance JioWhere to buy

269

1300

9199 is shipping it in a phased manner.
A few days back, we reported that a number of Jio customers have taken to Twitter to express their dissatisfaction and frustration due to delayed deliveries of the JioPhone. Today, another customer Tweet caught our attention, highlighting the fact that some people who are in possession of the JioPhone are selling it along with their registered Jio numbers on online classified platform OLX.
@JioCare@jio@reliancejio#jiophone u decide to first delvr to rural area and then its come on olx, urban ppl eagerly waiting are fool??? pic.twitter.com/VoB3l1rB0t — NAV RATAN TANWAR (@tanwarnavratan) October 13, 2017
There are several listings of the JioPhone on OLX starting from Rs 700 and going up till Rs 2,499. Some are even selling the feature phone in a completely boxed, unopened condition.
The JioPhone is non transferable as per Reliance JioWhere to buy

269

1300

9199's policies. JioPhone's terms and conditions read - "The Recipient has no right to sell, lease, assign, and transfer or otherwise dispose-of the JioPhone in any manner whatsoever." Clearly, Jio's customers are not paying any heed to its policy directive and are going a step further to sell the device along with their registered numbers.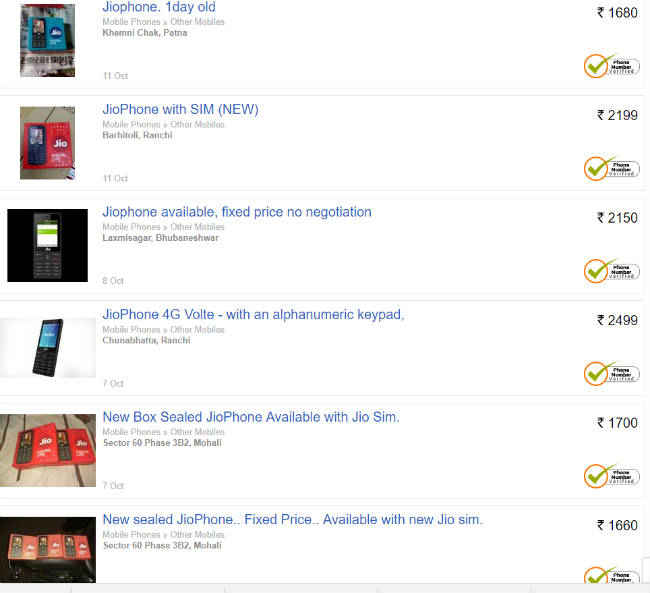 There are several problems with purchasing the JioPhone from a third-party seller. Firstly, In India, SIM ownership can only be transferred by submitting proper identification proof to the telecom provider. Secondly, if proper purchase receipts are not shared, the JioPhone will not be returnable. Thirdly, Jio itself prohibits the transfer of the JioPhone in any manner to another individual and may cease services on phones purchased through third-party sellers if it get wind of illegal owner transfer. Lastly, buying a JioPhone registered to someone poses as a big security risk and opens up multiple avenues for people to misuse it.
These problems should have been anticipated by Reliance JioWhere to buy

269

1300

9199 before it made the service-locked phone available to users at such low prices. OLX, too, should be more aware of the products being sold on its platform, and should ideally not allow resale of a product which is not meant to be resold. As of now, the JioPhone is unavailable for pre-bookings and it seems like the company is struggling to meet the high demand for the device.
As per Reliance JioWhere to buy

269

1300

9199's terms and conditions for the JioPhone, users will need to recharge for a minimum of 125 per month or Rs 1,500 per annum for a period of three years to be able to claim a refund of their Rs 1,500 deposit. Taking on the JioPhone, Airtel has also announced the Karbonn A40 Indian smartphone at an effective price of Rs 1,399.
Other Popular Deals
*Includes Cashback
​