Nokia has slashed price of its newly launched Windows Phone 7.5-based Lumia 800 by Rs. 6,000. The Nokia Lumia 800 was initially priced at Rs. 29,999. The device is now available for Rs. 24,000 at online shopping stores such as Flipkart. Another online retailer, Letsbuy is selling the device for Rs. 23,790.
To refresh your memory, the Nokia Lumia 800Where to buy

11111

18885 features a 3.7 inch AMOLED ClearBlack curved display and is powered by a 1.4 GHz processor with hardware acceleration and a graphics processor. The Nokia Lumia 800 runs on Windows Phone 7.5 OS, and includes an 8MP camera with Carl Zeiss optics, HD video playback, 16GB of internal storage and 25GB of free SkyDrive storage for storing images and music.
In our detailed review of the Nokia Lumia 800, we had also pointed out that the Lumia 800 is slightly overpriced and that Nokia needs to get the pricing of its Lumia devices right. Nokia recently slashed price of its Lumia 710 smartphone by 20 per cent. Launched only a month ago for Rs. 18,999, the Lumia 710 is now available for Rs. 15,490. Check out the Nokia Lumia 710Where to buy

4500
6499
7500 review here.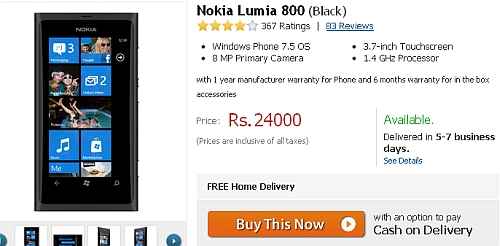 Will cutting down price of Lumia devices help Nokia improve its market share? Let us know in the comments section below:

Also read,