Nokia has launched its latest flagship smartphone - the Lumia 1020 in India. There is no official announcement yet on the price of the device, however, Nokia says they will reveal the price one day before it will be available in the market for sale i.e, October 11.
Nokia has been tight lipped about the Indian pricing due to the current fluctuation of the Rupee value, but says that it will be close to $800 which is approx. Rs.50,000 in Indian currency. The Lumia 1020 combines the much talked about 41-megapixel 1/1.5 inch sensor along with a fast f/2.2 aperture and an optical image stabilization system that has proven to be quite amazing. The phone was globally unveiled on July 11.
The phone retains its uni-body polycarbonate construction and the phone is available in yellow, white and black. The Lumia 1020Where to buy

546 houses a large 1/1.5" sensor, which is comparatively just a touch smaller than the 1/1.2" silicon chip found in the PureView 808. That does mean that it has relatively smaller pixels (1.1 microns on the Lumia 1080 vs. 1.4 microns on the PureView 808), but what Nokia's done to better this new sensor is employ the BSI design. Since Nokia has established itself as the pinnacle in low-light performance, it was only a matter of time before they went the BSI sensor route. The large sensor combined with the BackSide-Illuminated design will definitely help the Lumia 1020 push the boundaries of low light performance.
The lens on the Lumia 1020Where to buy

546 is made of 6 Zeiss floating elements. Most conventional camera phones use a single element inside their camera assemblies to cut costs, but the Lumia 1020 reached out to the best lens maker in the world to design something that would complement the quality of their large sensor. The Lumia 1020's 6 element lens is made of 5 high performance plastic elements and one high precision glass element to a barrel that optimizes the way light falls on the sensor. The optical assembly also incorporates optical image stabilization, which we saw first in the Lumia 920. However, the OIS mechanism has also been developed further, with Nokia ditching the previous model in favour of one that now utilizes a barrel shift actuator (using ball bearings) that is designed specifically to move complex optical assemblies at high speed and with precision.
Nokia has also built a new camera app known as Nokia Pro Camera. The Pro Camera app is definitely going to make you drool, regardless of your qualifications as a photographer. The app puts every kind of control you may need right at your fingertips, in a very easy to use/understand user interface. The app offers the ability to set exposure compensation, shutter speeds, custom white balance, ISO and even manually set focus for all your images.
The app also has a unique dual-capture mode, where it captures one full resolution image (41/38 megapixels) and one 5 megapixel image (oversampled). This serves a few purposes. Firstly, you can take the full resolution image and zoom into it at a later time to get a better frame. The lower resolution file is the one generated in case you want to share something on Facebook and Twitter instantly.
The Lumia 1020Where to buy

546 may have a mind-boggling camera, but the actual hardware on the phone is very standard. It has a dual-core 1.5 GHz Krait processor with the Adreno 225 GPU. That's the same processor and GPU in the Lumia 920, and we're not saying it's low-end, but what we had hoped for was a beefier spec sheet for a phone that has such an impressive (and process hungry) camera. The Lumia 1020 does come with an increased amount of RAM (2GB), but what we feel a little apprehensive about is the 32GB of on-board storage with no possibility to increase it using a memory card. The 41 megapixel images are bound to be gargantuan in size (for a cellphone camera image), so it would have been nice to have a slot for increasing storage space.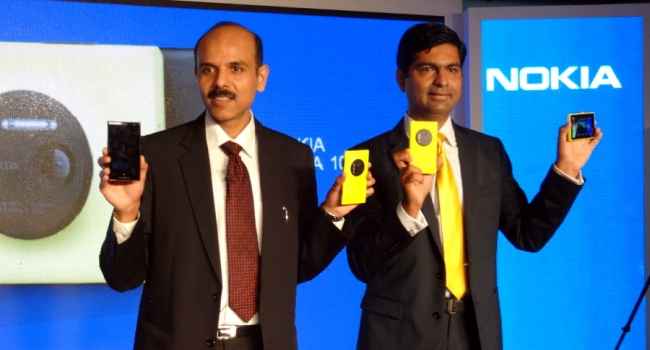 The Lumia 1020Where to buy

546 comes preloaded with Nokia Music, Nokia Mix radio, the Here Maps suite, Nokia Smart camera and Nokia Rich Recording. It runs on the Windows Phone 8 Amber update, which enables Bluetooth 4.0, double tap to unlock and a clock on the lock screen.
Lumia 1020Where to buy

546 comes with an option where users can go for a camera grip accessory which runs on a separate 1020 mAh battery, a tripod mount and a two stage camera button. The camera grip will be available for Rs. 7,500, the wireless charging shell for Rs. 3,200 and the charging pad will be available for Rs. 4,000.
Users can buy apps as Nokia is also offering a voucher worth Rs. 1,000. Vodafone subscribers will receive 2GB of 3G data per month for 2 months. Nokia in association with New India Assurance is also offering year long insurance for the device.
The phone will be available from October 11 onwards in the Indian market.