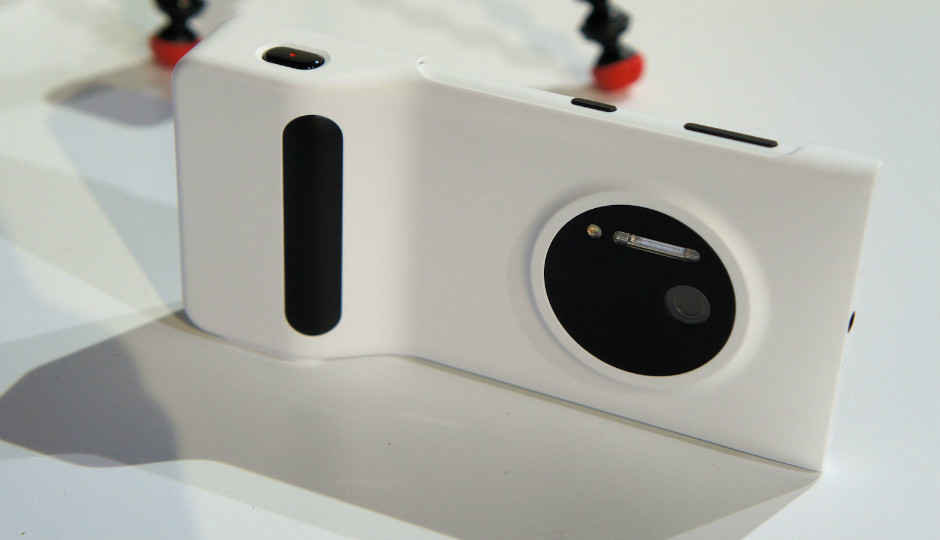 The Nokia Lumia 1020 is the photographer's smartphone. In attempt to take your mobile phone photography experience one step further, Nokia has introduced a Camera Grip attachment for the Lumia 1020.
Nokia Lumia 1020 Camera Grip Rating

0

100
Our Verdict
The Nokia Lumia 1020 is a phone that Nokia felt required a companion. Thus they made the Camera Grip for the said phone and we didn't wait too long to bring these two friends together. Are they made for each other or is Nokia just perpetuating a relationship that just doesn't exist? We find out.
PROS
Convenient shutter button
Makes one-handed operation a breeze
Additional battery in grip for more shooting time
Nokia Lumia 1020 Camera Grip: Detailed Review
The Nokia Lumia 1020 is the photographer's smartphone, or at least that's what Nokia would have you believe. We've used one extensively, and found that it is indeed a rather competent imaging device, but at the end of the day, it IS a cellphone and not a camera. Cameras are incredibly easy to hold thanks, in part, to their ergonomics and in part to the fact that our brains are just wired to perceive a camera-like form factor as "easier to hold." Nokia isn't denying that fact, and in an attempt to take your cellphone photography experience one step further, they have introduced a Camera Grip attachment for the Lumia 1020.
What is it?
It's essentially a piece of molded plastic that wraps around your Lumia 1020 like a case would. But wait! It's something more too! On the right edge, you'd find a familiar bulge, the kind you'd have already seen in a well designed camera. But wait there's even MORE! On top of this bulge sits a nice, generously sized shutter button that's impossible to miss. It brings the "half press to focus, full press to shoot" method to the cellphone camera, which is mighty convenient. And just when we though the goodness would stop, turns out the bulge on this camera grip isn't just hollow, but houses a 1020 mAh battery. More juice is always welcome.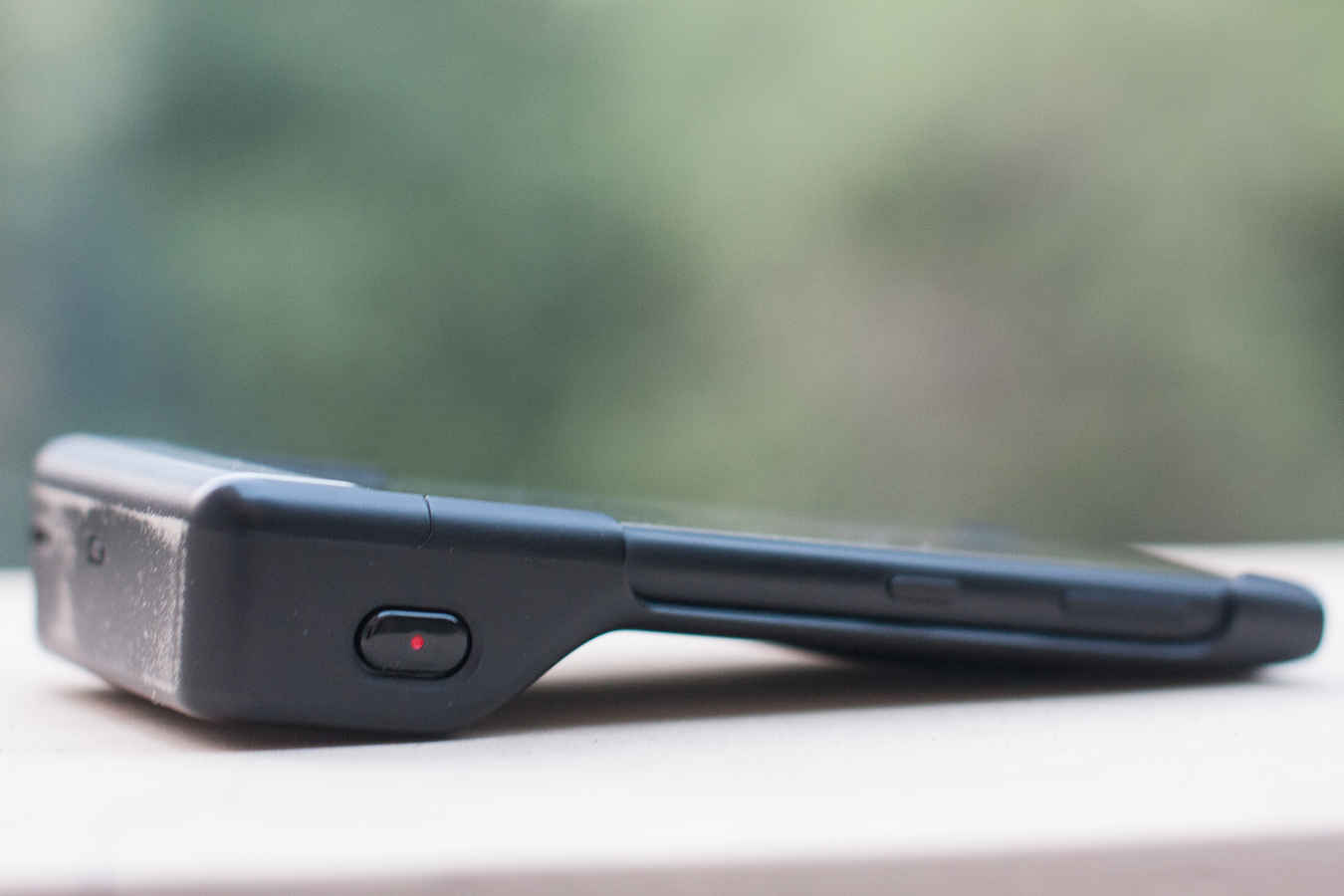 Using it, Like a BAWSS
The minute you snap the camera grip onto the Lumia 1020, its entire feel changes. It feels familiar, but very new at the same time and this experience remains when you take the grip off too. The grip, due to its ergonomic bulge, obviously makes the phone bulky at one end. It just about fit in the pockets of our formal trousers and the baggy jeans we rock often, but there's no way it would go into the pockets of a pair of skinny jeans. The grip itself adds a lot of functionality. For starters, it makes holding the phone with one hand an absolutely safe and secure task. When we used the Lumia 1020 without the camera grip with just one hand, there were times we almost dropped it. The phone is too thin to get a proper, balanced grip, and hence tends to slip out of the single hand. With the grip, it stays firmly within grasp and if you wish to shoot on full auto, then you would never need to use the other hand.
In the event you loathe the idea of using the camera in auto mode, then you're going to love the grip again. Hold the camera in position, frame your shot, all with one hand and with the other, you could flip through the settings without any difficulties. We found this way of working the phone to be a lot easier when shooting images than when shooting without the grip.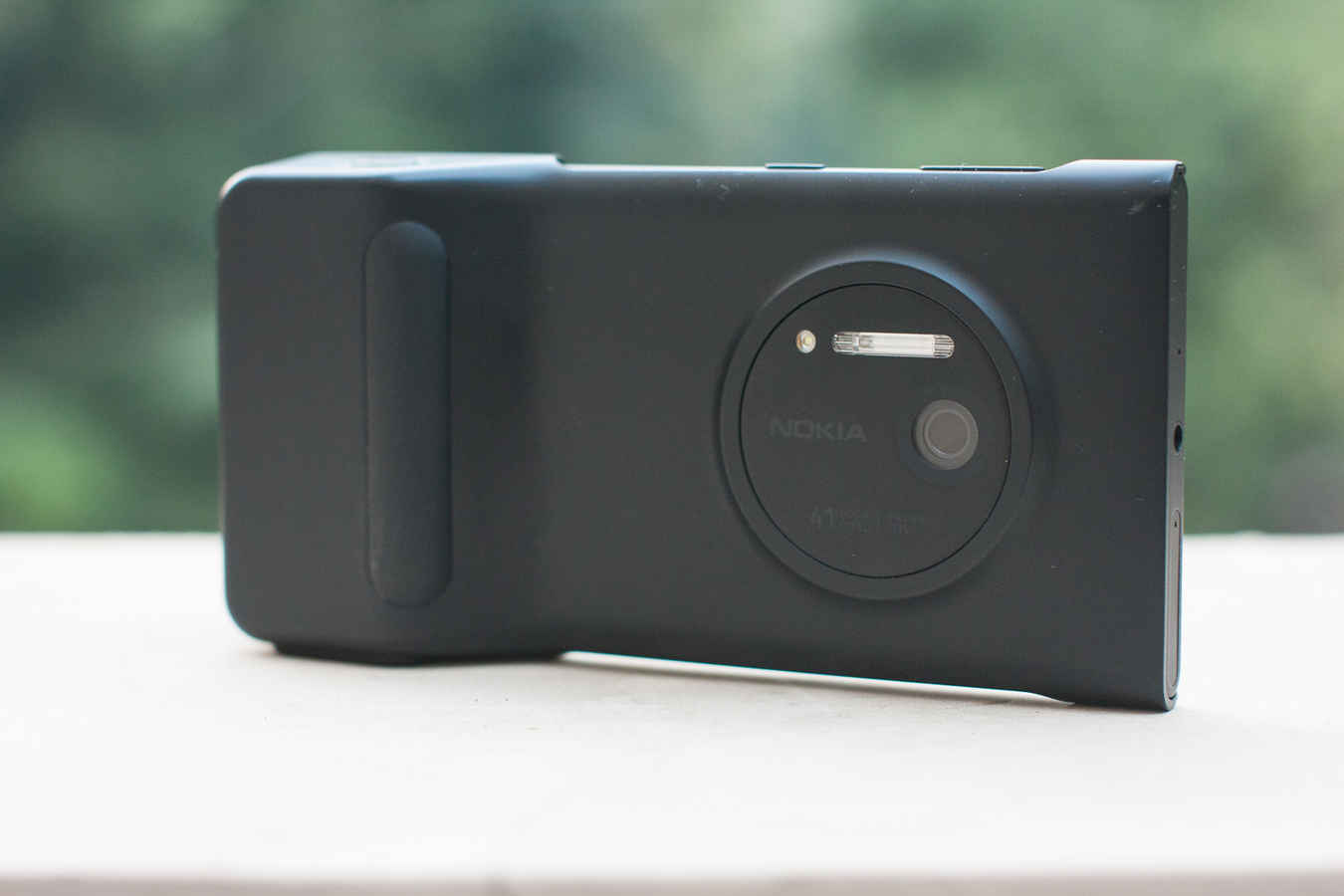 The best part – a standard tripod mount. We doubt we need to say more.
A Few Issues
The grip's in-built batter provides extra juice to the phone because, well, that 41 megapixel shooter is quite a power-hungry piece of tech. The Lumia 1020 has a 200mAh battery already in it, but the grip has just half of that, a 1020mAh battery. We get that Nokia's all about clever word and number usage and what not, but the additional battery managed to get the internal battery only till half point. In our extensive usage of the two over the last month, we could just barely managed to get one day's worth of usage out of the combo. This is of course based on using the phone EXTENSIVELY for music playback (half the time over 3G), taking on average 50 photos a day, shooting about 10 minutes of full HD video and taking a number of calls and almost always being on Whatsapp. Our usage is pretty intense so a day's worth oif battery may be good for us, but an average user could go about a day and a half, even two wthout having to plug this into the wall.
We've already mentioned that this setup is bulky, which could potentially bother people who like to keep their pockets free from heavy things. That's right, the grip also adds weight to the Lumia 1020, but not a whole lot.
Lastly, our biggest problem with the battery grip is the charge time. We drained the batteries completely till our phone died and charging the whole thing back up to 100% took nearly five hours, and this is while the phone is plugged into the wall socket! Charging from the PC would take even longer! If you plan to be out for a very long duration of time, we strongly advice topping the batteries up overnight so that you don't run out of juice while on the go.
Conclusion
The Lumia 1020 is a marvel of technology in of itself. The phone is a photographer's companion and the Camera Grip for the Lumia 1020 does add significantly to that image. It actually is quite useful and photographers would not really not care much about the bulk and weight (have you SEEN how much gear we carry on a normal day?!). The little extra juice is helpful, even though we'd have loved it if Nokia had designed this thing to double the Lumia 1020's battery life. At least.
The best part about this grip however is the fact that when you remove the camera grip (as we occasionally do) the phone by itself feels so incredibly light and thin! This has also taught us never to underestimate the power of perception.
Also Read:Our review of the Nokia Lumia 1020