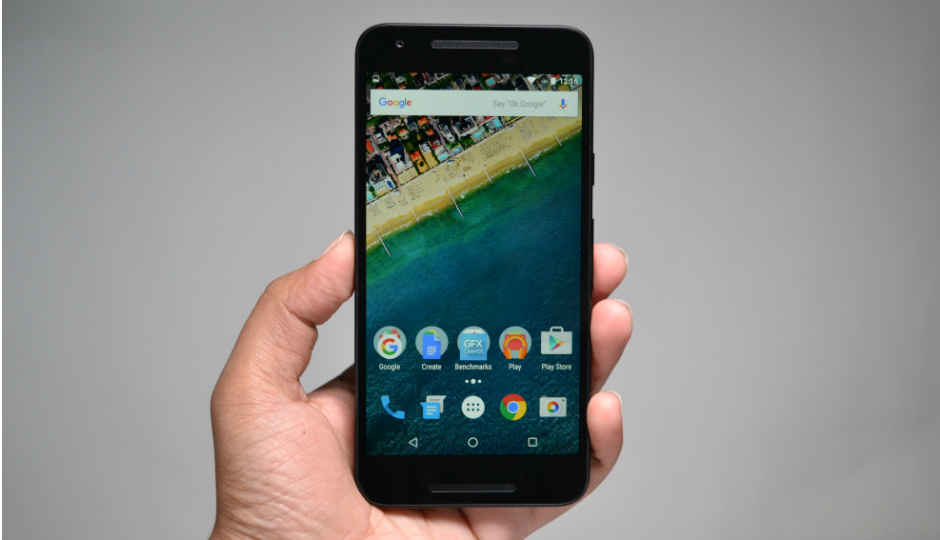 Nexus 5X review: The Nexus 5X is a delightful device to use, packing in seamless performance, a good display, decent camera, and the joy of perfect Android experience. This might just be the best Android device ever.
LG Nexus 5X 32GB Rating

80

100
Our Verdict
The Nexus 5X is a delightful device. It does not overawe you with highly saturated images, power-packed specifications, or any of that. This year, the Nexus is all about taming the power, and using available resources in full glory. Priced at Rs. 31,900, the Nexus 5X beats all other similarly-priced devices like the OnePlus 2, Samsung Galaxy A8, Honor 7 and HTC One E9+, not only in terms of brilliance in performance, but also in streamlining the entire device. The Nexus 5X, truly, is Android in all of its glory.
PROS
Nexus 5 Weighs light, fits in one palm
Fast, zippy performance
Good battery life
Nexus Imprint is the best fingerprint scanner
Clear, bright display
Smooth, fast camera
CONS
All-plastic build might concern a few
Ambience sensor doesn't really work well
Lacklustre audio
Slow HDR mode, no stabilisation
LG Nexus 5X 32GB: Detailed Review
NEXUS 5 INTRODUCTION
With smartphones launching practically every minute nowadays, it's difficult for companies to make its phones stand out among the crowd. In such a world, when the Nexus 5X was announced, there was something about it, a reminiscence of quiet brilliance, that had me upbeat about experiencing it for myself. After all, as Google put it, this is Android the way they meant it to be.
Straight out of its neat, white packaging with the engraved 'X', the first thing that will strike you is the neat, no-frills build. The Nexus 5X is not one that will try to impress you with its looks. And yet, there is this lingering something that tells you that you are about to witness something epic. Here's how my story with the Nexus 5X unfolded.
BUILD and DESIGN
The Nexus 5X is very passive in terms of looks. Neatly liveried in black, matte plastic, it is no beauty pageant, and while the Nexus logo on the back makes it stand out among the sea of other similar Androids, maybe LG could have designed it that much better.
The plastic used in the build is of very good quality, and it somewhat makes up the complete absence of any trace of metal in its build. While this does not perturb me, many others might find 'metal' synonymous with 'premium flagship smartphone build'. But, try finding a single flaw in the finesse of the material used in its build, and you will find none. The Nexus 5X is light, compact, and durable enough to fall down a flight of concrete steps but not sustain even a single scratch. However, I sincerely hope that this does not encourage you to fling it down staircases. After all, isolated incidents do keep occurring. Every edge of the plastic is tucked in seamlessly with the front glass panel. The top edge houses a secondary audio receptor microphone, the SIM tray to the left, the USB C port, primary microphone and a 3.5mm audio jack at the bottom, and neatly spaced power/unlock key and volume rocker to the right.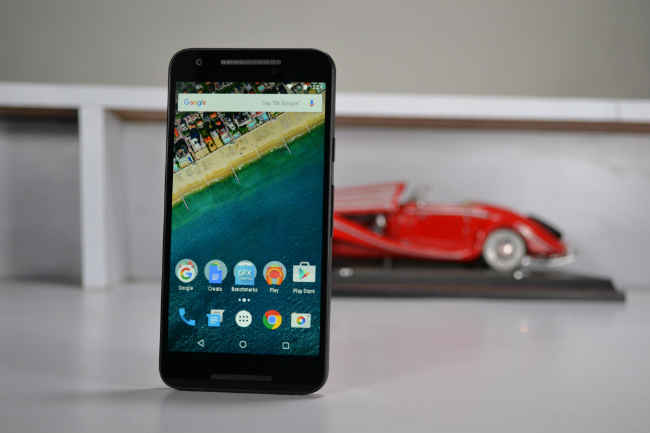 Despite the amount of plastic, the Nexus 5X is a very well-built device
The top glass panel houses the front-facing camera, the earpiece and the regular sensor array in the upper half, while the bottom houses the speaker grille. There is a lot of space left around the 5.2-inch display – relatively broad bezels that LG might have chosen to cut down on, which would have made the device even smaller and compact. Like mentioned before, while the design is neat and uncluttered, it could have been even better. Build-wise, it is good enough. The screen is ever-so-slightly concave, something that will not affect you at all in daily usage, but is a point worth noting, anyway. You will only get to notice this if you view a reflection of a long source of light (like a fluorescent tube) on it – you will notice the slightly broadened edges of the reflected tube on the display. Keep the device on a flat surface and look at the glass surface narrowly, and you will notice it. Whether this was a deliberate decision or is simply a manufacturing incident, is not known, but devices like the iPhone 5s and the new Sony Xperia Z5 do not happen to have such a curve.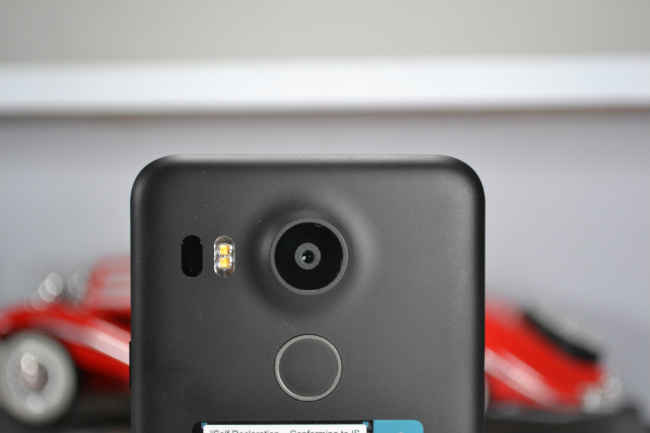 The camera is placed on a slightly raised platform
Design-wise, the raised camera platform gives a slight definition to an otherwise bland back panel. The Nexus Imprint sensor (the best fingerprint sensor that I have used till date – more on this later) is very well placed. The distinct Nexus logo is something that I am personally fond of, and I'm sure, every Nexus lover out there will agree. The Nexus 5X has neatly rounded edges – a little too rounded for my choice, but it fits in seamlessly with the rest of the device. Following the massive success of the grand old Nexus 5, what LG has given you here is a device that is simplistic in design, and built very well. The absolute absence of metallic glimmer did not bother me, and once you get to using the Nexus 5X, it will not bother you, either.
DISPLAY and UI
The 5.2-inch, IPS panel LCD display, at a resolution of 1080x1920 pixels, is just the right balance of brightness, contrast, sharpness and colour. The Nexus 5X has a bright, clear display, which also happens to be one of the most balanced displays that I have seen, of late. The whites on the Nexus 5X are marginally on the warmer side by default, and that is what made me love this display even more.
Colours produced by the display on the Nexus 5X are as true to source as it can get, and watching movies on this display is an absolute delight. There is no colour shift at very acute angles, the hues are optimum, and the colour saturation is bumped up just the right amount for you to feel the vibrancy of the red roses and the blue violets. I watched a number of short films via YouTube, streamed at Full HD resolution, and each of them looked amazing on this display.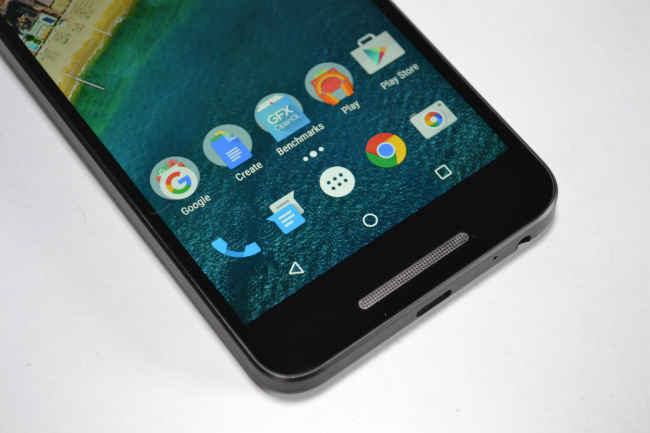 The display is sharp, crisp and bright
The interface of Android Marshmallow is something that started defining the Nexus 5X. Swipe to your right for Google Now's newsfeed, and the rest of the swipes are reserved for home screens. The app drawer, as has been spoken before, is now a vertical scroll (rather than the horizontal scroll that was, until now), which also shows four of your most-used applications, and a search bar. The search bar is a particularly useful addition to the Android ecosystem, and you can now simply type in what you are looking for, instead of having to swipe through pages of different apps to locate your requirement.
Simply put, the sheer fluidity and ease of Android Marshmallow makes the Nexus 5X an amazing experience. Everything is neatly arranged around you, to make your life easier. It is here that you note what Android was really meant to be – a smooth-flowing operating system with support for over 1.5 million applications of every different possible genre. With Android Marshmallow, you get more control over which applications get access to your contacts, dialer and messages, and you can simply choose to not grant access to something, if you feel that your privacy is being breached.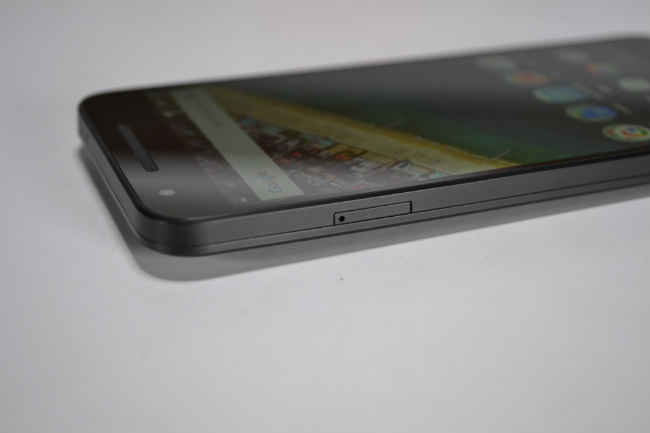 Viewing angles on the Nexus 5X is excellent
Additionally, the Doze mode is an excellent addition to save battery. Raise the Nexus 5X from its dormant position, and it shows you a grayscale view of the incoming notifications. This keeps your battery on reserve, and also makes operation intuitive. The only aspect that I possibly did not like on the Nexus 5X is the ambient light sensor, which was too aberrant. For the most part, I ended up manually controlling the device brightness, which is a disturbance at times. Apart from this, the Nexus 5X is a delight to use, and the excellent display coupled with the simple yet efficient Android Marshmallow massively adds to the experience.
PERFORMANCE
The Nexus 5X may not run on the beastly flagship, the octa-core Snapdragon 810, neither may it house extreme quantities of memory. In fact, its benchmark scores are lower than many other devices. But, its real life performance simply amplifies the fact that synthetic benchmarks can never emulate real life usage scenarios.
The Nexus 5X is an embodiment of performance prowess, and brings out the very best out of the Snapdragon 808 hexa-core processor. Additionally, it houses 'only' 2GB of RAM (smartphones priced at less than half of the Nexus 5X houses more RAM nowadays). However, the efficient management of processes and applications leads to uninterrupted usage, even in hardcore games. The Adreno 418 GPU renders good graphics, and the performance is streamlined for high octane games like Call of Duty: Advanced Warfare to perform without glitches. Even games like Marvel: Contest of Champions, that constantly use data, work without any stutter. You can continuously edit images via applications like Google Snapseed, and performance response is excellent. With the Nexus 5X, Android is as close as it can get to seamless performance, that iOS has been renowned for. The Nexus 5X is not about the amount of RAM that it contains, or the number of cores that the processor comprises – it is all about optimising available resources to give the best possible performance, and it does so with competence of a true flagship smartphone.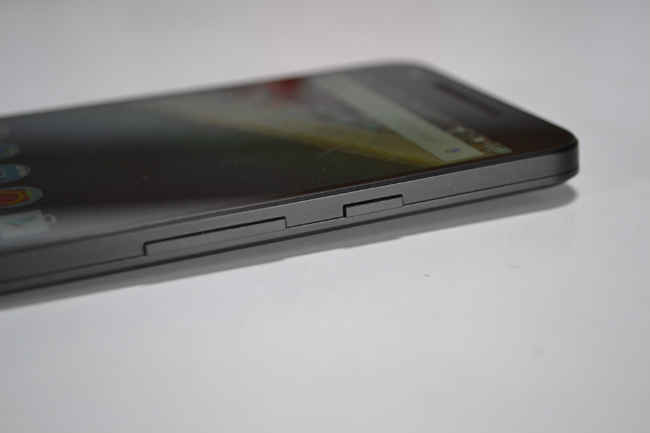 "The Nexus 5X is all about optimising performance"
Call performance and quality, as expected, is as good as you will ever need. The earpiece is loud and clear, and network retention is strong, meaning that there is no aberrations in call quality, unless your network operator's signal strength is faltering. The dialer application integrates the primary dialer, call log and contacts into a shell, meaning that you will not need to access contacts separately. Browsing and messaging on the Nexus 5X is a breeze too, and multi-application browsing and messaging here is a delight. Switch across multiple messaging applications, social media feeds, and tabs open on your browser, and the Nexus 5X still does not show any sign of faltering. Additionally, with the integration of the updated Google Photos, sharing is now easier, and even more convenient. Like stated before, the Nexus 5X optimises its available resources and content to the fullest, to bring everything nearer to you in a jiffy.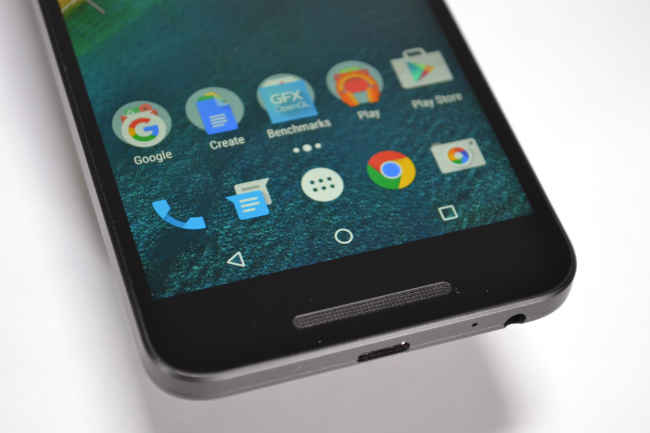 The audio from the front-firing speakers is very sub-par
The Nexus 5X integrates Qualcomm WCD9330 audio codec driver, giving excellent audio quality via headphones, although volume levels are a tad on the lower side. One negative aspect here is the barely average audio quality via the in-device speakers. The trebles are somewhat muted, leading to completely hollow bass lines and completely absent mid frequencies, meaning that the Nexus 5X is not ideal for playing songs out loud. The default speaker, at best, is good enough for loud ringtones and alarms to wake you up in the morning, but it is not one for prolonged music listening. While the audio codec is an intrinsic part of Snapdragon 810's elements, the Nexus 5X here sticks to delivering good audio only via headphones.
Another impressive aspect of the Nexus 5X is its fingerprint sensor, the Nexus Imprint. It is, to sum up, the best fingerprint sensor that I have used till date, and this is putting the Nexus ahead of Samsung's Galaxy S6 Edge+ and Apple iPhone 6s. The Nexus Imprint is the fastest and the most accurate, and apart from the only time when it took me two taps to unlock the device from sleep, it has been flawless. Google has claimed that the Nexus Imprint can unlock your device in less than 600ms, and this pretty much seems to be the truth. The Nexus 5X wakes up from Doze and unlocks itself as soon as you touch your registered finger on the metallic ring that forms the fingerprint sensor. At present, Nexus Imprint is the fastest and most accurate fingerprint sensor out there, and its ergonomic placement adds to its excellent performance.
Among all the good performance, the Nexus 5X manages to stay away from the myriad heating issues plaguing devices everywhere. Even after prolonged usage, the device does not really 'heat up', that is to say that while there is obviously a certain amount of heat generated owing to the processor cores working at full clock, it is not a major element to be called an 'issue'. While I've been completely enamoured by the performance masterclass of the Nexus 5X, the absence of any heating issue happened to be a further encouragement to note that this, indeed, is Android at its full glory.
Attached below are referential performance graphs for benchmark score comparisons.
CAMERA
The camera application, to note first, is generally light and fast. The laser-assisted autofocus mechanism on the Nexus 5X does well to lock on to objects really fast, and shifting objects while shooting, or shooting moving objects, is particularly aided because of this. Add to that the usually fast shutter, and the Nexus 5X has one of the fastest-performing camera applications out there today.
The 11.9-megapixel Sony IMX377 image sensor renders sharp, clear images under well-lit conditions, and even in relatively dark ambience, it performs decently well, although low light imaging is clearly not its strongest aspect. In well-lit conditions, though, the Nexus 5X manages to produce distinct images with ample clarity and true-to-source colours, although high colour temperature ambience like dusk appear slightly oversaturated. Automatic exposure adjustment is also quite fast, although you might find yourself reaching out for its HDR mode, owing to the by-default restricted dynamic range of the camera.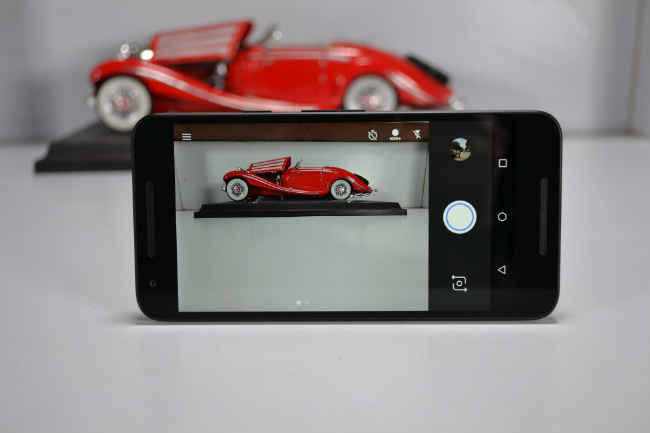 The camera is one of the fastest in present day
It is here that the Nexus 5X falters, slightly. While the HDR mode is not exactly slow, there is a 1-2 second lag in HDR shooting, which leads to a lag time in processing the photograph. The HDR mode, however, is good in itself, and the images produced by it are worth the split-second delay. Another aspect that goes amiss in the Nexus 5X is any kind of image stabilisation, optical or electronical. While the fast shutter coupled with the efficient focusing makes the Nexus 5X ideal for shooting in situations with fast moving objects, the lack of image stabilisation means that you will find a number of blurred shots, if your hand happens to have shaken in process of capturing images, or if the object is moving too fast. Despite the device being compact and reasonably ergonomic, it is not ideal for one-handed shooting, and that led to a number of blurred images being produced.
The 5-megapixel front camera, with an f/2.0 lens, is decent, and produces pristine self portraits in well-lit conditions. In badly lit conditions, it does render a bit of noise, although the photographs taken cannot be termed 'bad'. Additionally, it also happens to record 720p HD videos for all video calls and Dubsmash reasons. Fair enough, it seems.
The attached image gallery below will give you a fair clue of how good the camera of the Nexus 5X is.
View post on imgur.com
BATTERY REVIEW
The 2700mAh battery packs stands for good usage and standby time. In our tests, it returned a battery life of 9 hours and 6 minutes. The Nexus 5X will easily take you through an entire day of calling, messaging, browsing, streaming music, clicking photographs and about 30 minutes of light gaming, all this time being connected to WiFi, and still have about 20% charge left at the end of the day. With most of us being used to daily charge cycles, the Nexus 5X provides some additional juice for you, so that you would not hesitate to record videos at impromptu parties or navigate your way through unknown, narrow alleys. While you could have done this anyway, the Nexus 5X does all of this without any need of portable chargers. Streaming 'Friends' online for an hour led to a battery drop of 13%, which is quite good. In short, the Nexus 5X is all of your essentials, packed neatly into one.
BOTTOMLINE
The Nexus 5X is a delightful device. It does not overawe you with highly saturated images, power-packed specifications, or any of that. This year, the Nexus is all about taming the power, and using available resources in full glory. Priced at Rs. 31,900, the Nexus 5X beats all other similarly-priced devices like the OnePlus 2, Samsung Galaxy A8, Honor 7 and HTC One E9+, not only in terms of brilliance in performance, but also in streamlining the entire device. The Nexus 5X, truly, is Android in all of its glory.