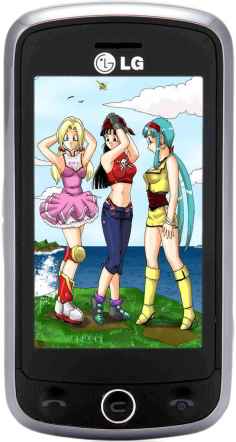 LG has unveiled a new phone in its Cookie line up, called the LG 510, or LG Cookie Zip. An open market CDMA phone, the phone is touted to be an entertainment device, and features EV-DO connectivity for "lightning fast download speed" and "live TV like never before". This facility will have to supported by the operator however.
While LG has released a whole bunch of GSM phones in the past year, the LG Cookie Zip is a foray back into the CDMA sphere, showing off the "brand's technology prowess in the CDMA open market". Mr. Sudhin Mathur, Business Group Head, Mobile Communications, LG Electronics India Pvt. Ltd., spoke about LG's plans, "We are an established player in the CDMA device market & in our continued effort to entrench our leadership we have introduced a variety of open market CDMA phones. Our latest introduction is built on our philosophy to offer unique & technologically superior devices to appreciate our CDMA customers and to answer to the market expectation."
He went on to describe the phone's USPs: "The "Cookie Zip" promises ultimate experience for the CDMA enthusiast. As the name suggests, the phone will enable our young mobile users to have an unordinary fun experience. It delivers all the essentials in communication, multimedia and entertainment in a delightfully compact form and enables us to realize how much more out there are we could do with the faster network by EV-DO; 3G like technology in CDMA."
Apart from better networking and connectivity from the EV-DO (promising speeds of up to 3.1Mbps), the LG Cookie Zip features a 7.6-cm WVGA full touch screen, a 2MP camera, SNS dedicated client, Bluetooth 2.1, 72MB internal memory and 4GB expandable memory via microSD, as well as such applications as Facebook, MySpace, Twitter, Orkut, Panchang, MP3 player, Secret Memo and Date Finder.
The LG 510 or LG Cookie Zip is available today, at an MRP of Rs. 8,299. Find the full specifications on the next page...
| | |
| --- | --- |
| Camera | |
| Camera Module | 2MP CMOS FF |
| Filter | None, B&W, Sepia, Negative |
| Resolution | 320 x 240 ( QVGA ), 640 x 480 ( VGA ), 1280 x 960 ( SXGA,1.3MP ),1600 x 1200 ( UXGA,2MP ) |
| Timer | None, 3 Sec, 5 Sec, 10 Sec, 15 Sec |
| View | Normal view, Wide view |
| Quality | Normal, Fine, Finest |
| White Balance | Auto, Incandescent, Fluorescent, Sunlight, Cloudy |
| Metering | All, Center |
| Luminance | Normal, Night |
| Storage | Built-in, External |
| Digital Zoom | 2X |
| Shutter Sound | Yes |
| BrightnessAdjustment | Yes |
| Camera Hot Key | Yes |
| Preview Image | 240 x 400 ( WQVGA ) / 240x320 ( QVGA ) |
| Image Editing | Rotate |
| Camera ( Movie capture ) | |
| Filter | None, B&W, Sepia, Negative |
| Capture Resolution | QVGA ( 320x240 ), QCIF ( 176x144 ) |
| Quality | Normal, Fine, Finest |
| White Balance | Auto, Incandescent, Fluorescent, Sunlight, Cloudy |
| Metering | All, Center |
| Storage | Built-in, External |
| Digital Zoom | 2X |
| Recording Sound | Yes ( 4 sounds ) |
| Brightness Adjustment | Yes |
| Audio & Animation | |
| MP3 Player | Yes |
| Preset Equalizer | Pop, Rock, Dance, Bass, Treble |
| Sleep Timer in MP3 | Yes |
| FM Radio | Yes |
| FM on Speakerphone | Yes |
| Music Ringtones | MP3, AAC, AAC |
| Voice Recording | Yes |
| MIDI | 72 Poly |
| Memory | |
| Memory (Phonebook) | 1000 ( 15 Fields ) |
| Message Memory( SMS ) | 1250 |
| Schedule | 300 |
| To Do List | 80 |
| Memo | 40 |
| Call History | 1000 |
| Internal memory ize | 72 MB |
| External memory slot | Micro SD upto 4GB |
| Personal Information Management | |
| Schedule | Yes |
| To-do | Yes |
| Text memo | Yes |
| Privacy book | Yes |
| Search data | Yes |
| Alarm | Yes |
| World time | Yes |
| Unit converter | Yes |
| Calculator | Yes |
| Stop Watch | Yes |
| Emergency number | Yes |
| Emergency Call | Yes ( long press Side Up volume key ) |
| Others | |
| Messaging | SMS |
| Spam Message | Yes |
| Screen | 2 ( Widget, Hello UI ) |
| Hello UI | Yes |
| Text Input Method | Keypad, Conti mode, Screen mode, Keyboard |
| Entry type | Abc, T9Abc, T9Hinglish |
| Group SMS | Yes ( Up to 50 nos. ) |
| SMS to all | Yes ( Up to 50 nos. ) |
| Phone theme | Yes |
| Protection Mode | Yes ( touch screen lock / unlock ) |
| Call Reject | Yes ( 20 individual no & 4 group ) |
| Application Lock | Yes ( Outgoing calls, Int'l calls, Internet, Contacts, call history, Message, Schedule, To-do, Text memo, D-day, Camera album, Camera album, Contents explore, Voice record ) |
| Version Information | Yes |
| USB Charging | Yes |
| USB Mass Storage | Yes |
| Flight Mode | Yes ( for External Memory ) |
| Embedded Games | Yes |
| Embedded Applications | Sudoku cafe, Hidden catch, Brain Teaser, Mingle Mangle |
| Phone Suite | Panchang, Widgets (Orkut, Twitter, MySpace, Facebook) |
| General | Yes |
| Network | EVDO Rev.A |
| Dimensions | 107 x 55.4 x 11.9 mm |
| Weight | 90 gm |
| Display | 240 x 400, 7.62 cm TFT Touch Screen, 262K Colour |
| Connectivity | USB 2.0, Wap2.0, Wap1.2.1, HTTP, Bluetooht ver 2.1 EDR, |
| BREW | BREW 3.1.5 |
| Battery | |
| Battery : Type / Capacity | Li-ion Inner Pack 900mAh |
| Talk time | Upto 5 Hrs |
| Standby time | Upto 150 Hrs |
| Accessories | Battery, Charger, Manual, Data CD, USB Data cable, Stereo Ear Microphone |