Karbonn hasn't officially announced the Smart A111 but the device is available on the online shopping portal, Flipkart, for Rs. 10,290. The ICS-based Karbonn Smart A111 is listed to have a 5-inch display (resolution not known), and run on a 1.2GHz dual-core processor with 512MB of RAM.
The A111Where to buy

648

7499 boasts of dual-SIM capabilities and houses a 2100mAh battery. It has 4GB built-in storage expandable up to 32GB via a microSD card. Other specs include a 5MP rear camera, a front-facing camera, 3G 7.2 Mbps HSDPA connectivity, Wi-Fi 802.11 b/g/n connectivity and Hotspot. It also supports Bluetooth 2.1. The device comes with 1-year manufacturer warranty for the phone and 6 months warranty for in-the-box accessories. Those interested can pick up the device from Flipkart.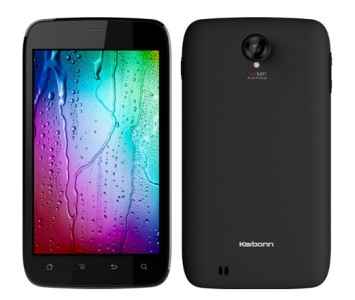 Most relevantly, the Karbonn Smart A111Where to buy

7499 is the company's 5-inch answer to Micromax's Canvas 2 A110, which with the 5-inch screen was poised to upset the 4.5-inch Karbonn A21's position, as they both sported very similar other specifications. Also notable, is the price point of the new 5-inch dual-core offering from Karbonn, the Smart A111 (Rs. 10,290), which is just shy of the Micromax Canvas 2 A110's mark (Rs. 10,299).
All this also means that Karbonn has two devices, the Karbonn A21 and Smart A111Where to buy

7499, with nearly identical specifications (except for the 0.5-inch screen size difference), and just Rs. 400 apart.
The Karbonn Smart A111Where to buy

7499 might sport a higher resolution screen than the Canvas 2 A110 (which has a 480x854 pixel resolution display), but probably not higher than qHD (540x960 pixels).
We've also seen Karbonn follow Micromax into the quad-core budget smartphone race, with the announcement of the Karbonn Smart Titanium 1, which is poised to compete with Micromax's A116 Canvas HD.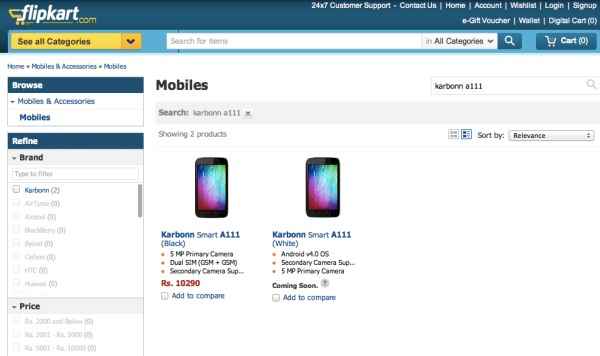 Karbonn Smart A111Where to buy

7499 listed on Flipkart
In terms of its specifications, the Smart Titanium 1 has a 4.5-inch qHD (540x960 pixels) display, and most importantly, is powered by 1.2GHz Qualcomm Snapdragon quad-core CPU based on the MSM8225Q SoC, and Adreno 203 GPU. This is coupled with 1GB of RAM, a 4GB ROM and expandable memory via a microSD card slot. Other specifications include a 1600mAh battery, a 5MP rear-facing camera, and a front camera (presumably VGA) for video calls. Straight out-of-the-box, the phone runs on Android 4.1 Jelly Bean.
The Karbonn Smart Titanium 1 is the second budget quad-core smartphone to be announced for Indian markets. In late January, we saw the unveiling of the Micromax A116 Canvas HD. In terms of specifications, the A116 has a 5-inch IPS display with a 1280x720 pixel resolution. Under the hood, it has a 1.2GHz quad-core MediaTek MT 6589 processor along with 1GB of RAM. It also shows off a PowerVR SGX5 GPU.
The Micromax A116 Canvas HD boasts of dual-SIM capabilities. It has 4GB of built-in storage, expandable up to 32GB via a microSD card. The rear of the device houses an 8MP camera whereas the front has a 0.3MP shooter for video chatting. It also has a 1600mAh battery. You can read the details of the device's announcement here, and our hands-on first impressions here.
For a budget of Rs. 10,000 you can also take a look at some other budget devices such as the Spice Mi-495, Samsung Galaxy Ace Duos and the LG E612 to name a few. If you are in the market to make an informed purchase of a budget device, you can take a look at our best budget smartphones here.