Asus India just announced its plans to bring the Google Nexus 7 to India by June 2013, in collaboration with Google. Now we are pretty excited about the Nexus slate coming to India, but we can't help but wonder if this is going to be a game changing move by Google.
India has seen market trends change in the recent past, and gone are the days when manufacturers could just sit back and watch the consumer gobble up their devices. Apple has been very aggressively pushing the iPhone, increasing its revenue by 400% simply by offering its phone through easy installment options.
We've got makers like Micromax and Karbonn chewing through Samsung's Android market simply by having a significantly lower price point coupled up with pretty decent hardware. With everyone stepping up their game, it's hard to imagine that Google, the maker of the best Android phones, will just let the opportunity slip.
Now that the Nexus 7 is coming to India, we know that Asus will be pushing it through its own network of distributors, but the question is, will it also be available through the Google Play Store? Google's just enabled its Books section on the Indian Play Store, so is the hardware section also waiting in the wings?
Well, we think that it would be the right thing to do for Google, seeing as how their devices are extremely well built, run the finest version of Android around (not to mention get updates before anyone else) and are very competitively priced.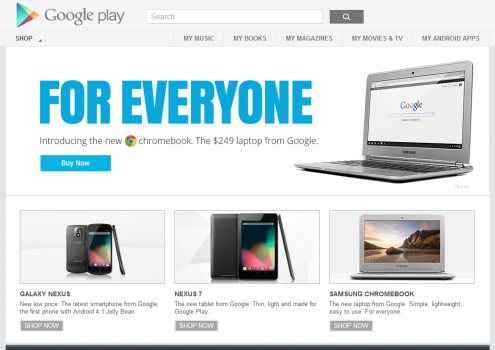 If Google was to open up the Hardware section of its Play Store to India, we're looking at some of the best Android devices coming to a performance conscious, price sensitive market. Such a move would really work in favour of Google, finally giving Apple stiff competition in the Indian market, while pushing manufacturers like Samsung to lower the prices of their devices in order to stay competitive.
Right now, Google hasn't really been focusing much on India, with none of their Nexus devices having come to India via the official channels. Rumours would sprout every now and then during the Galaxy Nexus days that Samsung might be launching it at a particular time, but eventually didn't end up doing so in order to protect its own interests in the market. However, if Google was to enter through Asus and LG, the makers of Nexus 7 and Nexus 4 respectively, Google would gain a serious advantage over every other manufacturer with respect to price, performance and features. Obviously, this would be contingent on Google pricing its products at the same rates as in US.
For example, the Nexus 4 16GB variant retails for $350, which roughly comes out to Rs. 20,000. The same price tag would allow the Nexus 4 to gain a huge market share, but if it were to cross over to the near 30K mark as most "high end" phones tend to, then there's a very good chance that the phone will end up becoming just another face in the crowd.
Of course, at the moment, we can only speculate about Google's Hardware Play Store coming to India. The signs are there, and the market is ripe for the taking, if Google decides to make the move. What do you think? Will the Nexus 7 mark the ushering in of a new era with respect to Google certified hardware?