After a steady period of growth, India's telecom subscriber base registered a 2.5 million decline, at the month of October 2012. According to figures released by TRAI, the subscriber base now stands at 935.18 million, as against 937.70 million at the end of the month of September 2012.
"The number of telephone subscribers in India decreased to 935.18 million at the end of October, 2012 from 937.70 million at the end of September 2012, thereby registering a monthly growth rate of - 0.27%," said the Telecom Regulatory Authority of India (TRAI), in a statement. TRAI also stated that the decline was mostly due to the "large scale disconnection by some of the service providers".
Tata Teleservices saw the highest decline, losing 1.6 million subscribers. Reliance and Uninor were the next two operators who saw major subscriber base decline. Incidentally, Tata Teleservices has already announced that they will shutdown services in Jammu & Kashmir, Assam and North East telecom circles.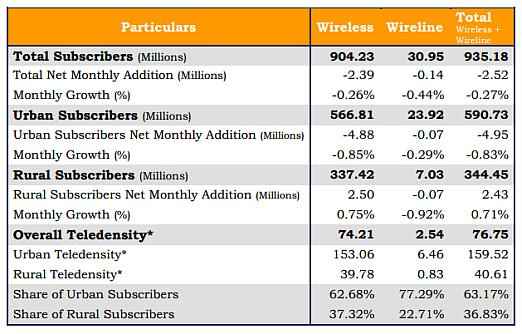 The ones who did see some growth in October were Airtel and Vodafone. Airtel added 491,570 new users, the maximum among all players, taking its user base to 186.41 million. In second place was Vodafone, adding 480,336 new subscribers, taking its total subscriber base base to 153.14 million. BSNL and Idea Cellular also enrolled 357,148 and 239,348 new users, taking their individual subscriber bases to 99.99 million and 115.70 million respectively.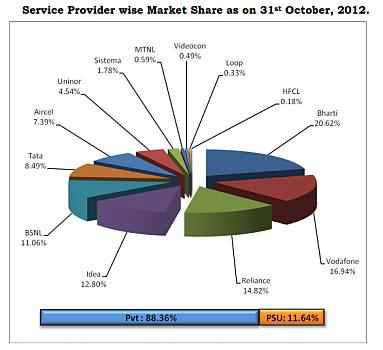 This mostly puts the latest 2G-spectrum auction flop into perspective, which got just Rs 9,407 crore. The Comptroller and Auditor General of India (CAG) report had created a lot of noise, blaming the government for undervaluing the 3G spectrum during the auction in 2010. But the numbers speak for themselves – the 3G auctions raked in Rs 67,719 crore. Hence, shouting that something is wrong doesn't necessarily make it wrong!
But what the facts speak for themselves – market forces will usually decide the prices of spectrum, as they did during the success of the 3G auctions in 2010. However, determining the market prices on the basis of "estimates" doesn't always help. And this is showing, since the operators who are paying so much for the airwave space are now obviously looking to earn that money back. The days of affordable telecom in India are gone, at least in the near future.
Also read,
Mobile subscriber base declines to 906.62 million: TRAI
TRAI asks service providers to improve quality of wireless data services
TRAI releases consultation paper on deactivation of SIMs due to non-usage