HTC has announced two new U series smartphones - U Ultra and u playWhere to buy

29990 at company's 'HTC for U' event. The smartphones are the first new introduction in 2017 and it comes just weeks ahead of Mobile World Congress. The new U series, HTC is moving away from an all metal unibody design. The new U series comes with liquid surface industrial design. The design is a combination of metal and glass fused together. The smartphones will be available in blue, white, black and pink colour options.
HTC U Ultra is the top of the line device with a 5.7-inch Quad HD display and a secondary display similar to LG's V20 smartphone. On the other hand, the htc u playWhere to buy

29990 is a compact cousin with a smaller 5.2-inch display. However, HTC says these new U series devices are not about specifications but use of 'HTC Sense Companion' - a new AI powered companion.
htc u ultraWhere to buy

36500

49990 and U Play are the first smartphones to feature new smart companion technology based on machine learning technology. HTC says the built-in companion will learn user behaviour and deliver prioritised notifications on that secondary display of the U Ultra. HTC U Ultra and U Play support a new audio technology called U-Sonic based on SONAR technology. The audio technology delivers true sound based on user's listening behaviour. The feature is basically an enhancement over existing BoomSound technology but there is no 3.5mm headphone jack.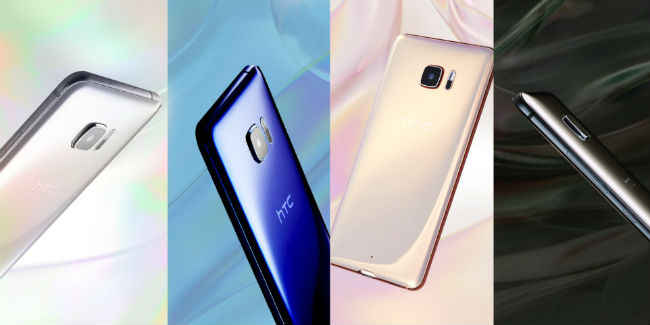 htc u ultraWhere to buy

36500

49990 is powered by Qualcomm's Snapdragon 821 processor, aided by 4GB RAM and option of 64GB or 128GB storage. The smartphone also offers microSD card slot with support for up to 2TB extra storage. HTC U Ultra sports a 12MP UltraPixel rear camera similar to the HTC 10 with laser autofocus and optical image stabilisation. The front camera has been bumped to 16-megapixels in terms of resolution and supports wide angle selfies. HTC U Ultra houses a 3000mAh battery, which might seem smaller against competing devices.
htc u playWhere to buy

29990, on the other hand features a 5.2-inch full HD display and is powered by a MediaTek Helio P10 processor. The smartphone comes with 3GB RAM and 32GB or 64GB storage option. The camera duty is taken care of by a 16MP image sensor at the front and rear. The smartphone comes with a smaller 2500mAh battery.
At the event, HTC also announced that it will introduce a limited edition 128GB u ultraWhere to buy

36500

49990 with sapphire glass screen on the front. HTC says U Ultra will be available globally starting from the first quarter but has not shared price and specific launch dates.