Total number of GSM subscribers in India has increased to 671.13 million as on June 2013, registering a marginal 0.54 percent growth since previous month. Bharti Airtel led with 1.26 million new subscribers (total subscriber base 190.91 million) while UP East circle has the largest GSM subscribers base at 60.03 million. These figures were released by the industry body COAI.
Idea Cellular added 1.21 million subscribers in June 2013 to increase its subscribers base to 125 million. Vodafone added 0.35 million users with its base rising to 155 million. Aircel added 0.61 million users, Uninor added 0.3 million and Videocon added 0.13 million.
State-run telecom operator BSNL did not add any new subscribers, while its base in the country stood at 97 million, still the fourth largest telecom operator in India. Aircel stands at the fifth position with 61 million users followed by Uninor and Videocon at 32 million and 2 million respectively.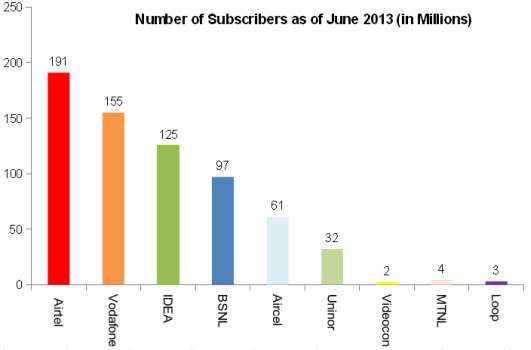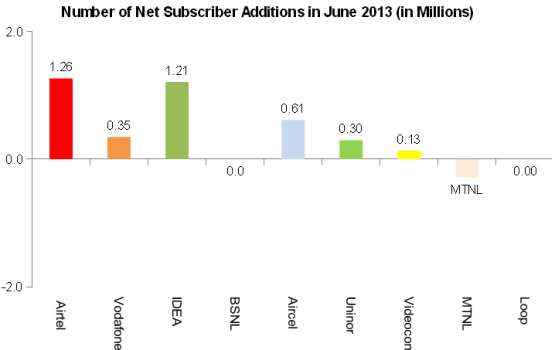 It's notable the COAI data does not include CDMA subscriber base. The latest TRAI figures, however, suggest the wireless subscriber base in the country has seen a slump 867.80 million in March 2013 to 867.02 million at the end of April 2013. According to the telecom regulatory body, the slump is mainly because of the disconnections by some of the operators.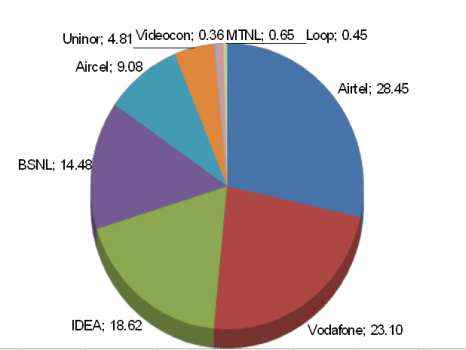 Group Company wise % market share (Subscribers) as of June 2013
Source: COAI