Google's next-generation Pixel smartphones might get announced on October 4. DroidLife reports that a billboard with the tagline "Ask more of your phone" followed by Google logo and October 4 date was spotted in Boston. If the billboard is any kind of an indication then 2017 Pixel lineup might arrive on the same day as the first generation Pixel series.
The billboard doesn't necessarily confirm the launch of a new smartphone but it does match Google's timing for its hardware event. Google has not officially confirmed the launch date for its next generation smartphones but leakster Evan Blass had earlier suggested that the devices will launch on October 5. The next flagship Google device is expected to take on Apple's iPhone X, Samsung Galaxy Note 8 and the LG V30.
The upcoming devices have been subject to multiple leaks revealing their specifications and key features. Google is reportedly adopting a dual OEM strategy this year with HTC building the smaller Pixel codenamed Walleye and LG developing the second-generation Pixel XL codenamed Taimen. Both the devices will be powered by Qualcomm's Snapdragon 835 and not the rumoured Snapdragon 836 mobile platform.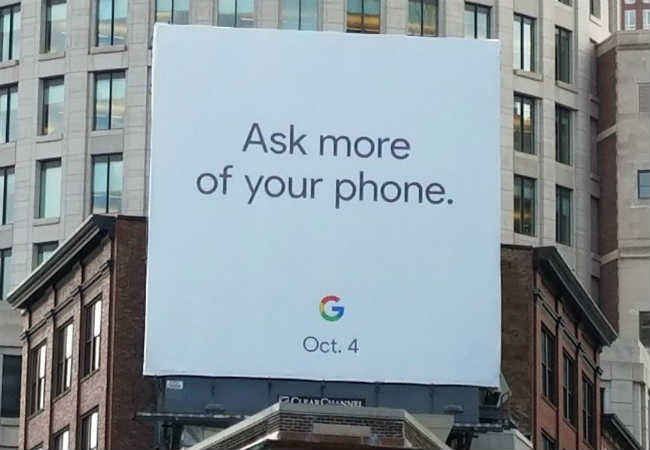 With 2017 Pixel series, Google is not expected to join the growing list of smartphone makers offering dual camera system. The smaller Pixel 2 will only offer iterative design changes with a smaller glass window at the back. The handset will sport a prominent top and bottom bezel similar to original Pixel phone. The Pixel XL 2, on the other hand, will sport smaller top and bottom bezels matching the design of Galaxy S8 and LG V30. The smartphone will also feature a 6-inch LG-made AMOLED display and offer an improved front facing speaker setup.
With 2017 Pixel and Pixel XL smartphones, Google is also expected to add new features like squeezable frame found on HTC's U11. Both the phones will have a squeezable frame allowing Pixel owners to squeeze their handset to launch Google Assistant or trigger a particular application. It is also expected to offer deeper integration with third-party apps and maybe more ways to understand the pressure sensitivity.
Google is reportedly planning to bail out HTC by acquiring latter's smartphone business. The search giant is in the best position to catapult ahead of Samsung and LG in the premium smartphone space. With the 2017 Pixel series, it will need to fix the supply issues in order to make any meaningful impact.