Apart from the 4K and OLED TV shenanigans that have plagued CES 2013, we have seen some interesting mobile device displays from LG at the event. The high resolution displays shown off by LG include a 12.9-inch display with a resolution of 2560 x 1700. LG also showed off a 7-inch display with a 1920x1200 resolution.
Up till now, we have been quite impressed with the 7-inch display with a 1280x800 resolution found on the Nexus 7 (read our review here) and we cannot wait to get our hands on devices running the 1920x1200 resolution.
LG also showed off a 5.5-inch display that we could expect to see on smartphones. The display will house a Full HD 1920x1080 resolution. All three are made using AH-IPS, a screen technology we have seen on the iPhone and iPad displays.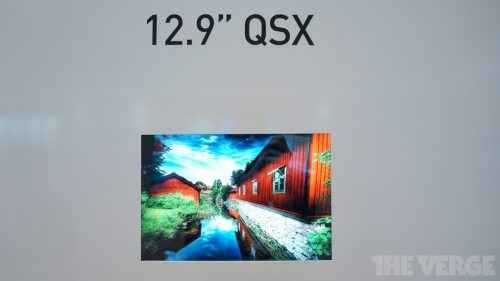 Image courtesy: The Verge
Before CES started, we heard rumours that LG would showcase some breathtaking displays and the predication came true! You can read about the rumoured displays here.
TV's with OLED displays seems to be the highlight of CES 2013. Companies have finally taken the hint and 3D has taken a back seat at CES 2013. If you have been missing out on the action, you can catch all the details and juicy information coming from CES 2013 here.